1 December 2005 Edition
Remembering the Past - SAS execution
BY SHANE Mac THOMÁIS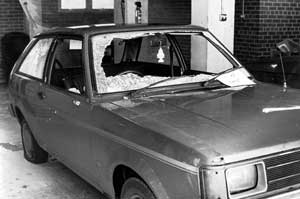 On 4 December 1983, at the height a crown forces' shoot-to-kill policy, two unarmed IRA Volunteers were summarily executed by undercover British operatives. Nineteen-year-old Brian Campbell and 23-year-old Colm McGirr from Coalisland, County Tyrone, were gunned down in a hail of bullets on Sunday afternoon 4 December 1983 by an undercover SAS squad, seconds after they left their car to check an IRA arms dump off the Cloghodg Road. The fact that the SAS was in the immediate vicinity of the dump, showed they had awaited the arrival of the Volunteers and executed them on the spot without any attempt to arrest or detain them.
Locals reported hearing around 50 shots fired in rapid succession. A third IRA Volunteer was wounded as he drove away from the scene. After the ambush a local woman, Sarah Rafferty witnessed an ambulance arriving, yet almost a full hour later it left without removing the Volunteers' bodies.
Apart from the severe mutilation caused by bullet wounds to McGirr's body, both his wrists and arms were broken after he was shot and killed. There was also reason to believe that Campbell lived for a short time after the shooting, as he had black marks on his body caused by being kicked or thrown around.
Both bodies were eventually removed several hours after the shooting and taken to Craigavon Area Hospital where Brian Campbell's mother Cathleen and a local priest were refused access by the RUC.
Volunteer Colm McGirr was the youngest of eleven children. He was arrested by crown forces a week before his killing and held for three days. Before he left Gough Barracks the RUC told him he would never see 1984. Volunteer Brian Campbell, aged 19 was the fifth child of Brendan and Cathleen Campbell. Brian was constantly harassed by the RUC, and that escalated after his brother Séamus's escape from Long Kesh in 1983.
On the last occasion Brian was arrested the RUC told him it would be the last time as they were going to shoot him to 'even up the score' for Séamus's escape.
An inquest into the shooting was called on 14 March 1984 but was adjourned when three of the SAS soldiers failed to appear. The coroner was told that one of the soldiers had left the army and was now out of the jurisdiction. Solicitor Paddy Duffy described the inquest as 'a charade'. The inquest resumed for one day on 24 June 1985. None of the four SAS members that shot Brian Campell and Colm McGirr were present.
An Phoblacht Magazine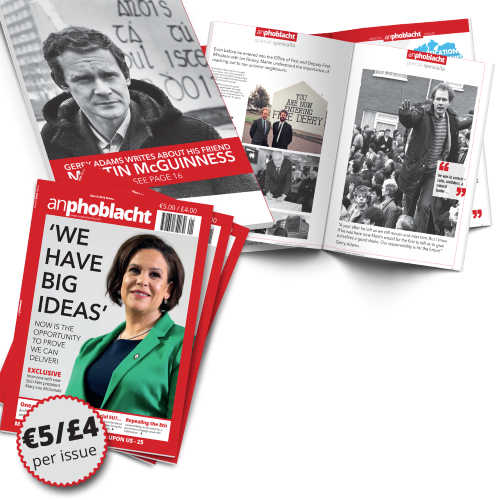 AN PHOBLACHT MAGAZINE:
The first edition of this new magazine will feature a 10 page special on the life and legacy of our leader Martin McGuinness to mark the first anniversary of his untimely passing.
It will include a personal reminiscence by Gerry Adams and contributions from the McGuinness family.
There will also be an exclusive interview with our new Uachtarán Mary Lou McDonald.
test