1 December 2005 Edition
Fifth Column
Rank brutality
The Royal Marine Commandos, one of the 'elite' units of the British armed forces, have covered themselves in muck and not very much glory with a video exposé of brutal initiation rites involving new recruits being kicked unconscious by non-commissioned officers as they are forced to fight each, naked, in the open air, in front of a crowd of jeering Marines.
The video has stopped British Army taunts that a breakdown of discipline leads to such acts against conscripts in the likes of the Russian Army. It is now evident that systemic brutality is part of everyday life and discipline in the ranks of the same British Army that exhorts new recruits to "Be the Best."
The undeniable viciousness of the graphic images has shocked people around the world (although not Irish republicans used to being on the receiving end of the Marines' brutality). The international scandal has sparked a high-profile PR exercise by British Army and Royal Navy chiefs to weed out the offending non-commissioned officers (corporals and sergeants) as cannon fodder, although the brass-buttoned officers who turned a blind eye to these activities will undoubtedly escape being dismissed from the ranks.
Sexy Paisley
According to the Sunday Tribune in a rare interview, Eileen Paisley says she knows that, when he's out electioneering, hubby Ian accosts unionist ladies in the street with requests for "the kiss of life". And "there'll be no shortage of middle Ulster matrons willing to deliver".
Eileen reckons the DUP leader is a fine thing, the Trib tells us, "a bit of a sex symbol" even.
Right, and Willie O'Dea looks like Charles Bronson.
Fianna Fáil TD goes Chucky
The Dáil debated Europe last week and elicited some very republican sentiments from TDs.
At one point, Pat Carey, Fianna Fáil TD for Dublin Northwest, where Sinn Féin's Dessie Ellis is a challenger, said: "I reject the view that the developments to which I have referred constitute a rejection of the European Union. I do not think that is what the deputies opposite are saying, to be fair. It is time for us to listen to the wake-up call we have been given."
Finian McGrath: "Vive la France!"
Noel Treacy, Fianna Fáil, Galway East: "Vive l'Europe!"
Pat Carey: "Tiocfaidh ár lá!"
Finian McGrath: "I will tell Dessie [Ellis] Deputy Carey said that."
Busy bodies
Belfastman Sam Smyth had Fianna Fáil spin doctor supreme, PJ Mara, on his Sunday Supplement radio show on Today FM to pontificate on the role of the Centre for Public Inquiry.
Someone on the panel dismissed the independent watchdog on public affairs as a bunch of "self-appointed busy bodies", and Sam and PJ chummily agreed that there are already checks and balances, including the media.
Sam, of course, supplements his Sunday Supplement by penning anti-Sinn Féin articles for the Irish Independent. But aren't the establishment newspapers "self-appointed busy bodies", representing the vested interests of wealthy individuals or cliques with NO public accountability, let alone democratic structures?
Opinion former Sam Smyth isn't self-appointed, of course — he was appointed by the mega-rich bean baron, Sir Tony O'Reilly, who bent the knee to the British monarchy to receive his knighthood and whose family friends include top cops in the old RUC.
Flagging Blueshirts
Fine Gael belatedly tried to claim some republican heritage at the weekend with a do at the Mansion House to commemorate Arthur Griffith, founder of Sinn Féin.
Enda bleated that Fine Gael "has as much right as any other party and more than most" to celebrate the centenary of the founding of Sinn Féin. So what took you so long to claim the Sinn Féin mantle, Enda? And why is your 'United Ireland Party' busting a gut to stop not just Sinn Féin elected reps but also the SDLP having speaking rights in the Oireachtas?
Fine Gael apologists said the event was aimed at "grasping the flag of Arthur Griffith from Sinn Féin". At the Mansion House, Enda — who has just launched a revival movement for top 'terrorist' Michael Collins — complained about Sinn Féin's attitude to "murder" and bank robberies, attributing the Great Belfast Bank Robbery to the IRA as "the biggest bank raid in the BRITISH ISLES".
Careful, Enda, your blue shirt is showing under Arthur's flag.
That sinking feeling
The piratical behaviour of Irish Ferries' management has shown the dangers of corporate double-speak creeping into news bulletins. Ruth Buchanan's usually excellent Playback, RTÉ Radio's Saturday compilation of the best of the week's radio on Radio 1, naturally carried a piece on the Irish Ferries' stand-off. But Ruth casually referred to the company's bid to bring in "low-cost staff".
Italian shipping owners were employing "low-cost staff" years ago. In Caesar's Rome they used to be called galley slaves.
An Phoblacht Magazine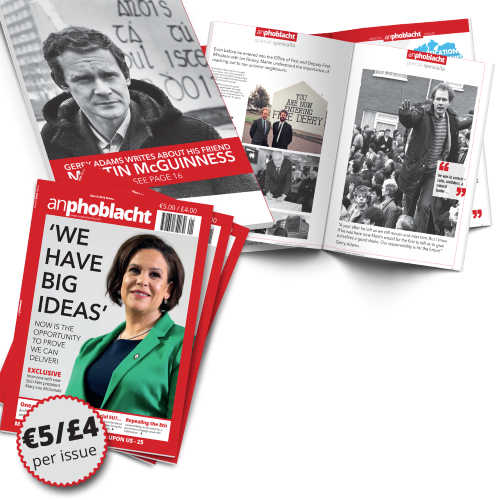 AN PHOBLACHT MAGAZINE:
The first edition of this new magazine will feature a 10 page special on the life and legacy of our leader Martin McGuinness to mark the first anniversary of his untimely passing.
It will include a personal reminiscence by Gerry Adams and contributions from the McGuinness family.
There will also be an exclusive interview with our new Uachtarán Mary Lou McDonald.
test