1 December 2005 Edition
Belfast underdogs earn provincial title
BY Matt Treacy
St Galls proved their admirers correct, and boosted a number of people's pocket money, when overcoming Bellaghy in last Sunday's Ulster Club Final. Underdogs for all their games, the Belfast team stuck to a successful formula that has earned them a provincial title to add to their All Ireland Sevens.
Anyone who has seen them will attest to their tenacity in defence, their patient and parsimonious use of possession, and their ability to take scoring chances when they present. They have earned the right to be considered serious contenders for the national title, and at 5/1 could again upset Paddy Powers oddsmakers.
The club competition has been narrowed down to six after a weekend that saw Cork champions Nemo ease their way into the Munster decider where they will meet St Senan's of Kilkee who overcame An Gaeltacht of the Kingdom. In Leinster the final will be between Sarsfields of Kildare and Kilmacud Crokes. That will be in Navan this Sunday.
There were a fair few interested Sarsfields people on their home patch in Newbridge Sunday gone where Crokes overcame the determined challenge of Rhode. I was standing behind a number of them but they were not giving much away.
The bare statistics tell of a tough encounter. Referee Mick Monahan, of the once great Raheens club, flashed a total of 13 yellow cards and sent off Croke's Ray Cosgrave and Rhode's Jack Kilmurray. There might have been more given the uncompromising nature of the exchanges but in general the rules of fair engagement were observed.
Mark Vaughan continues to win the hearts and minds of opposing supporters. NOT. As Ciara would say. Maybe it's the mop of peroxide hair or his tendency to follow the Ali school of continuous dialogue with the enemy, but one thing for sure he excited more animosity towards one player from the Offaly supporters than I can recall since the days when Bobby Doyle's curly locks caused similar offence in places like Tullamore.
I remember once, as an impressionable child, listening to people in the crowd baying for someone to break Doyle's legs. Mind you, they'd have had to catch him first. In the midst of it all, my Da remonstrated with one chap and pointed out the presence of young children. That was grand and your man quietened down. Then after about five minutes, he turned to the Da and said. "You have to admit though, he's a woeful, dirty hoor."
I don't know if it was the same chap in Newbridge who, as the Americans would say, had a 'hard on' for young Mark. I don't think he would appreciate the Freudian connotations either given that his main objection to Vaughan was that he was a 'Mammy's Boy'. "Ah, would you look at the Mammy's boy. Someone give the Mammy's boy a kiss. You'll play in no Leinster Final, Mammy's Boy." And so on. Enough there for a thesis.
Vaughan did not have one of his better days. He w attention that created space for Davoran but he continues to impress. Cosgrave was prominent until asked to leave and poached a trademark goal early in the second half. Vaughan was taken off late on and departed with a salute to his midland admirers. Well received? NOT.
The final is hard to call. Sarsfields have beaten Eire Og of Carlow and Louth's Mattock Rangers without really coming off the bridle. Sometimes that can be a sign of a really good team but it can also be a disadvantage against a side that has been through tougher encounters.
By all accounts Dermot Earley has been outstanding in their games to date, and they have valuable scoring forwards in Morgan O'Sullivan and Gary White. However, with the Magee family in fine fettle it is unlikely that Sarsfield's will win midfield and I predict that Croke's will prevail.
Finally, congratulations to Ardfert on beating St Patrick's of Limerick in the quarter-final of the Munster Junior Championship. Apparently they have some connection with a North Kerry TD.
An Phoblacht Magazine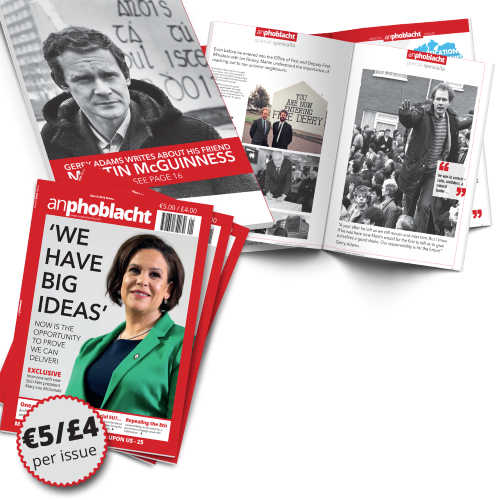 AN PHOBLACHT MAGAZINE:
The first edition of this new magazine will feature a 10 page special on the life and legacy of our leader Martin McGuinness to mark the first anniversary of his untimely passing.
It will include a personal reminiscence by Gerry Adams and contributions from the McGuinness family.
There will also be an exclusive interview with our new Uachtarán Mary Lou McDonald.
test