1 December 2005 Edition
Local government blueprint a major step forward
BY LAURA FRIEL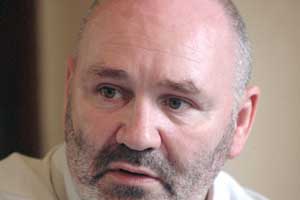 Review of Public Administration - Equality and power sharing strengthened
Sinn Féin MLA Alex Maskey has welcomed proposals to reorganise local government in the Six Counties, which he described as "a major step forward" in guaranteeing equality and power sharing in local government.
"Sinn Féin made it clear to the British Government that unless there were strong and effective mechanisms to enshrine the principles of equality and power sharing, the proposals on public administration would be a non-starter," said Maskey. "It is clear that the British Government has accepted Sinn Féin's arguments on this. We need to now see how it is delivered," he added.
As well as enhancing equality, the new seven council model would also remove layers of bureaucracy, protect minority communities and give local government greater control over government policies, said the Sinn Féin MLA.
Maskey also stressed that the new model provided protections for nationalist and unionist minorities by ensuring that each council would have a minority of at least 25% within its boundaries.
"However, the most important aspect is the delivery of services to people in a much more cost effective way. There needs to be effective and efficient services that represent good value for money for the ratepayer and are delivered on the basis of equality," said Maskey.
"Strong checks and balances will also mean that the type of discrimination that still exists today on a number of unionist dominated councils, such as Lisburn and Ballymena, will become a thing of the past. Increased local government powers are only acceptable in the context of these protections," he said.
However, while Sinn Féin heralded the latest moves as a "major step forward" in relation to equality the SDLP condemned the proposal as "a sell out of civil rights". Wheeling in behind unionist dissatisfaction, SDLP MP Eddie McGrady accused Sinn Féin of supporting a system which will be "a sell out of our civil rights achievements".
Unionist opinion was united in its opposition with the UUP, DUP and Alliance Party, dubbing the changes "repartition" and a "sectarian" carve up. "Sectarian" to unionists means anything designed to undermine unionist control. Under this notion of sectarianism, challenging sectarian domination by unionists is labelled "sectarian".
"This is a clear attempt to split the Province," said DUP leader Ian Paisley, which will allow nationalists "to develop their united-Ireland policy in the councils they dominate".
UUP leader Reg Empey claimed the seven council-model amounted to redrawing of the border. "The more you look at it, the more you realise this is actually about moving the border up to Portadown, Dromore and Limavady," said Empey.
"What's the Gaelic for Portadown or the Gaelic for Banbridge? People there better know because I fear they will soon be finding out," said Empey.
"This is another step towards the Balkanisation of Northern Ireland and plays right into the hands of the republican agenda," said Empey.
UUP colleague Jim Wilson said the blueprint amounted to a "form of repartition" and accused the British Government of endorsing a "sectarian carve-up". "What the Secretary of State has effectively done is to hand over more than half of Northern Ireland to Sinn Féin," said Wilson.
Northern politicians had been "bypassed and reduced to spectator status while government makes unilateral decisions to appease republicans," said Wilson.
Alliance leader David Ford described the plans as an "ill thought out menu for repartition and a blatant tribal handout to Sinn Féin".
Launching the Review of Public Administration proposals British Secretary of State, Peter Hain told political parties he was doing them a favour by making tough decisions. "If they do not like the decisions I have taken, they better get back into government quickly in order to take forward the process of change," said Hain.
According to the blueprint Belfast City Council will remain much the same with the loss of just one seat while a further six local authorities will emerge from the regional amalgamation of various councils.
The number of councillors on the current 26 councils is 582 with an average population per councillor of around 2,900. Under the proposed seven council-scheme there will be 350 councillors allocated to council areas of around 4,850 people each.
Dual mandates, where an individual can be elected both as a local councillor and MLA, are to be ended. Currently 69 of the 108 MLA are also sitting councillors. The proposal also increases the responsibilities of local councils with both additional and enhanced functions.
The review also creates a single education authority to replace five boards, a new health and social services authority to replace four existing boards with health trusts cut from 18 to five. A further announcement due in March next year will address the issue of the 150 quangos and executive agencies currently operating within government departments.