1 December 2005 Edition
Corrib Report reveals major dangers
BY JOANNE CORCORAN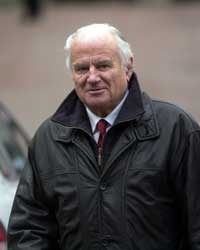 The campaign of Mayo residents opposed to the building of a Shell pipeline through their county received a massive boost last week when a report revealed that the planned line put them at unacceptable risk.
The independent report from the Centre for Public Inquiry said the onshore pipeline "carries a real and substantial risk of failure because of its potential to operate at extremely high pressures". It said the likelihood of system failure is increased due to "the unknown gas compositions it is required to carry and the probability of internal corrosion".
Its current route, it added, is unacceptable because of its close proximity to people and homes.
The report was launched on Tuesday 22 November by Justice Fergus Flood in Ballina. It also examined how successive governments had granted fiscal and licensing concessions to oil and gas companies over the last three decades, as well as tracing the circumstances that led to the imprisonment of the Rossport 5 for 94 days this year.
The Centre for Public Inquiry commissioned the detailed analysis from Richard Kuprewicz, president of US based consultants, Accufacts Inc.
He was highly critical of the Quantified Risk Assessment process used by the government to assess the Corrib project.
The Shell-to-Sea campaign wants gas from the Corrib field to be pumped to an offshore terminal rather than directly onshore. In a statement last week it accused Shell and the government of gambling with people's lives.
Reports key findings:
• The pipeline has a uniquely large rupture impact zone with potential for high fatalities.
• There are too many unknowns regarding the future operation of the pipeline - especially in the areas of gas pressure and gas composition that can lead to failure.
• The thick-walled pipe specified for use is not invincible to leak or rupture. There is compelling evidence to suggest that internal corrosion of the pipeline is likely.
• The maximum pipeline pressure has not been clearly demonstrated or documented.
• Difficulties with locating the gas processing plant offshore have been overstated, and routing analyses for the onshore system are seriously deficient.