24 November 2005 Edition
Dúirt Siad...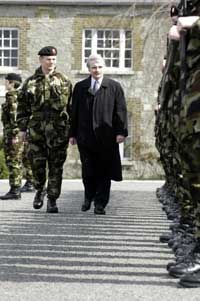 Luckily, Defence Minister Willie O'Dea shot only himself in the foot when he pointed an automatic pistol at photographers.
The Irish Examiner, Friday 18 November.
The fact is that Pat Rabbitte is a man that approaches every subject with an open mouth. He seems to be permanently in awe of his own cleverness. My message to Pat Rabbitte is quite simple — get a life.
Minister for Defence Willie O'Dea responds to Pat Rabbitte's criticism. RTÉ lunch-time news, Thursday 17 November.
"This Irish Mafia. I'm sick of it."
Sharon Osbourne on ITV's X Factor where she accused fellow judge Louis Walsh of "voting with his passport" after the Irishman elected to keep Sligo group The Conways in the competition at the expense of Osbourne's protegé, solo singer Maria.
Dad's quite a softie really.
Rhonda Paisley describing her father — last week it came to light that she was suing him and the rest of the DUP Executive for sexual discrimination. Irish Independent, Saturday 19 November.
Some people wouldn't want a Paisley seeing what is going on (in the policy unit).
A DUP insider believes there are many in the party trying to rid it of the Paisleys. The Sunday Times, 20 November.
The new-look DUP may appear at times to be frozen in another time — most probably around 1690 — but in reality it is led by willy negotiators and strategists who realise their strongest allies in the battle to neuter Sinn Féin lie in the South.
Daily Ireland editorial, Monday 21 November.
Whatever needs to be paid, will have to be paid.
Minister for Finance Brian Cowen says the nursing home controversy could cost the State some €400 million. Irish Times, Saturday 19 November.
An Phoblacht Magazine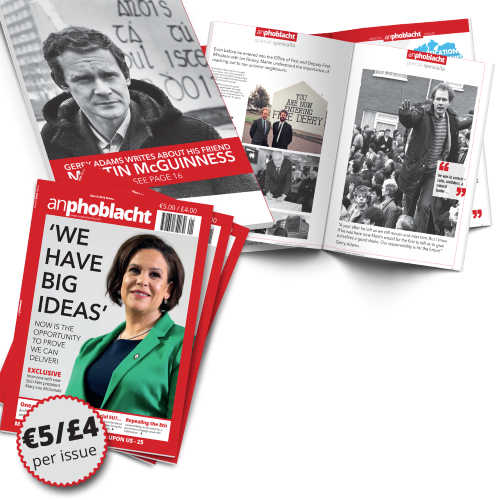 AN PHOBLACHT MAGAZINE:
The first edition of this new magazine will feature a 10 page special on the life and legacy of our leader Martin McGuinness to mark the first anniversary of his untimely passing.
It will include a personal reminiscence by Gerry Adams and contributions from the McGuinness family.
There will also be an exclusive interview with our new Uachtarán Mary Lou McDonald.
test