24 November 2005 Edition
Commemoration - The Manchester Martyrs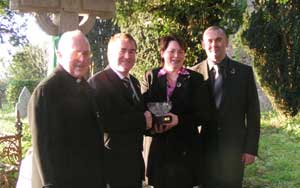 Struggle will not end until Ireland free -- Gildernew
Phillip Allen, Michael Larkin and Michael O Brien were hanged in Manchester England on 23 November 1867. The men were sentenced to death in a show trial designed to strike terror into the upsurge of Fenian resistance to British rule. The three became known as the Manchester Martyrs. A commemoration for the Manchester Martyrs was held in Bandon, County Cork last Sunday.
Phillip Allen, though born in Tipperary spent most of his short life in Bandon. In the previous week a commemoration was held in Ladysbridge, East Cork where a direct descendant of Micheal O'Brien was one of those who layed a wreath on the monument to the Manchester Martyrs. A candlelit vigil was held in County Kilkenny, the birthplace of Micheal Larkin.
Delivering the oration in Bandon, Sinn Féin MP for Fermanagh/South Tyrone Michelle Gildernew said: "The use throughout the years, of the same methods used to put the Manchester Martyrs to death to maintain its presence in Ireland undermines the legitimacy of British rule. They can speak of consent but where was their consent when a British Government ruled five-million Irish people against their will in 1867? Where was their consent when Allen, Larkin and O Brien were judicially murdered? British troops have no right to be in Ireland. England has no right to be in Ireland."
"Today, Irish republicans believe that the way is open to them to achieve their goals by peaceful means. It is in that context that Óglaigh na hÉireann have brought their armed struggle to an end. But the passion, the commitment, and the determination that fuelled the struggle through the years have not ended and they will not end while Ireland remains unfree."