24 November 2005 Edition
INTERVIEW: Advocacy and research in the struggle for justice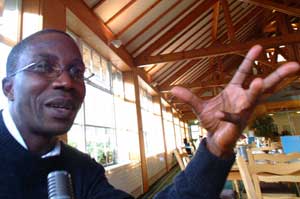 As governments prepare their agendas for the sixth Ministerial meeting of the World Trade Organisation in Hong Kong and developing countries confront inequalities imposed by policy and access, a focus on Africa and Asia is urgently required. Here, Yao Graham, co-ordinator of Third World Network Africa speaks to An Phoblacht
Yao Graham is a co-ordinator of Third World Network Africa (TWN), a pan African research and advocacy organisation, based in Accra, Ghana, working on economic policy, environment and gender issues. TWN's focus in advocacy. It believes the basis for effective advocacy can be found in sound research. It is more proactive than a classical research institution, where academics do research, publish the work and regard the job as being done. TWN's work is very focussed on policy change and campaigns.
"We are doing quite a bit of work, for example, on the extractive industry, particularly mining. There are questions around benefit sharing between mining companies and national governments; between mining companies and communities; between national governments and communities and then there is the social and economic impact on communities that are living in the vicinity of the mines, explains Graham.
"So many times what the company wants is given priority with insufficient attention being paid to the effects on communities. The research has helped us to do our work with the communities and to mobilise to defend their interests. It has also helped us in terms of the policy demands we make on governments."
Graham adds that communities living in the shadow of mining or oil operations in Africa are very militant because they have to live with the destruction and the pollution of the water sources in their farmland. "We have the vehicles, know the rules of how parliaments work, to organise international liaisons and so on.
"For example, in an area in Ghana we found that the level of poison arsenic in oranges in an area of mining by Anglo Gold Ashanti was almost 2,000 times the level recommended by the World Health Organisation.
"The community may not know that, but they know that something is happening to their resources, and then we come with the research that confirms their experiences. This is the way it works.
"We do a lot of work around trade policy. Poultry farmers in Ghana do not need anyone to tell them that their industry is being destroyed by cheap imports coming from Europe and other places. They are living it. But we will work with them so they sharpen the edge of advocacy."
Graham believes that the reform of the trade agreements and an end to subsidies in their current form can be of benefit to small farmers in Europe and farmers in poor countries.
"We know that the spending in many countries goes now to the big farmers. So Common Agricultural Policy reforms come with a solution that would allow farmers in the south to get the space that they are demanding and still allow for social justice concerns to inform agricultural policy in Europe. So, at the end, it is a win-win situation.
"The perception that there is an insoluble conflict between the interests of farmers in the poorest countries and Ireland is only an illusion. Once we take the differentiation that exists among farmers in some places in Ireland and ask who really needs to be taking into account for protection in the CAP reform, then we will be on the way to finding a solution. A solution that takes into account the interests of those relatively disadvantaged in Europe and also the interest of farmers in poor countries."
Graham explains that TWN does not lobby governments or institutions as such, but tries to build a relationship with civil society. "For example, in our trade policy work, the power balance in global trade is in the north. Therefore, for effective outcomes as far as advocacy where trade policy is concerned, what happens in the centres of the north is quite important. Northern groups, as domestic voices in the north, are very important. That strategic relation between groups in the north and the south is absolutely vital for valid outcomes."
Clearly, part of the organisation's work would be to put pressure on institutions such as the International Monetary Fund or the World Bank, but in many cases this work takes places in conjunction with national campaigns within African countries.
For many, even within NGOs in Europe and, particularly, in Ireland, the idea of working with African governments or even approaching them for lobbying purposes is not even considered. In many cases, African legislators and executives are bluntly described as corrupt. However, there is a strong feeling among Africans that this is, apart from being a generalisation, is too paternalistic an approach to the reality of Africa.
"Those who say that there are problems in African countries for which Africans have to bear a responsibility are right. However, it is completely erroneous not to recognise the way in which the relationships that exist between corporations and governments in the north, and governments in the south are very critical in the policy outcomes we have in the south," explains Graham. "It is our business to get governments that represent our interests as African peoples, but that business of ours is affected by the fact that a lot of influence is carried in the policies inside our countries by bilateral donor agencies only accountable to their funders and not to people in the countries, by corporations, and also by institutions like the IMF and the World Bank, the EU and the US. This is a fact."