24 November 2005 Edition
Adams puts it up to conservative parties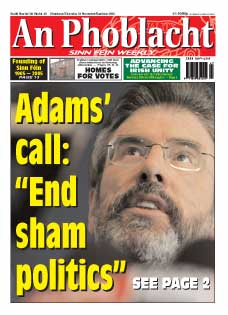 ance sheets. And it is clear that the approach to the next election will be no different, except that this time the focus will be on Sinn Féin.
He said within 18 months people will choose a government and challenged the Taoiseach and other party leaders to stop hiding behind sham politics and engage in a real debate on problems facing people across the country.
"The next election needs to be fought in terms of ideas and the type of country we want to live in, not in terms of accountants' balance sheets. Sinn Féin is committed to putting equality at the heart of government policy."
Sinn Féin believed health spending should go into public services not private health care. "The Health Minister says it is too costly to provide a further 3,000 public hospital beds as promised in the National Health Strategy. Yet in the same breath the Minister is announcing tax breaks for private hospitals." There was hundreds of millions worth of health facilities lying idle because of lack of funding while public money is squandered in treating public patients in the private system.
He said the 48,000 family units on housing waiting lists and 40% of those in the private rented sector receiving social welfare rent supplement made no sense. Deadlines needed to be set for eliminating waiting lists. He supported the NESC call for an increase of 73,000 units of permanent social housing between now and 2012. "Property developers and speculators cannot be allowed to dictate government policy. The 20% clause for social housing in all developments should be reinstated immediately and the practice of developers and speculators sitting on land banks for years at a time should be outlawed", he said.
With massive resources the government could provide a proper health service, sufficient housing and a decent education. It was not happening because the government's focus was on privatising public services. There was also gross inefficiency across government departments.
"We believe that investing in public services should be the number one priority for any incoming government. There is also a need to have an equitable tax system which would allow the state to deliver the infrastructure and services badly needed, Adams said, adding that the system "massively favours the wealthiest in our society. That includes individuals and corporations. There is a lie out there that we are a low tax economy. Yes, while some personal taxation rates may be low in comparison to other states the reality is that there is massive and increasing indirect taxation. This way of raising tax disproportionately impacts most on those least able to afford it. This is inequitable and unjust."
He asked who, except the FF/PD coalition and the conservative opposition could argue against the very wealthy paying their fair share in tax or against people being treated in hospital on the basis of need and not ability to pay.
"An equitable and progressive taxation system is essential if there is to be real equality in Ireland. Under a progressive tax regime those who have more money pay more while those who have less pay less.
Adams said Sinn Féin is calling for:
*the ending of tax exemptions except where the economic and social value outweighs cost to the exchequer and in such cases the exemption should be at the minimal rate necessary to bring about the goal for which it was introduced.
*the introduction of legislative changes to end the ability of wealthy individuals to declare they are non-resident for tax purposes.
*those on the minimum wage to be kept out of the tax net for the entire tax year even if the in the minimum wage rises.
*A review of the VAT system to examine its impact on low-income families. A disproportionate percentage of tax take is raised through taxes on spending which hit the less well off hardest."