17 November 2005 Edition
Dúirt Siad...
Ian Paisley tells us he is a man of God. I would like to know if he is a man of his word.
Sinn Féin MP Martin McGuinness challenges the DUP leader to fulfil his claim that he would go into Government, "but for the issue of arms". BBC news, Monday 14 November.
It may have been the PDs' birthday party but Sinn Féin gatecrashed it without even trying.
Irish Examiner journalist Caroline O'Doherty describes the PDs' 20th anniversary celebrations last weekend, where Sinn Féin was the hot topic. Monday 14 November.
The cosy phone calls from All Hallows to Government Buildings must end.
Progressive Democrats' TD Liz O'Donnell attacked her coalition partners last week, by calling for an end to the "special relationship" between church and state. The Irish Times, Thursday 10 November.
Even now, one wonders if, for services way beyond the call of duty, the prospect of an ermine-clad Lord Kevin Myers (of late and great imperial sunsets) can be far away.
Tom McGurk on Irish citizens receiving MBE's. The Sunday Business Post, 13 November.
It is not correct that the Irish soldiers of the Great War have been shamefully forgotten. Far from being forgotten, they were actually most vividly remembered as the last Irish generation of cannon fodder for imperial ambitions, cruelly misled about Home Rule intentions and the freedom of other European small nations.
Tom McGurk. The Sunday Business Post, 13 November
An Phoblacht Magazine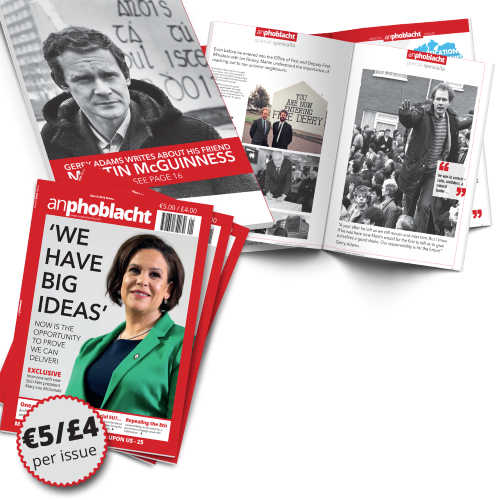 AN PHOBLACHT MAGAZINE:
The first edition of this new magazine will feature a 10 page special on the life and legacy of our leader Martin McGuinness to mark the first anniversary of his untimely passing.
It will include a personal reminiscence by Gerry Adams and contributions from the McGuinness family.
There will also be an exclusive interview with our new Uachtarán Mary Lou McDonald.
test