17 November 2005 Edition
Spotlight will turn on DUP, unionist paramilitaries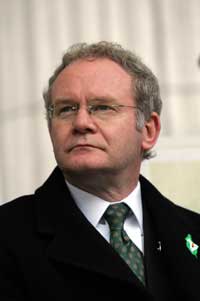 Peace Process Huge responsibility on DUP -- McGuinness
Following an engagement between a Sinn Féin delegation and British Direct Ruler Peter Hain and 26 County Foreign Affairs Minister Dermot Ahern at Hillsborough Castle on Monday, Sinn Féin's Chief negotiator Martin McGuinness told An Phoblacht that the delegation told both government representatives they have to make clear to the DUP that it now has a huge responsibility in relation to the peace process and the restoration of the political institutions in the North.
"In the course of previous discussions with Gerry Adams and myself, Tony Blair and Bertie Ahern made huge efforts to convince us that the main obstacle to DUP engagement was the unresolved issue of arms. I have pointed out that since then that issue, in terms of IRA arms at least, had been resolved that there is now a huge responsibility on the DUP."
The Sinn Féin delegation at Hillsborough included John O'Dowd MLA, Barry McElduff, MLA, Councillor Joe Reilly and Geraldine Dougan MLA.
McGuinness said that it was his belief that the spotlight in the time ahead would increasingly turn on the DUP and unionist paramilitaries. "They are going to come under widespread pressure on the need to face up to the challenges and opportunities presented by the IRA initiative and the fundamentally changed political landscape.
"I believe that both governments know that republicans have delivered and they also know that sooner rather than later that there has to be unionist engagement with Sinn Féin. Given that the DUP claim to represent a confident leadership of unionism, they should meet with a confident Sinn Féin leadership as soon as possible."
McGuinness also said that he believed that over the next while, despite nationalist frustration, it will become clear that the big questions to be answered in the Irish peace process are ones for the DUP and the leaderships of the UVF and the UDA. Recent developments had placed the DUP and the UUP as well as unionist paramilitaries on "the horns of a dilemma", McGuinness said, adding that he was convinced there is a real debate going on within the ranks of unionist paramilitarism which was a positive development but that he could not predict the outcome of this.