17 November 2005 Edition
Fifth Column
Far out
Taoiseach Bertie Ahern and the PDs' real leader, Justice Minister Michael McDowell, have been pleading that when they consider forming the next government they won't touch Sinn Féin with a barge pole that would stretch to a Fianna Fáil TD's offshore account.
They say it's because of SF's "far left", socialist economics (Ahern) or its "Marxist" policies (McDowell). Which is strange considering that, even in recent weeks, the Establishment media and Fianna Fáil TDs have been telling everyone that Sinn Féin has no policies outside of re-unification.
Up the left
And if we are to believe Bertie Ahern's assertion just a few weeks ago that he is, indeed, himself a socialist, then just what is his hang-up with left-wing economics?
Are you right there, Michael?
McDowell pedalled his old 'Red Scare' line on Sam Smyth's Today FM Sunday radio show, where he faced the formidable Mary Lou McDonald.
But McDowell insisted he knows what he's talking about (which makes a pleasant change from the PDs' John Minihan).
"I have to read An Phoblacht every week as part of my job."
Hiya, Mikey!
Maybe we should introduce discounted subscriptions for PD spokespersons — it brings out the masochist in them.
Enda's ideas don't add up
Enda Kenny's incredible call for compulsory Irish to be ended in the school curriculum to make it more attractive is surely worthy of being extended rather than criticised?
Kids all over the country have been turned off by the way schools teach maths and science, so why doesn't the Fine Gael/Labour manifesto promise to abolish maths and science?
A House rocked by Blueshirts
The Blueshirts's annual conference (it's NOT an Ard Fheis) got a black mark from rock group A House for pirating one of their hit songs to herald the arrival of their leader's speech.
The group disbanded nine years ago but former manager, John Carroll, said they were "appalled" any party would use their work to promote their political message without even asking for permission.
Outside of common courtesy and what John Carroll describes as the undermining of the band's "integrity", they could have complained on the grounds of misrepresentation by Fine Gael. The song used was Here Come the Good Times.
Daydream believer
Portadown Orange Order and Drumcree front man David Jones could have been a rock star.
The revelation comes in the biography of cuddly UTV journalist Ivan Little's just-published autobiography, Little by Little.
In the early 1970s, the Orangeman was in a rock 'n' roll band called The Machine. Big Ivan came across David Jones's machine while he was a cub reporter on the Portadown Times.
And what were The Machine's and Worshipful Brother Jones's influences? The Beatles, Credence Clearwater Revival and... Black Sabbath.
What the doctor orders
The SDLP are all over the Westminster shop because of their backing for Tony Blair's new internment law, which covers the Six Counties as well as Britain.
The SDLP voted for 28-day detention last Wednesday week 9 November. SDLP Policing spokesperson Alex Attwood said that, even though he was in London on the day of the vote, no one told him SDLP MPs were backing internment. He claimed the SDLP opposed the Terrorism Bill "in its entirety
An Phoblacht Magazine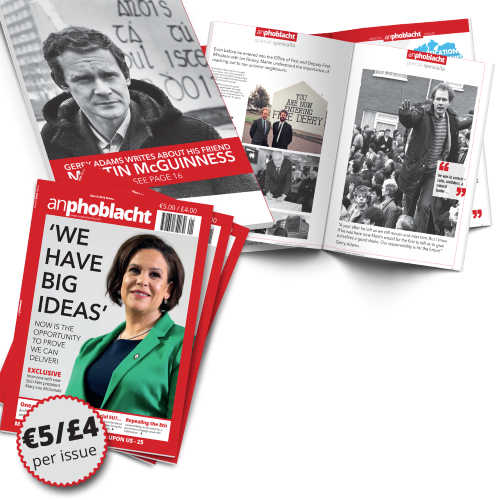 AN PHOBLACHT MAGAZINE:
The first edition of this new magazine will feature a 10 page special on the life and legacy of our leader Martin McGuinness to mark the first anniversary of his untimely passing.
It will include a personal reminiscence by Gerry Adams and contributions from the McGuinness family.
There will also be an exclusive interview with our new Uachtarán Mary Lou McDonald.
test