17 November 2005 Edition
British cynicism and SDLP hypocrisy
BY LAURA FRIEL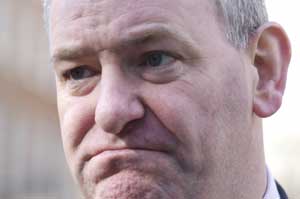 OTR legislation: British use move to protect state agents
The British government has used the introduction of legislation to address the anomaly of 'On-the-Runs,' to further protect state agencies and agents. This is a tacit admission that forces like Special Branch, covert units within the British army and British military intelligence were involved in illegal activities including the murder of citizens living in Ireland but held within British jurisdiction.
The cynicism with which the British Secretary of State Peter Hain announced an addition to the proposed legislation is indicative of the attitude of successive British administrations. The British state was directly involved in the illegal commissioning of killings in the North and has repeatedly refused to disclose, disavow and dismantle state mechanisms of collusion such as unionist death squads.
This latest foray into cover up has to be seen in the context of a whole raft of attempts to disguise and hide the truth about British collusion and the British government's decision to rearm, reorganise and direct unionist paramilitaries during the premiership of Margaret Thatcher. But like blood seeping through bandages the flow of information about collusion could never be completely stemmed.
The British response to public exposure has been to initiate a series of 'probes' 'investigations' and judicial 'reviews' but from Stevens to Cory underpinning each of these has been a process of public damage limitation and protection for those involved.
Sinn Féin has been at the cutting edge of exposing British collusion. Republicans have been writing about collusion for over 15 years and well remember a time when their exposure of British involvement in illegal and deadly activities was ignored and ridiculed.
And the SDLP position at that time was far from honourable, lending their voices and using their position as the then largest nationalist party in the North to toe the British line that allegations of collusion were mere propaganda. It has taken years for the SDLP to accept that collusion by the British state was real.
But instead of just admitting they were wrong and joining with republicans to set the record straight, what has the SDLP come up with? Seated in the chamber of the House of Commons, at the heart of the British state's institution of government, SDLP leader Mark Durkan used the opportunity to make dishonest and disingenuous allegations of collusion against Sinn Féin.
Durkan could have condemned the British government and exposed another attempt at official cover up. He could have talked of state commissioned murder and the deaths of ordinary people, not just republicans but also nationalists, unionists and even those members of the British state forces deemed expendable. Instead he indulged in a sideshow of party political rivalry and accused republicans of somehow supporting an amnesty for British killers. In doing so the SDLP has not only angered many republicans but also inflicted hurt and dismay on the families of the victims of collusion.
Sinn Féin negotiations in relation to OTR's were designed to address an anomaly within the peace process that saw the release of political prisoners within the terms of the Good Friday Agreement but did not address the specific circumstances of a small number of people, mostly republicans, deemed to be OTRs.
Sinn Féin did not propose, discuss or accept that members of the British state forces would be included in any scheme or given a blanket amnesty.
On the contrary it sought to ensure the scheme would not provide an amnesty to members of British state forces who carried out or were responsible for state killings or collusion.
The propsals published by the two governments at Weston Park 2003 related only to OTR's and did not include members of British state forces.
British forces were not included in either the process of prison release or in resolving the problem of people who had been displaced as a consequence of the conflict. The reasons are simple.
Despite their involvement in hundreds of killings and their collusion in hundreds of other killings, not one member of the British forces was in prison as a result of the conflict. No member of the British army or Special Branch or British Military Intelligence has ever been on the run. There are no British OTRs.
"Unlike the SDLP, Sinn Fein has always supported the victims of state violence and collusion," said Sinn Féin's Alex Maskey.
"Many of our party members were among those targeted, injured and killed. I have personally lost close friends and comrades and have been shot myself. Sinn Fein continues to stand beside these families was we have done for years.
"The hypocrisy and barefaced dishonesty of the SDLP in claiming that we are in collusion with the British government in covering up the past has caused great offence to many victims families," he added.
"For many years the SDLP dismissed Sinn Féin's claims that its members targeted by unionist paramilitaries were victims of collusion. When victims of collusion travelled to both Westminster and Stormont, the SDLP chose to ignore them.
"Sinn Féin will continue to challenge the British government for the truth about their activities in our country and we will continue to support families in their campaign for truth and justice," Maskey concluded.
Extract from the Weston Park Proposals - 1 August 2001
"Both Governments also recognise that there is an issue to be addressed, with the completion of the early release scheme, about supporters of organisations now on ceasefire against whom there are oustanding prosecutions, and in some cases extradition proceedings, for offences committed before 10 April 1998. Such people would, if convicted, stand to benefit from the early release scheme. The Governments accept that it would be a natural development for such prosecutions not to be pursued and will as soon as possible, and in any event before the end of the year, take such steps as are necessary to resolve this difficulty so that those concerned are no longer pursued."