17 November 2005 Edition
Residents clash with Croke Park over local facility - By Suzie Murray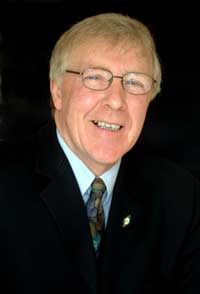 "We're a community organisation. We're here for the long haul, we won't be worn down," so says Eamonn O'Brien, Vice Chairperson of the Handball Centre and Social Club, Ballybough in Dublin's North Inner City. The club is fighting attempts by the company which runs the GAA's Croke Park Headquarters to close it down, ending a 25-year community commitment.
The club, established in 1970 is situated in one of the most deprived areas in the 26 Counties, providing a vital community resource. A focal point for community activity, hosting martial arts, arts and crafts, summer projects, anti-rape classes and senior citizens activities in addition to its commitment to handball and the facilitation of anti-drugs education and fundraising.
Now Páirc an Chrocaigh Teo (PACT), the GAA limited company designated control over Croke Park affairs, is attempting to force the club to close by denying requests for a renewal of its bar licence. Without this, financial pressures would force the centre out of existence.
A Croke Park Streets Committee has been formed to support the club. Regular public meetings are attended by crowds of several hundred people. A 700-strong rally marched on GAA headquarters at the organisation's annual congress.
O'Brien has noted that PACT's "drive for profitability comes before all things. Last year Croke Park made one-and-a-quarter million euro on property speculation and many local people believe their intention in all of this rests on this fact. Croke Park now hosts all sorts of events and they undoubtedly intend to expand their grounds. We're in a pivotal geographical position for any expansion."
Local Sinn Féin Councillor Christy Burke has lent his support to the club as has Mary Lou McDonald MEP.