17 November 2005 Edition
Family Unfriendly - The Irish childcare scandal
BY JOANNE CORCORAN
Budget 2006 - An Phoblacht examines the issue of childcare
Occasionally, an issue comes along that can make or break a government. Over the past few months and in the last week particularly, the areas of childcare, maternity and paternity leave, and the general attitude of the 26-County state to families, have been to the fore in public consciousness and have received much media attention.
The government has promised to try to tackle this area in Budget 2006, with Minister for Finance Brian Cowen using some of the large exchequer surplus to try to save his party from the growing anger of parents who feel they've been abandoned by the state.
But what is needed is much more than a standard Fianna Fáil quick fix. Along with Greece and Luxembourg, Ireland has the worst attitude to family/work life balance in the entire European Union.
In this article An Phoblacht's JOANNE CORCORAN looks at what the government is considering offering and what is actually needed to rectify the childcare crisis.
EU Mom is your average mums-to-be website, where women talk, via forums, about their experiences throughout their pregnancy. As a new mother, I've availed of this site frequently during the last few months, and its pages have shown me that women in the 26 Counties are livid at the state's attitude to mothers and children.
From the pitiful amount paid to women during their maternity leave, to the shameful lack and expense of childcare places, women feel that they are forced to battle for every right throughout their pregnancies and after.
What should be a wonderful, stress-free, life-changing period has become, for many Irish parents, an uphill struggle against government policies, and a massive financial nightmare.
So it's no surprise that Fianna Fáil is promising that childcare will feature hugely in December's budget. The question is — will what the government offers be enough?
Maternity and paternity leave
At the moment, women in the 26 Counties are only entitled to 18-weeks paid maternity leave and eight weeks unpaid, the bare minimum required by European Law. The right to paid paternity leave is not recognised at all.
Compare this to Britain, also one of the worst states for entitlements in Europe. Britain already provides six months maternity leave. It plans to increase this to nine months by 2007, and to a year before 2010. A new bill is set to provide fathers there with the opportunity to avail of six months paternity leave, three of which will be paid.
These policies, which also apply in the Six Counties put the Dublin Government to shame, and yet come nowhere near the likes of what is offered in Sweden.
Sofia Johansson, political secretary of the Left Swedish Party, Vänsterpartiet (one of the parties in Sinn Féin's grouping in Europe, GUE/NGL), says Sweden has still not finished debating where it wants to take the area of childcare.
"Currently we allow 13 months," she told An Phoblacht. "This time is available to both parents, with an obligatory two months taken by each parent. 80% of the salary is paid for the majority of that time and one-third for the remainder.
"Our system is good," she added. "But we want to make it better. We are now looking at the possibility of extending this leave to 15 months."
The leave given to women in the 26 Counties is paid at 75% of their salary -- however a ceiling is placed on this so that the maximum a woman can be paid is €249 a week. Before a woman can even consider the injustice of only 18 weeks paid leave, she must deal with this financial quagmire. There is no obligation for an employer to make up the difference in what the state pays a woman on maternity leave and what she would usually earn. So, facing possibly the most expensive period of her life, an expectant mother, who might normally take home the average weekly wage of €450, is now bringing in €249 a week. Some women are offered less, €165.50 being the lowest rate, if, for example, you are low on PRSI stamps.
It is being suggested that in Brian Cowen's budget, maternity leave will be increased to 26 weeks paid and 26 weeks unpaid, but this will probably be implemented incrementally- perhaps at two weeks a year. At that rate, it could be four years before Irish women in the South have what their counterparts in the North have right now.
There has been no mention of whether Cowen will introduce paternity leave for fathers.
Studies have shown that children benefit most from being cared for by one or both parents in their first year of life, but try running this by Irish Business and Employers' Confederation. Already, IBEC has said it can't say that it would support the proposal to increase maternity leave or provide paternity leave.
Childcare
The general consensus among parenting circles is that childcare now is akin to a second mortgage. With rates for a childcare place ranging from €165 a week in the country to €250+ a week in Dublin, it's easy to see why people make this argument. And that's for one child.
Yet, many parents consider themselves lucky to get a place, even if it is costing them up to a grand a month. Women I knew expecting babies at the same time as myself told me they had signed up their babies for crèches in the week they found out they were pregnant. Just to reflect how badly off we are for school places also, these women had already signed their children up for schools in 2010.
This state's obsession with the construction industry has meant that up until now the government's solution to the lack of childcare places has been to provide assistance towards the building of crèches. As a result, in the last number of years childcare places have risen from 57,000 to 82,000.
But with nearly 800,000 women in the labour market and this number set to increase, the supply of places is nowhere near adequate. Add to this the 15% of the population currently in the 18-27 bracket (roughly 650,000) who will be having babies shortly, and we are looking at a massive increase in demand for childcare places.
At the moment many families rely on unpaid relatives and neighbours to take on the burden of childcare. Most mothers in low-income families are forced to stay at home, and one essential wage is lost. These are the families who often slip into poverty. Currently the Department of Social Welfare considers a one-income family bringing in less than a net €446 weekly to be eligible for Family Income Support. This money is roughly the average net wage, which means many people have been pushed into what the state itself considers the poverty bracket because of the cost of childcare.
The current situation also flies in the face of IBEC's plans to increase the rate of female employment from 51.4% to the EU target level of 60%. It wants to increase the numbers, but at the same time doesn't want to deal with the need for childcare, which keeps many women out of the workforce.
The government is said to be looking at an increase in child benefit and the provision of one free-year of pre-school care in this budget. If implemented, this will also help to keep non-working mothers happy also, because they too will benefit from both provisions.
However, childcare is currently €141 a month. Even if it is increased by 30%, it still won't be anywhere close to tackling the astronomical cost of a crèche place.
The option of providing tax relief for childcare is also beiners to provide part-time hours for parents who wish to reduce their working week.
Sinn Féin ultimately wants to see the Irish childcare system equal that of the Scandinavian countries. But with the state currently so far behind other countries in the EU, and IBEC fighting every proposal offered regarding childcare, we are facing an uphill battle in getting the bare minimum for families.
Nevertheless, Sinn Féin continues to campaign on the issue. In two week's time, the party's Dublin MEP Mary Lou McDonald will bring a delegation of women from all over the capital city to the EU Parliament, where they will meet with other MEPs to discuss a range of women's issues, top of the agenda is likely to be childcare.
Not going away
The issue of childcare is not going to go away. Families in Ireland are currently at the top end in Europe for the number of children they are having (on average two per family). While this means we are ahead of the game in looking after pensions and taxes for the future, we are nowhere near able to provide properly for these children in terms of childcare or education.
Affordable housing has been the hot topic for debate in the last number of years, but most people are aware that the financial implications of childcare have outstripped this. People can only afford one or the other- a mortgage or care for their child.
Budget 2006 will be watched closely by all those concerned in this area. And it has to produce because unless the government tackles the childcare issue, more families will fall into debt and more children will suffer.
The great breastfeeding con
The 26-County Govern-ment's shameful maternity leave policies have helped to inhibit women's rights to breastfeed their children. According to the UN, breastfeeding gives children "the best start in life", and Irish maternity hospitals actively encourage this form of feeding in new mothers.
However, currently Ireland has one of the lowest breastfeeding rates in Europe, at 40%. One cause of this low number is lack of information, which can be laid at the government's doorstep. The first week of October was allegedly Breastfeeding Awareness Week, but the government's lack of funding to disseminate information on the issue left most people 'unaware' of the week.
The fact that the majority of women who do breastfeed give up by 14 weeks is a damning indictment of the 18-week maternity leave policy. Most women take four weeks before their baby is born and 14 after.
The Government's 'policies' to increase breastfeeding, such as denying shopper loyalty points on baby formula because breast milk is better, or allowing mothers one hour a day to breastfeed babies or express milk when back in work — are just lip-service. If the government wanted to support the UN's recommendation that women feed their babies themselves exclusively for six months, it would increase maternity leave to accommodate this.
An Phoblacht Magazine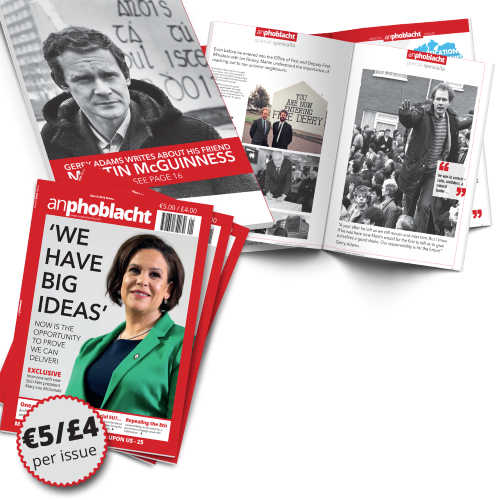 AN PHOBLACHT MAGAZINE:
The first edition of this new magazine will feature a 10 page special on the life and legacy of our leader Martin McGuinness to mark the first anniversary of his untimely passing.
It will include a personal reminiscence by Gerry Adams and contributions from the McGuinness family.
There will also be an exclusive interview with our new Uachtarán Mary Lou McDonald.
test