17 November 2005 Edition
No more excuses
The absence of the DUP from talks at Stormont this week spoke volumes. While other parties met with the two governments, the main unionist party chose instead to snipe from the sidelines about trust and democracy.
The party's argument for staying away rings hollow. In the past, its leaders have claimed the issue of IRA arms has prevented them from talking to republicans. That alleged obstacle has been removed, but in typical DUP fashion, the goalposts have been promptly shifted. Now they say they want further proof of IRA disarmament before they engage with Sinn Féin.
By such dishonest delaying tactics, the DUP is sacrificing its voters' voice at the political table. Its refusal to work for constructive, accountable government in the North means the people it claims to represent are being left with direct rule - something the DUP claims to oppose.
Both governments know republicans have fulfilled their commitments. The spotlight is increasingly on the DUP and the unionist paramilitary gangs.
Can the DUP meet the challenge to engage in the peace process presented by the IRA initiative? Can unionist paramilitaries follow the clear path laid out by republicans and put down their arms in the interest of progress for everyone?
There can be no doubt that a debate is under way within loyalism. Pragmatism should guide the thought-processes involved.
Sooner or later, the DUP will have to engage with Sinn Féin. As Martin McGuinness said on Monday - Paisley claims to be a man of God. The arms issue has been removed. Now we will see if he is a man of his word.
An Phoblacht Magazine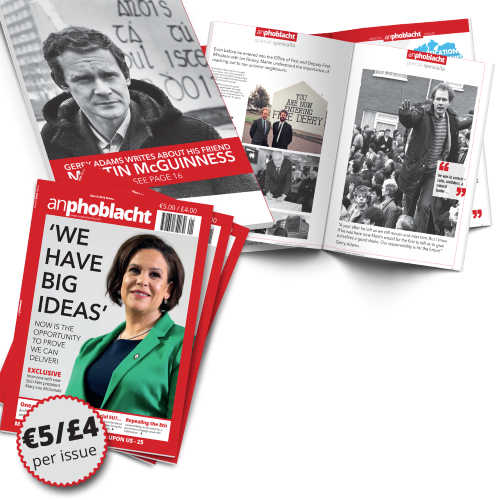 AN PHOBLACHT MAGAZINE:
The first edition of this new magazine will feature a 10 page special on the life and legacy of our leader Martin McGuinness to mark the first anniversary of his untimely passing.
It will include a personal reminiscence by Gerry Adams and contributions from the McGuinness family.
There will also be an exclusive interview with our new Uachtarán Mary Lou McDonald.
test