10 November 2005 Edition
Dúirt Siad...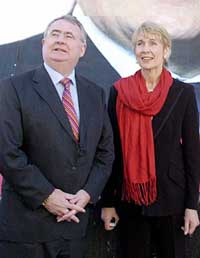 Significant elements in Special Branch and the RUC supported and assisted sectarian murder campaigns.
Susan McKay, writing about a new book by former RUC Detective Johnston Brown. The Irish News, Tuesday 8 November.
Brown claims that "every fifth or sixth" person in the UVF was a police or MI5 informant.
Susan McKay quotes from Jonty Brown's book, the Irish News, Tuesday 8 November.
This book shows the need for the sort of inquiry, recommended by Judge Peter Cory, into the murder of Pat Finucane. That means that the Inquiries Act of 2005 must be repealed. The sinister arena must be emptied and razed to the ground.
Susan McKay. The Irish News, Tuesday 8 November.
Twenty eight handguns — still in mint condition and still in the hands of the Official IRA were transported to Ireland via Moscow and France.
Ciarán Barnes on the continuing activities of the OIRA group associated with the Workers' Party of which current Irish Labour Party leader Pat Rabbitte and TDs Liz McManus, Eamon Gilmore, Joe Sherlock, Kathleen Lynch, and MEP Proinisias De Rossa were leading members.
"The Official IRA was working too closely with the state for my liking. Many members have suspicions that one of the men who travelled to North Korea in 1988 is a British agent."
A former OIRA member on further murky activities of the armed group associated with the Worker's Party at a time when its parliamentary stars were those currently sitting in Leinster House as Labour Party front benchers.
An Phoblacht Magazine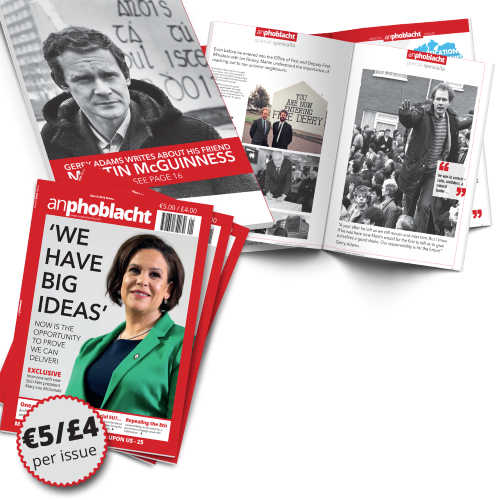 AN PHOBLACHT MAGAZINE:
The first edition of this new magazine will feature a 10 page special on the life and legacy of our leader Martin McGuinness to mark the first anniversary of his untimely passing.
It will include a personal reminiscence by Gerry Adams and contributions from the McGuinness family.
There will also be an exclusive interview with our new Uachtarán Mary Lou McDonald.
test