10 November 2005 Edition
Remembering the Past: Edentubber Martyrs
BY SHANE Mac THOMÁIS
On Monday 11 November 1957, five republicans were killed in an explosion which demolished a small cottage at the foot of Edentubber Mountain in County Louth.
Gardaí on the scene shortly after the explosion, found human remains scattered by the blast and only after lengthy examination of the remains was it established that five men had been killed.
Four Thompson sub-machine guns and ammunition were found among the wreckage. The Newry Frontier Sentinel reported: "The finding of a machine gun strapped to a bicycle led to the belief that the men were starting out on an expedition when a land mine they were handling exploded."
The five men killed in the explosion were Michael Watters, Patrick Parle, Paul Smith, George Keegan and Oliver Craven.
Vol George Keegan
Born under the shadow of Enniscorthy's Vinegar Hill, George Keegan came from a family with a deep-rooted republican tradition, being a descendant of a rebel hanged in 1798. His father, Captain Patrick Keegan, was commandant of the IRA's North Wexford Brigade during the Tan War and was in the Atheneum in Enniscorthy in 1916 when they were the last group in Ireland to surrender to British forces. A single man George was last seen in County Wexford several weeks before his death at Edentubber. He was 29.
Vol Paul Smith
Adjutant Paul Smith from Bessbrook, County Armagh was the eldest of a family of seven. An architect's apprentice he was said to be of a happy and carefree nature, was widely read and had a flair for leadership and responsibility. Slightly built, he was described as being 'as hard as iron' and had been involved in many daring missions. For this the British and Stormont authorities had put a price on his head. Paul had been away from home for over six months. He died aged 19.
Vol Oliver Craven
From Newry, Oliver Craven was a labourer and had been a driver before joining Oglaigh na hÉireann. Described as powerfully built and quietly spoken, he was particularly noted for his cool headedness. On the run and wanted by the Stormont authorities, he had evaded capture several times. Also single, he had been away from home for almost six months and was only 19 when he died.
Vol Paddy Parle
Paddy, from William Street, Wexford Town was a founding member of the Parnell GAA Club. A worker in a local printing firm, he loved all things Irish and was a member of Conradh na Gaeilge. Paddy also had a special regard for James Connolly and the cause of the working class.
In the mid-'50s he joined the local IRA unit on the outbreak of the Border Campaign and was instrumental in organising an active membership. Seven or eight Wexford men became part of the Vinegar Hill Column and operated for a few months until arrests put an end to their activities. He was last seen by his brother, two months previously. He was 27.
Michael Watters
Michael, who owned the cottage where the bombs exploded, was a forestry worker and had lived their alone since the death of his mother two years previously.
After a Mass in St Patrick's Cathedral, Dundalk, on Thursday 14 November, the coffins of the Wexford men were taken away on the first leg of their final journey south. Throughout the day people from Dundalk, South Down and South Armagh filed past the coffins of the remaining three, over which was mounted a Fianna Éireann honour guard.
Later at their funeral in St Patrick's Cemetery, John Joe McGirl, Sinn Féin TD for Sligo/Leitrim, delivered the graveside oration. In the course of it he said:
"The tragedy which brought to a sudden end the lives of five great Irishmen is a tragedy of the Irish nation, the tragedy of an Ireland that is unfree and divided. These men came from the North and the South to join together to end the tragedy of our nation and our people."
McGirl, a leading republican for four decades until his death in the late 1980s, also pointed out: "For 35 years the nationalists in the North looked to their brother Irishmen in the South for a direct lead against British occupation. They were sadly disillusioned by the inept approach to the problem of occupation by their fellow Irishmen in the South.
"Having examined and employed all peaceful approaches to the unnatural division of our country, they once again asserted their God-given right to freedom and have fought side by side with gallant men from the South."
There is no trace today of Michael Watters' home but a monument marks the spot to which republicans have returned each year since the first anniversary of the explosion.
The Edentubber Martyrs died on Monday 11 November 1957.
An Phoblacht Magazine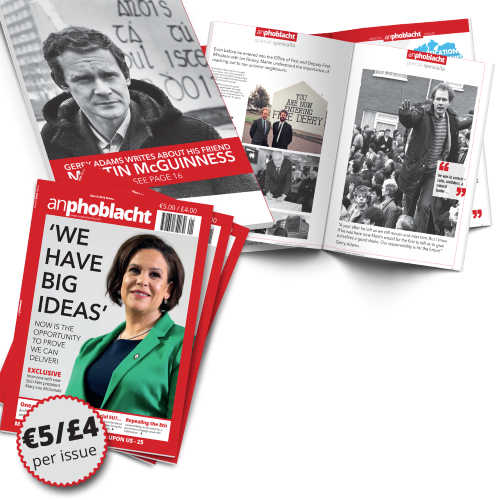 AN PHOBLACHT MAGAZINE:
The first edition of this new magazine will feature a 10 page special on the life and legacy of our leader Martin McGuinness to mark the first anniversary of his untimely passing.
It will include a personal reminiscence by Gerry Adams and contributions from the McGuinness family.
There will also be an exclusive interview with our new Uachtarán Mary Lou McDonald.
test