10 November 2005 Edition
Fifth Column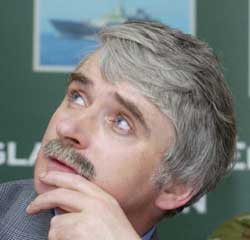 A bit of Tom Foolery
Dublin Southwest Fianna Fáil TD Charlie O'Connor must have been surfing the web, looking for a little bit of bling to buy Mammy O'Connor, Willie O'Dea and the Soldiers of Destiny for Christmas, when he popped into the Sinn Féin Bookshop website (http://www.sinnfeinbookshop.com) to take a dekko at its eye-catching "Oglaigh na hÉireann" branded jewellery. And Charlie was so stunned by the merchandise that he rushed into the Dáil to highlight the amazing Chrissie pressies.
But Defence Minister Willie O'Dea isn't impressed. He wants the republican rings, pins and pendants decommissioned.
"No permission for use of the title 'Oglaigh na hÉireann' on the items featured on the website has been sought from the Department of Defence, nor could such permission be given," Willie huffed to the Dáil last week.
"As no permission for the use of the name has been given, I would invite the leadership of the political party whose name appears on this website to ensure that this material is removed for sale on the site."
Anyone wishing to purchase this rather novel gift for your loved one (or Willie O'Dea) can order from http://www.sinnfeinbookshop.com.
No defence
In Leinster House the same day as the ring row, Sinn Féin TD Aengus Ó Snodaigh asked Warrior Willie questions about the new equipment the Defence Forces will have to spend taxpayers' money on to support the controversial EU battle groups.
Willie shot back: "I do not claim to know as much about military hardware as Deputy Ó Snodaigh obviously knows," which makes one wonder why they put Willie in charge.
Internment is good for you
Former republican Seán O'Callaghan has been cut loose by his London society patrons now that his increasingly bizarre musings have made him redundant in Westminster's propaganda war against republicans.
But ever-keen on the media spotlight and the price of more than a cup of tea, O'Callaghan has piped up in defence of Tony Blair's campaign for 'terror suspects' to be interned for 90 days without charge.
"Besides, it's a two-way thing," O'Callaghan declares triumphantly. "If the guy is innocent, his lawyers have 90 days to put his case together."
Now why didn't the civil liberties people think of that?
Here's Johnny
Exiled UDA leader and wife beater Johnny Adair is roamin' in the gloamin' in the quiet Scottish seaside town of Troon after legging it from his Bolton bolthole.
A clutch of cronies have joined Adair but wife Gina, whom he was convicted last week of viciously assaulting in a public park as terrified mothers and children looked on, isn't with him.
Independent truth
Last Saturday, the Irish Independent opined in relation to the conflict in the Six Counties:
"Truth is many-sided, it is rarely absolute. Maybe the time has come to draw a line under the past, to agree to a closure of the books and to move on from there."
So a new, open-minded, fair approach to republicans, then? Er, not quite. What the Indo wants to "close the books" on is any public inquiry into MI5/RUC/British Army collusion with the UDA and UVF death squads in cases such as the Dublin/Monaghan bombings and the killing of Séamus Ludlow. We wonder why.
Epilogue
Terry George, the Belfast movie director of the acclaimed film, Hotel Rwanda, picked up two awards — best director and best script — at the Irish Film and Television Awards in Dublin on Saturday night.
Hotel Rwanda is based on the true-life story of Paul Rusesabagina, a hotel manager who housed over 1,000 Tutsi refugees during pogroms by the Hutu Militia in Rwanda, and was nominated for three 'Oscar' Academy Awards this year.
But Terry was thrilled to receive his 'IFTA'.
"The last thing I was given in Ireland," republican Terry told his star-studded audience, "was six years in Long Kesh".
Parting shot
Pat Rabbitte, former top dog in the Workers' Party, told TDs during the Leinster House debate on Sinn Féin's Irish re-unification motion last Thursday:
"I never believed there was a war in Northern Ireland or justification for a war."
So what did your old comrades in the so-called 'Official IRA' need the guns for then, Pat? And did you tell them what you really thought of them when they were going out to have a blatter at the Brits and the RUC?
An Phoblacht Magazine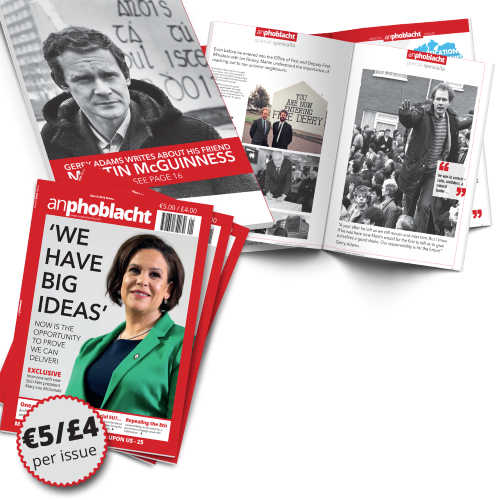 AN PHOBLACHT MAGAZINE:
The first edition of this new magazine will feature a 10 page special on the life and legacy of our leader Martin McGuinness to mark the first anniversary of his untimely passing.
It will include a personal reminiscence by Gerry Adams and contributions from the McGuinness family.
There will also be an exclusive interview with our new Uachtarán Mary Lou McDonald.
test