10 November 2005 Edition
Bangers and match
BY Matt Treacy
The big story from last weekend's club championship was the victory of St Galls of Antrim over Tyrone champions Carrickmore. Mind you, having won their fifth Antrim title in a row, not to mention this year's All-Ireland seven-a-side, there were a number of shrewd judges who fancied the Belfast men to reverse last year's result and backed them at 7/4. St Gall's attempt to win the Ulster title for the first time since 1982 will have been helped by the fact that many people's favourites Crossmaglen were put out by Bellaghy.
In Connacht, Mayo's Crossmolina seemed for most of their match against Salthill/Knocknacarra of Galway as though they would do just enough to scrape through a tense, close fought and exciting game. Kept ahead by four Ciarán McDonald frees, including a brilliant effort from 50 yards out on the sideline in the first half, they eventually went down in a manner familiar to followers of Mayo county teams.
McDonald had already misjudged a number of scoreable frees when another fell short into the Salthill square. It was gathered by Joe Keane and he was adjudged to have been hit with an elbow by Galway's Michael Donnellan. McDonald cracked the ball from the penalty spot against the crossbar, perhaps with a little help from goalkeeper Cathal McGinley.
Salthill were already a point up and added another from a Séamus Crowe free to win by two. Crowe, who scored four points, and Seán Armstrong in the other corner, were Salthill's best forwards and it will be no surprise to see either or both feature in Galway's plans in the new year.
Following the furore over the International Rules, there was a good deal of coverage of the Laois Hurling Final which left 15-year-old Dean Delaney of Camross hospitalised. A County Board disciplinary hearing last Monday handed down stiff suspensions to a number of those involved, including Delaney's father. Dean himself will have to appear when fully recovered.
There has been some debate over whether he ought to have been playing in the first instance given his age. Of course it's not uncommon but the more usual problem over the years has been players who are pretending to be younger than they are, or to be different lads altogether.
When we were younger, and didn't have to memorise false dates of birth for 'romantic' purposes (ahem), the big obsession was with what were known as 'bangers'. A banger was a player who was too old to be playing under-14 or minor or whatever the grade happened to be.
It was a serious issue in Dublin and I can recall playing in an under-15 championship match against a chap with a beard who came to the match in his own car. Our manager demanded that he produce his birth cert, which he did. In fact he probably made it himself when he wasn't forging fivers for the Stickies.
The Robert Emmets summer leagues were notorious for that kind of carry on. The chief culprit was a Donegal man who had stood for Sinn Féin in the local elections and who refereed matches while smoking his pipe. If he could have persuaded Jimmy Keaveney to tog out he would have done.
Anyway, one year my Da and Paddy Purcell decided to take him on at his own game in a desperate bid to win the under-13s. There wasn't one of us younger than 14 and we were eyed suspiciously by the bearded Ulsterman as we took to the field for the final. "You wouldn't have any bongers there Paddy?" he inquired. "No more than yourself," was the curt response.
Just in case fielding an illegal team was not sufficient, our friend also undertook to referee the match and had his wife and sidekicks installed as umpires and linesmen. We were winning by a couple of points when he decided to award his team a penalty for something that happened near the half-way line.
Well, all hell broke loose during which I got a whack on the side of the head with a hurley. On retaliation I was then assaulted by somebody's mother who in turn was then delivered with a root up the backside, perhaps by my brother although he has always denied it.
During the midst of the mayhem I can recall the disappointed expression of the priest who was to present the winning team with the trophy. The Donegal man seized the opportunity to abandon the match and there was talk of the County Board getting to hear about it. Of course we were delighted with ourselves.
An Phoblacht Magazine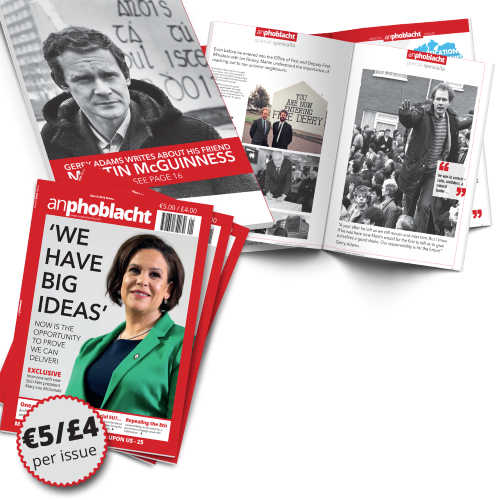 AN PHOBLACHT MAGAZINE:
The first edition of this new magazine will feature a 10 page special on the life and legacy of our leader Martin McGuinness to mark the first anniversary of his untimely passing.
It will include a personal reminiscence by Gerry Adams and contributions from the McGuinness family.
There will also be an exclusive interview with our new Uachtarán Mary Lou McDonald.
test