27 October 2005 Edition
Dúirt Siad...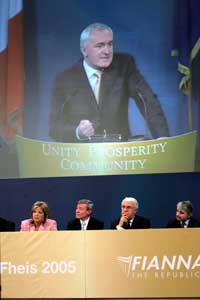 This is not an issue of revenge but of justice — and of attitude. Sadly, the Church has given the impression again and again that it cares more for the alleged wrongdoers than for their victims. The Irish Independent editorial, Wednesday 26 October.
He has not been visited by the spirits of Pearse and Tone and Countess Markievicz, but by the Ghost of Elections Future, bearing dread tidings about mass voter desertion and Gerry Adams in the Taoiseach's office. Darragh McManus refers to Bertie Ahern's decision to re-institute an Easter Parade. The Irish Independent, Tuesday 25 October.
Even if the SDLP were to finally implode in irrelevance and incompetence, Fianna Fáil advisors conceded that, if the SDLP could not attract the able dynamic young people needed to turn things around in the fight against Sinn Féin, it would be difficult for Fianna Fáil to attract them. Eoin Ó Murchú examines the reasons behind Fianna Fáil not organising in the Six Counties, after another resolution was passed at the party's Ard Fheis to consider the issue. Daily Ireland, Monday 24 October.
Editorial executives were satisfied at the time that the story was correct. Sunday Independent Managing Editor Michael Denieffe, after the paper ran an entirely false article saying Liam Lawlor, who died on Saturday, had been with a prostitute when his car crashed. The Irish Examiner, Monday 24 October.
The way I look at it is, a dead man has no recourse and scandal sells newspapers. Liam Lawlor's son Niall Lawlor. Ireland Online, Tuesday 25 October.
A black day for journalism. The National Union of Journalists slams the Sindo's story. Monday 24 October.
The real reason of my not standing up was I felt that I had a right to be treated as any other passenger. We had endured that kind of treatment for too long.
Civil Rights Pioneer Rosa Parks, who died last Monday, aged 92. Rosa refused to give up her seat on a bus in Alabamba to a white man in 1955, and was fined $14.
An Phoblacht Magazine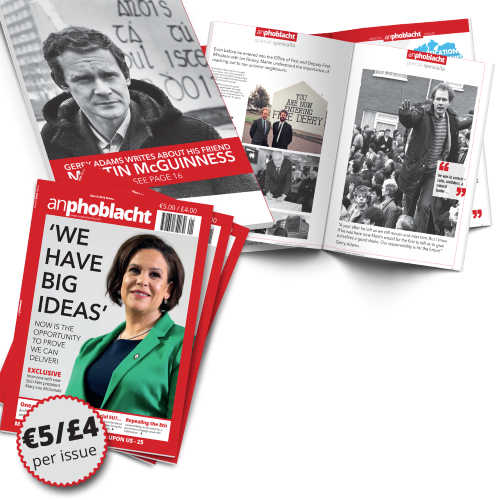 AN PHOBLACHT MAGAZINE:
The first edition of this new magazine will feature a 10 page special on the life and legacy of our leader Martin McGuinness to mark the first anniversary of his untimely passing.
It will include a personal reminiscence by Gerry Adams and contributions from the McGuinness family.
There will also be an exclusive interview with our new Uachtarán Mary Lou McDonald.
test