27 October 2005 Edition
Hybrids and interlopers
BY Matt Treacy
National stereotypes are a bad thing of course but there is a certain grain of truth to most of them. One of those relating to Australians is their alleged lack of modesty when it comes to trumpeting their achievements. This is particularly true when it comes to sport. Last Friday's drubbing of the Irish International Rules team certainly gave them plenty of ammunition.
The headline on ABC Sport was "Young pups savage Ireland". The Sydney Morning Herald crowed "Irish eye a series shellacking" and predicted that the "hard-nosed Ryan McMenamin" would be a welcome addition to an Irish team clearly deficient in the testesterone department.
The Australians also held a poll which posed the question: "Do you care about the International Rules series between Australia and Ireland." Last time I checked over 56% thought it was great and loved it; 27% said no, that it was "hybrid nonsense" and the remaining 17% claimed not even to know it was taking place.
The defeat has also led to some debate in this country, as to whether the whole thing is a good idea or not. Now, that could be construed as sour grapes but there are those who have been consistent in their opposition. Most prominent is Tyrone Manager Mickey Harte, who came out strongly against the whole idea despite, or maybe even because of, the number of Tyrone players on Pete McGrath's panel.
Harte has made the point that the game is neither one thing or the other and that the GAA ought to be promoting Gaelic football in its own right rather than using the International series as the main platform. Harte is also concerned at the possibility that more players will be tempted away to the professional Australian game, and will no doubt be anxiously awaiting to hear whether Seán Cavanagh accepts an offer to join the Brisbane Lions before the tour ends. Harte's alternative to International rules is for the GAA to promote international club competitions. He admits that these would be somewhat lopsided at first but that the game could be promoted in this manner in the long term.
Last Friday's game certainly boosted the case made by opponents of the series. In fairness to Australia they had clearly done their homework and had come up with a gameplan that totally frustrated the Irish effort to dominate exchanges in the same way as last year. The emphasis was on retaining possession through the use of the handpass, and preventing movement by the Irish through means of "shirtfronts" and tackles that would not even be tolerated in Junior 6 on a cold Sunday in Saggart.
The Aussies had also clearly been working on their kicking and once in range missed very little, being particularly accurate in taking the crucial three pointers. It has to be said, however, that it is not nice to watch. And I am not being partisan here. I made the point about last year's matches in Croke Park that only an unreasoning fanatic could have become excited over Ireland's easy victory the first day. Besides, the only time I become patriotic in sport is when Moscow Flyer is clearing the last fence at Cheltenham.
In my humble opinion, the hybrid game has all the negative aspects of Gaelic football and few of its positives. The tackle is a joke and consists of basically hauling someone to the ground and making sure that they don't get up. The play is rarely free-flowing as the action mainly consists of short passing with players taking a 'mark' and then, if not in scoring range, looking for another player to do likewise. The Australians this time have learned the lesson of not dwelling too long on a mark, and of moving players into open spaces more quickly than they used to, but it is still a game based on regular stoppages.
Last Saturday UCD beat Ballyboden St Endas to reach Friday's Dublin Senior Hurling Championship final against St Vincents.
At a time when the Dublin Senior hurling team is attempting to recover from one of it's worst periods in living memory, the prospect of the county championship being again won by a UCD team dominated by inter-county players from outside the city is not good. They are not a genuine club, have no underage structure nor are they a proper part of the Dublin County Board. They should be withdrawn from the county championship. It is high time that the new management under Tommy Naughton is at least given the opportunity of having a genuine county championship from which to pick the county team. Oh — and may my tongue rot in my mouth — Up the Vins!
An Phoblacht Magazine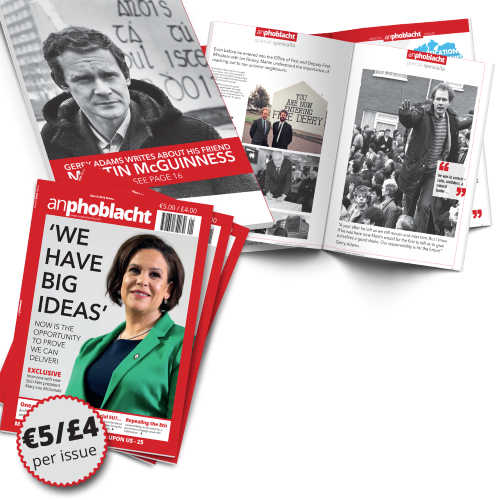 AN PHOBLACHT MAGAZINE:
The first edition of this new magazine will feature a 10 page special on the life and legacy of our leader Martin McGuinness to mark the first anniversary of his untimely passing.
It will include a personal reminiscence by Gerry Adams and contributions from the McGuinness family.
There will also be an exclusive interview with our new Uachtarán Mary Lou McDonald.
test