27 October 2005 Edition
A sickness in our society
The sense of shock with which Irish people greeted the publication of the Ferns Report this week was palpable. The report's catalogue of horror revealed that priests abused more children in the diocese of Ferns than in any other diocese in the world.
But the media sensation that greeted the report could not hide the fact that we have been aware for a long time of a sickness in our society. For decades, Irish children have been neglected and abused by not only the Church, but the state as well.
The individuals responsible for the evil inflicted on children in Wexford, and those who supported them and failed to report them, came from the Catholic Church. However the state, in the form of the Garda Siochána and the Health Boards, is also culpable in that it should have responded to the pleas for help from families who suffered, and punished those responsible.
Senior authority figures ignored for years what was going on in front of them. No amount of apologies or admissions of complicity now can remove the hurt and damage inflicted on innocent children in Wexford.
It is long past time to enshrine the rights of children as individuals in the constitution. The government has yet to establish a register of persons unsafe to work with children.
Sinn Féin has submitted a proposal for a new article to the All-Party Oireachtas Committee on the Constitution, which would see the state guarantee to cherish all the children of the nation equally. In addition to their individual rights, this article would entitle children to special care and assistance essential to childhood. The state would be responsible for ensuring that every child grows up in an atmosphere of happiness and understanding, and that protection in the form of all appropriate legislative and administrative measures would be available to them. Sinn Féin has further proposed the right of all children to be heard and consulted in all matters affecting them.
One in Four, the group representing men and women who were abused as children, has also called for mandatory reporting of suspicions of child abuse and for all staff working with children to be screened.
Irish society owes it to our children to protect them from the sort of horrors detailed in the Ferns Report. The government must take immediate action to make sure we can protect them.
An Phoblacht Magazine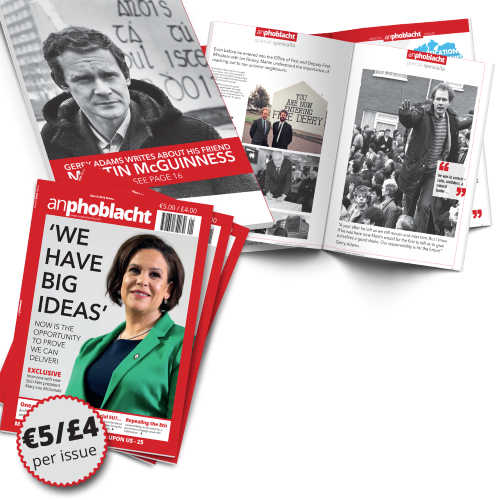 AN PHOBLACHT MAGAZINE:
The first edition of this new magazine will feature a 10 page special on the life and legacy of our leader Martin McGuinness to mark the first anniversary of his untimely passing.
It will include a personal reminiscence by Gerry Adams and contributions from the McGuinness family.
There will also be an exclusive interview with our new Uachtarán Mary Lou McDonald.
test