20 October 2005 Edition
'Anomie' and the County Final
One of the great superstitions of Dublin football is that the county team is only successful when there is one strong dominant club that provides the backbone for the senior team. St Vincents fulfilled that role in the 1950s, early '60s and '70s and while there have been pretenders since — Ballymun Kickhams, Erin's Isle, Thomas Davis and Na Fianna, none set their stamp on the Dublin team in the same way. Last Sunday may have seen the beginning of a change to that pattern. It may also have signalled a shift from clubs, generally northside, based in large working-class estates, to south Dublin middle-class suburbia.
A curious thing about Dublin County Finals is that they don't have the same sort of local passion and engagement as in rural parts where it is not unusual to find a whole village or half a town at a match. Probably most people in Kilmacud and Glasnevin were not even aware that 'their' club was involved in last Sunday's county final, or maybe even that there is a local club. Certainly judging by the crowd I would estimate that only a minority of those there were connected to either.
I suppose a lot of that has to do with what sociologists describe as 'anomie' where people living in urban environments no longer have close connections to a place and their neighbours. To many people, Dublin is not their home in the first instance and the place they live is really only a place where they sleep.
That presents all locally-based organisations, from party cumainn to residents associations, with a huge problem. GAA and other sports clubs are in the same predicament. The situation is made worse where social problems lead to a lack of adult interest, and participation, in the organising of sport for children. This has led in some parts of Dublin to old established clubs having no presence at all in some of the most disadvantaged estates and that situation is not helped when the senior club team is largely made up of players who have not come up through the underage system.
All the more credit to Kilmacud Crokes then, for the massive amount of work which they are doing and the numbers of juvenile players they have involved in the club. One of the fruits of that was seen earlier in the year when their Under-14s won the Féile na nGael competition beating teams from the elite hurling counties. Two Crokes players also won Leinster minor medals with Dublin.
Last Sunday Kilmacud won their fourth ever County Championship, and their second in a row, defeating Na Fianna. In an era where the top Dublin clubs are increasingly peppered with inter-county players from outside the county, Croke's senior success is firmly based on the graduates of local schools and underage teams. Of Sunday's panel, 17 of the 24 had won Dublin championships at underage level. In contrast, alongside Dublin veterans Sherlock, Farrell and Connell, Na Fianna started five current or former senior players from other counties.
More importantly for those of us seeking portents for the future of the Dublin team, is that several of the younger Crokes players will be key to any prospect of Dublin winning an All-Ireland in the next few years. Paul Griffin is an established county man at corner back but looks like the makings of a good left half, while Liam Óg O hEineachain and Mark Vaughan are panel members, alongside Ray Cosgrove who at 28 is a relative veteran. Cosgrove scored five points last Sunday. Darren Magee had an excellent game and is the most likely replacement for Darren Homan as at least the second choice in midfield alongside Whelan. Others may well get the call over the next year.
Vaughan in particular is an exciting prospect. The 20-year-old won a Leinster Under-21 medal this year and impressed at times in his appearances for the seniors. His peroxide hair gives him a passing resemblance to Owen Mulligan, and his style of play is not dissimilar. He is by far from being the finished article that Mugsy became over the Summer but he has the makings of it.
Having scored 1-8 in Kilmacud's semi-final defeat of Vincents, Vaughan was clearly the player that Na Fianna had to subdue if they were to win the title. A token of that respect was the assigning of Armagh's Enda McNulty to mark him. Vaughan paid little reciprocal homage and followed a well-taken point with a sublime goal after which the Armagh man was moved onto Mick Daveron on whom he performed somewhat better although Daveron, another Leinster Under-21 medal winner, scored two nice points, one in each half.
Possessing skill in abundance, Vaughan has the arrogance to match. Most of the near capacity crowd in Parnell Park on Sunday were neutrals and it is easy to see that young Mark has already built himself a strong following of both admirers and detractors. You either like players who continually talk into your face and mock you after they have scored, or not scored depending on what position your interlocutor is playing, or you do not.
In fairness it is not an engaging habit and it is one that Vaughan might profitably disengage from. His defenders would point out that he has been the target of abuse himself since a minor, and there were at least two examples on Sunday of what were intended to be viscous and potentially damaging assaults on him. The perpetrators shall remain anonymous but there is every chance that Vaughan will meet at least one again over the next year should he win a first-team place with the Dubs, as he surely will. Undoubtedly there is a courageous element in his arrogance and his refusal to be intimidated, just as there is in the attitude of many top class forwards at the present time. Vaughan has not yet earned his right to be spoken of in the same company, but he may well do over the coming few years.
Finally congratulations to Crossmaglen Rangers on winning their tenth successive Armagh Championship. Powered by the likes of Francie Bellew and the McEntees, they overcame a strong challenge from Dromintee and will be serious contenders to win their fourth All-Ireland club championship.
An Phoblacht Magazine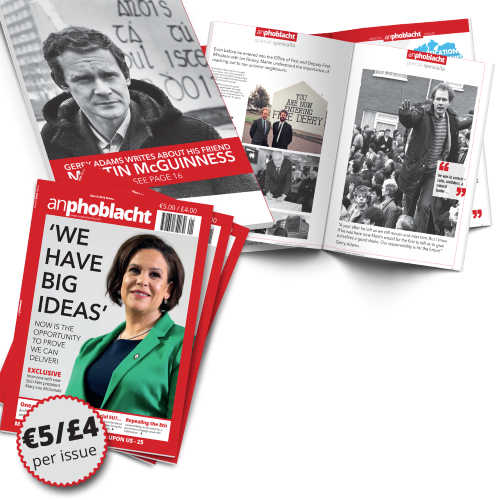 AN PHOBLACHT MAGAZINE:
The first edition of this new magazine will feature a 10 page special on the life and legacy of our leader Martin McGuinness to mark the first anniversary of his untimely passing.
It will include a personal reminiscence by Gerry Adams and contributions from the McGuinness family.
There will also be an exclusive interview with our new Uachtarán Mary Lou McDonald.
test