20 October 2005 Edition
News in brief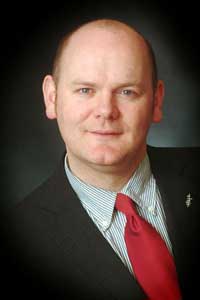 €1bn up in smoke
The use of public money by Dublin City Council management to promote incineration in the Poolbeg Peninsula, Ringsend has been slammed by Cllr Daithí Doolan. Doolan said recent reports of a secret one billion euro incineration deal between the council and Danish firm Eslam Engineering has infuriated locals. Doolan led the campaign against the incinerator last year and successfully got it voted down in Dublin City Council. However, the city management are still attempting to get it built and have now resorted to expensive publicity stunts.
PSNI investigated after breech of contract
A judge in Belfast has called for a criminal investigation into a PSNI contract debacle. A sheet metal company, NI Sheet Metal Works Ltd, was awarded £400,000 compensation after successfully suing the PSNI for breach of contract.
The judge said there was evidence someone in the PSNI deliberately undermined the company whose tender was accepted and then withdrawn after it had been wrongly discredited.
McGrady CRJ comments "a smokescreen"
Sinn Féin South Down MLA Caitríona Ruane has described an attack on Community Restorative Justice groups by Eddie McGrady as "a smokescreen because the SDLP was presented with the choice of continuing to fight for a new beginning to policing or accepting less and they accepted less," said Ruane.
McGrady, an SDLP Policing Board member, accused community-based projects of "intimidation".
Bird-Flu raised
Bairbre de Brún raised the latest Bird Flu crisis in a meeting with food and veterinary officials in County Meath last Monday. The Sinn Féin MEP highlighted the issue as reports came in of contaminated birds being found in Greece. In her role as part of an official EU delegation from the European Parliament's Environment, Public Health and Food Safety Committee, de Brún discussed the question of health and safety for the public and border controls for imported food stuffs.
Smoking ban
The introducing of smoke-free work places in the Six Counties has been welcomed by Sinn Féin MLA John O'Dowd, who has long campaigned on the issue. The 26 Counties implemented a smoking ban in 2004. O'Dowd said the move would reduce work place illnesses and protect workers' and customers' rights.
Quinlivan selected
An election convention in Limerick East last week, unanimously selected Maurice Quinlivan as the Sinn Féin candidate for the next General Election. Quinlivan came close to winning a seat in Limerick City Council last year, and it is widely believed he will see Sinn Féin's vote rise substantially in the next election.
Affordable housing fallacy
Sinn Féin's Michael Nolan has described as "a complete fallacy" the notion of affordable housing in Dublin after Dun Laoghaire/Rathdown Council called on people to submit applications for homes in South Dublin valued at €300,000, €35,000 over the average cost of a house in the 26 Counties. Nolan said more social housing was needed and not further capitulation by local councils to housing developers.
Reilly gets unanimous backing to contest new seat
Meath County Councillor Joe Reilly was recently selected as the Sinn Féin candidate for the forthcoming General Election in the new constituency of Meath West.
At a convention chaired by Jackie Russell, and addressed by Sinn Féin's Dublin Southwest TD Seán Crowe in the Newgrange Hotel, Navan, around 80 party members from cumainn across Meath West unanimously selected Councillor Reilly.
Commenting on the forthcoming election, Joe Reilly reminded delegates that Sinn Féin last held a seat in Meath when Liam Mellowes was elected in 1918. "We are at the dawn of a new day in the struggle for Irish unity. Locally and nationally, the Irish people are demanding change at every level of society. We in Meath aim to play our part in that change."
Garda review investigation into Mary Reid death
The Gardaí are to conduct an internal investigation into allegations it failed to fully investigate the death in 2003 of Derry academic and political activist Mary Reid.
Reid (49) a former member of the IRSP, was found dead on a beach at the Isle of Doagh, Donegal in January 2003. An inquest two years ago concluded she died as a result of drowning. But Reid's partner and family have always expressed doubts about the Garda investigation and believe it was not comprehensive.
Mac Lochlainn for Donegal Northeast
A packed convention at the Holiday Inn, Letterkenny on Sunday 16 October saw Pádraig Mac Lochlainn selected as Sinn Féin candidate for Donegal Northeast for the next 26-County General Election.
South Down MLA Catríona Ruane chaired the convention and Martin McGuinness MP was the main speaker. McGuinness said Mac Lochlainn's late father Volunteer Raymond Mac Lochlainn would be very proud of his son. "I look around this hall and see many faces that I have known for years, but I also look around and see many people who I don't know," McGuinness said. "This is very important. This is the basis of Michael McDowell's problem."
Pádraig pointed up the extent to which Donegal is ignored and abandoned by the Dublin Government and establishment parties. He highlighted local Fianna Fail Minister Mary Coughlan for the 'Savage 16' cuts on the unemployed, single parents and the disabled at a time of great wealth.
Mac Lochlainn is strongly tipped by many to be returned to Leinster house as a Sinn Féin TD at the next election.
Information campaign on future of EU
Sinn Féin spokesperson on International Affairs Aengus Ó Snodaigh TD and party representative to the Forum on Europe Councillor Daithí Doolan this week launched a nationwide information campaign on the future of the European Union.
Speaking as the government launched its White Paper on the EU Constitution Ó Snodaigh said: "Instead of producing a White Paper on a Constitution which by their own admission the government have no intention of holding a referendum on and which senior EU officials have already said has no future, the Irish Government should be engaging in a real debate on the future of the EU."
"What is required is an open, honest debate on the future of the EU, just as they had in France, where all views are respected and can be held up to scrutiny. Sinn Féin's nationwide information campaign is designed to encourage such a debate in homes and workplaces throughout the country.
Victim refused compensation
A Belfast man shot by the UDA has been refused compensation because of minor motoring convictions. Thirty-three-year-old Jason O'Halloran was hit three times on the Oldpark Road in 2002. Within an hour Catholic Gerard Lawlor was shot dead by the UDA. The Compensation Agency offered O'Halloran £487 for injuries and trauma he suffered as a result of the attempted killing.
However, O'Halloran was told this week that the £487 was being withdrawn and he is not entitled to any compensation because of a number of motoring convictions.
DUP accused of stealing nationalist seat
The Democratic Unionist Party is being accused of stealing a nationalist seat on Ballymena Borough Council after they refused to allow an SDLP co-option.
The SDLP, with Sinn Féin backing, wanted to co-opt Sheila Hughes to replace Margaret Gribben, who died. However, the DUP opposed the co-option and forced the by-election to be held in November at a cost to rate payers of up to £20,000.