20 October 2005 Edition
Fifth Column
SAS mercy mission
MI6's house journal, the Sunday Telegraph, "revealed" this week that the two SAS undercover soldiers in Arab costumes who shot dead one of their supposed allies in an Iraqi police patrol before being captured and then freed in a Kelly's Heroes-style jail break-out by the British Army were actually on a humanitarian mission investigating human rights abuses!
The Torygraph claimed the dismal duo had been spying on a senior police commander in Basra who had been torturing prisoners with an electric drill.
So what were they doing with what the BBC described as EXPLOSIVES in their car?
In next week's Sunday Telegraph: Amnesty International buys Apache attack helicopters and ground-to-air missiles in campaign against Anti-Social Behaviour Orders.
Order, order
The suspension of the Belfast District Master of the Orange Order from his job as a senior security officer at the Assembly for speaking out in defence of the UVF and UDA has upset the big Orange's bigger brothers.
Shankill Orangeman Billy Mawhinney was shown the door after an interview with the Irish News in which he spoke up for the UVF and the UDA and others behind unionist violence.
"They are sons and daughters and fathers and brothers, and they are there in the absence of an effective policing service," Billy said of the UVF and the UDA. He added that weapons and explosives held by loyalist gangs were for "defensive purposes".
Orange bosses are said to be "very angry" about the suspension of their man in the Assembly and don't see any problem at all in what he said and wearing his Orange Order bowler hat with his Assembly security suit while sitting around the table with the UVF and the UDA at the North and West Belfast Parades Forum.
Thatcher's party
There were probably more Special Branch men watching high-profile figures with criminal records at Margaret Thatcher's 80th birthday bash in London last week than a Workers' Party karaoke.
The Wicked Witch of Westminster's well-wishers included her gormless son and would-be 'Dogs of War' African coup master, Mark Thatcher, and convicted perjurer and former Tory Party chair, Jeffrey Archer. Right-wing candidates for the Conservative Party leadership, Liam Fox and David Davis, were also there to canvass more Thatcherite support.
And among the miserable wretches paying homage to the woman who brought untold misery not just to Ireland but also Britain was Queen Elizabrit, the racist Prince Philip, Duke of Edinburgh, motor-mouth Jeremy Clarkson, racist comic Jim Davidson, and one-time Limerick man, Terry Wogan.
As if his cringe-making Top of the Pops performance of the nauseating Floral Dance wasn't enough of a criminal record.
Presents of mind
Thatcher wasn't able to open her birthday presents until the day after her gala banquet. They weren't delivered to her home "for security reasons".
Just in case someone wanted the Tory Party to really go with a bang.
NATO slay Santa's reindeer
The Danish Air Force has admitted killing the reindeer belonging to a part-time Santa Claus.
The animal, named Rudolf, died of heart failure while grazing peacefully when two F-16 jets of the NATO air force screamed at low-level over 'Santa's' farm in February.
When Santa's checking his list, he'll know NATO's been naughty, not nice.
An Phoblacht Magazine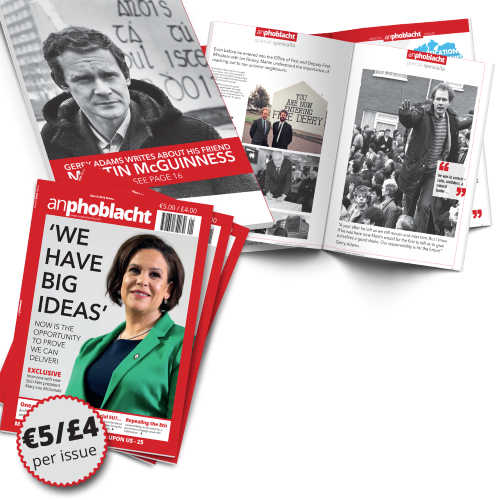 AN PHOBLACHT MAGAZINE:
The first edition of this new magazine will feature a 10 page special on the life and legacy of our leader Martin McGuinness to mark the first anniversary of his untimely passing.
It will include a personal reminiscence by Gerry Adams and contributions from the McGuinness family.
There will also be an exclusive interview with our new Uachtarán Mary Lou McDonald.
test