20 October 2005 Edition
Nuacht na nOibrithe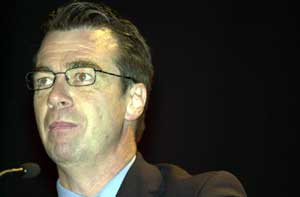 Mandate rejects Partnership
Mandate representing 40,000 bar workers and retail staff, has decided not to engage in talks on a new Social Partnership agreement.
Mandate General Secretary John Douglas said: "In our judgement, the modest pay increases being proposed by the Government and employers in advance of the commencement of talks on a new social partnership deal will not adequately compensate lower paid workers for significant price increases which bear disproportionately on people on lower incomes."
The union pinpointed the use of percentage increases in pay instead of flat pay rate increases as discriminatory to the low-paid workers who make up the bulk of its membership, echoing a point previously made in An Phoblacht.
"Mandate has very grave doubts as to whether the social partnership process, with its current restrictive agenda and parameters can truly address the income needs of those on middle and lower incomes given the very narrow focus on 'competitiveness' and wage restraint being applied to the talks by both the Government and employers in terms of wages in particular," he concluded
The announcement comes less than a week after the Irish Bank Officials Association said it would 'vigorously campaign against any proposed agreement' and review its membership of ICTU if its members did not secure a 10% pay increase over two years.
Sinn Féin meets Irish Ferries unions
Sinn Féin's Chairperson Mary Lou McDonald MEP and Arthur Morgan TD, party spokesperson on Workers Right, will lead a party delegation to meet SIPTU and the Seamen's Union of Ireland on Friday, 21 October. Both unions will attend the Labour Relations Commission this week in the hope of a negotiated settlement.
"Our aim in having this meeting on Friday is to get an idea of what kind of practical assistance we as a party we can provide to the unions. We have proposed in Leinster House and in the EU a European Ferries Directive as a possible long-term solution, but the workers in Irish Ferries need our support now", said Arthur Morgan.
Irish Ferries management are actively seeking to recruit seafarers in Estonia, Latvia and Lithuania to replace Irish Ferries workers - before the results of a review by independent consultants Greg Sparks and Martin King are even published.
Speaking in the Dáil last week Arthur Morgan accused the Government of standing "idly by as slave ships dock in Irish ports" and described Irish Ferries Chief Executive Eamonn Rothwell as a "parasite" adding: "Tough talking from the Taoiseach is worthless if neither he nor any of his cabinet colleagues are willing to take action."
Latvian solidarity
Workers on the picket line at Doyle Concrete in Rathangan, County Kildare received a practical demonstration of solidarity from Latvian workers.
Leading Latvian trade unionists visiting Ireland last week to discuss with ICTU organisers proposals to stop exploitation of East European workers joined their Irish comrades. Along with proposals from management to cut wages, the use of foreign nationals paid an average of two to three euros an hours less than their Irish counterparts with no overtime rights is a major element of the Doyle Concrete dispute.