20 October 2005 Edition
Secrets and lies
The revelation that a senior Special Branch officer in the North kept files on an inquiry into the murder of a 15-year-old girl has sent shivers through the Six Counties.
But while Eric Anderson's accidental admission to this and the fact that he kept many other documents to thwart Ombudsman Nuala O'Loan's investigations, has repulsed many, it has not surprised.
The RUC, and now PSNI, have a litany of unsolved cases, many involving nationalist deaths, where evidence was either 'unavailable' or 'missing'.
How many victims of RUC/PSNI injustice are out there?
We know that they, and the British Government, have deliberately hampered investigations into the deaths of Patrick Finucane and Rosemary Nelson. Their attempts to conceal the truth has frustrated both political and policing change.
The rot in policing in the Six Counties goes much deeper than Anderson. The PSNI must be completely overhauled and Patton fully implemented, before people will even consider trusting the North's justice system.
An Phoblacht Magazine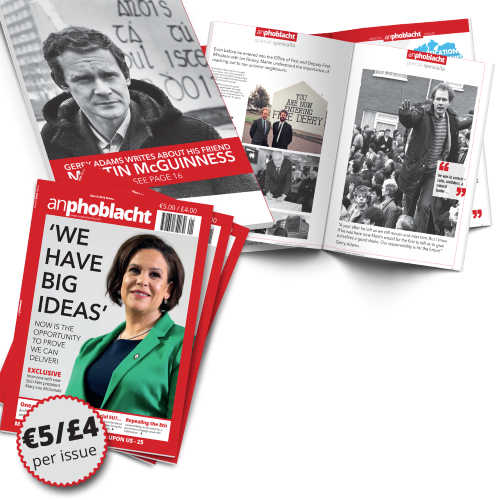 AN PHOBLACHT MAGAZINE:
The first edition of this new magazine will feature a 10 page special on the life and legacy of our leader Martin McGuinness to mark the first anniversary of his untimely passing.
It will include a personal reminiscence by Gerry Adams and contributions from the McGuinness family.
There will also be an exclusive interview with our new Uachtarán Mary Lou McDonald.
test