20 October 2005 Edition
Needless death
On Friday 14 October a man bled to death while waiting to be transferred from Monaghan General Hospital to an intensive care unit elsewhere.
The staff at Monaghan were more than willing to treat Patrick Walsh, but were unable to, due to the government's disastrous policy of hospital centralisation.
The sympathetic murmurings from Bertie Ahern and Mary Harney the day after Walsh's death must ring hollow in his family's ears.
An independent report into the tragedy will not reveal anything we don't already know and the Taoiseach's plea for calm, after it was revealed that there were intensive care beds available to Patrick, is patronising in the extreme.
The lack of decency with which this government treated Patrick Walsh and others like him who have died unnecessarily due to an under-resourced, under-financed health service, is unpardonable.
Life-saving services must be returned to Monaghan and Harney must be removed as Health Minister, before another family suffers a similar horrific loss.
An Phoblacht Magazine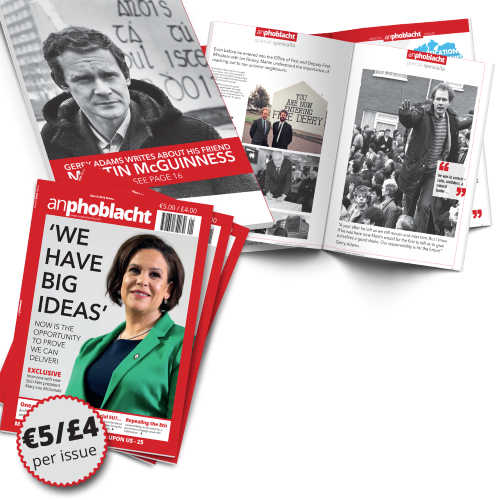 AN PHOBLACHT MAGAZINE:
The first edition of this new magazine will feature a 10 page special on the life and legacy of our leader Martin McGuinness to mark the first anniversary of his untimely passing.
It will include a personal reminiscence by Gerry Adams and contributions from the McGuinness family.
There will also be an exclusive interview with our new Uachtarán Mary Lou McDonald.
test