13 October 2005 Edition
Struggle, solidarity and socialism
Interview: Cuban Chargé d'Affaires Teresita Trujillo
Cuba's outgoing Chargé d'Affaires to Ireland, Teresita Trujillo speaks to Caoilfhinn Ní Dhonnabháin on her time in Ireland, the impact of the US blockade, political developments in Latin America and the progress made in Cuba on gender equality.
To many, Cuba remains a socialist outpost in a changing world — a genuine attempt at socialism in a sea of adversity, gallantly resisting the aggressive attention of successive US administrations for over 40 years. Admired for its health system in particular, where so much has been achieved under such difficult circumstances, Cuba has long been isolated in a Latin America subjugated by imperialism.
Teresita Trujillo is leaving Ireland this month. The vivacious and well-liked ambassador played a key role in the establishment of the Cuban Embassy and the development of bilateral relations. Ireland was Trujillo's first posting abroad having previously been an adviser on foreign affairs to the Cuban Government. Although she says that she thoroughly enjoyed her stay here, she is now looking forward to going home.
On the Dublin Government's attitude to Cuba, she says it has to be seen in the framework of EU attitudes. "These last four years haven't been the best in the relations between the EU and Cuba. A challenge ahead of us is to increase official government-to-government relations in various areas."
The main focus of Trujillo's time in Ireland has been the strengthening of relations in all areas between Cuba and Ireland. She believes that in four years, considering there had never been an embassy before, a lot has been achieved. This includes an increase of 12% in tourists from the 26 Counties visiting Cuba, increased trade, promotion of Cuban culture, music, painting and literature, establishment of links between third-level institutions and co-operation in other areas including with Beaumont Hospital on research projects.
Health system
Asked how the Irish health system compares with the Cuban and if she was shocked at the crisis our health system given our relative wealth she says: "Yes it is something that strikes anyone who comes here. The systems are very different in the way they are organised."
Emphasising that her's is not an authorised opinion and that she is not a health professional she does say however that: "I think this is an area where we could maybe interact. Not to sell the Cuban model. We don't like to be patronising. There is an international acknowledgement of the high level quality of the Cuban health service which I think has two main factors. One is the structure, how it works and relieves pressure from hospitals which is a problem Ireland is confronting. The other is to do with the quality of training, of doctors, and the emphasis we put on preventative medicine. If you prevent it, people don't get sick as often and you take the pressure off."
She says that in the Cuban system there is a strong emphasis on preventative medicine and the primary level, the community level, the family doctor. "That's why we don't need that big amount of money. Although from the national budget in Cuba health and education are the areas that take the largest amount. But those amounts take into account the condition of the economy of Cuba.
"Cuba is not a rich country. Some people have said, I don't know exactly the figure, that our national budget for health is equivalent to the budget that just Beaumont Hospital has here and it seems that we get good value for money. It is mainly a combination of these two factors, the way that it is structured and the emphasis on preventative medicine. I think that Irish doctors and nurses are very high quality but maybe its a matter of structure and I know that several Ministers have been looking into that and that several reports have been made. I hope and I wish that the problems can be sorted.
US blockade
Asked how the US blockade affects ordinary Cubans she points out that the blockade, enacted in 1962, has cost an estimated US$82 billion dollars to the Cuban economy. "Imagine what we would have been able to do if we had this money to invest in trying sort out problems. In the last few years the blockade has been reinforced. President Bush introduced more restrictions last year. So it has impacted on every sector of the Cuban economy and every area of life including family relations.
"Cubans living in the US, be they American citizens or Cuban citizens, are allowed to travel to Cuba once every three years. This has resulted in a drop of 50% of visits from Cubans living in the US to Cuba to see their relatives.
Think of a mother trying to go to Cuba to see a son. Or a relative who is sick or dying. Or the other way around — a son who has a dying mother, or dying father in Havana and not being able to visit, not even under humanitarian grounds, not to be able to be there with them. It takes a very high human toll."
"The blockade is not only a bilateral issue. It has a very strong extra-territorial affect. A programme to assist children in need of liver transplants has been effected because of the lack response from Abbot Laboratories in the US to supply them with doses of one immuno depressant, one medicine that is required and is only produced by that lab.
"We have also had problems with some other medical equipment. We have not been able in this last year only to purchase spare parts for machines that are used in treating gynaecological tumours. As a result a large number of patients that require treatment from those machines didn't get it.
"You know for instance here in Ireland how people are demanding treatment for cancer patients to be available in different regions so patients don't have to travel long distances? Imagine the effect on the health of all those women in need of that treatment. Cuba has the money, Cuba has the equipment, and then we have been unable to purchase the spare parts simply because the company that was supplying those spare parts was purchased by a US company and we could no longer get the parts from them.
"There is increased pressure in the US for the lifting of the blockade. In this year alone several amendments were carried in the House of Representatives calling for the lifting of restrictions in particular areas.
Chavez
Asked whether the Chavez presidency in Venezuela gives the Cuban Government hope for the future of Latin America, she says it does. "It does. At the moment there are several programmes that are carried out not only bilaterally between Cuba and Venezuela but also with the participation of several other countries and we believe there is hope for instance for the programmes that we are implementing at the moment in the health area. It has to do with optimological treatment and surgery for blind people. In the next ten years we are going to operate on ten million blind people from all over the Americas including the US. At the moment the programme is including Venezuela and several other Latin American countries and is going to be expanded.
Socialist transition post 9/11
Does she think the international climate is more difficult now for a country seeking to make the transition to socialism, post 9/11, with increased American aggression? "Yes I think so. The climate at the moment is really very difficult not only for socialists but for progressive forces in general. But I think instead of putting us off, this should just encourage us to go ahead. This is a difficult transition era I would say in the history of mankind in general. For many people some of the old ideas about right and left have changed considerably. I would say in Latin America, having suffered so much from imperial domination and influence there, having suffered from decades of hopelessness with neo-liberal projects, there is a re-birth of nationalist trends. People look at new leaders emerging in Latin America. I wouldn't say that Latin America is going towards socialism. I think that there is a long way ahead in general but these nationalist trends, this emphasis in preserving national interest and looking for alternatives in Latin America is very important.
China
Cuba still enjoys good relations with China. Asked about the Cuban Government's views on what many would consider China's transition to capitalism Teresita replies: "You have to adapt to the national conditions of each country and socialism is ruled by a set of principles but those principals can take different shapes. China has undergone a very very significant change that has effected not only the economy but has effected other areas of life. China has become one of the strongest world powers and many people think that it will be the power of the future. I don't think I would be qualified to say if that is taking them towards socialism.
"Usually I have to say when you go through transitions there are areas that are effected obviously and I would say the same with Cuba. Cuba today is not exactly the same society that we had years ago where equality was almost everywhere. Equality has been slightly affected in Cuba with the introduction of some of the new policies.
"You have to look at the overall picture in the case of China. The way in which it has improved the lives of its citizens. It is a large nation compared with eleven million or four million. Looking at that huge population and only under socialism they have been able to overcome the problems that have affected China over the centuries such as hunger and poverty. This economic change has impacted the position of the country in international relations in the world.
Women and equality
Given a much higher representation of women in Cuban politics and public management compared to Ireland, Teresita was asked whether she felt women in Cuba had achieved equality: "In Cuba around 57% of the professional workforce is made up of women. You have to look at the situation women were in before 1959 or the situation of women generally in the rest of Latin America, where you have no access to proper education. This deprives you of the right to a good job, well-rewarded employment and deprives you of economic freedom.
"Economic freedom for women is very important. Only when you are economically free and don't have to depend on a male, be it your father, your brother, your husband , a partner, can you actually fulfil your aspirations and make your own choices. So for me that is very important. In Cuba we have achieved that. Women have full access to high quality education which will give them the possibility of accessing good jobs.
"Women have to wage another battle which is more of a subjective nature. Legislation alone cannot guarantee full equality of women at home. Although we have moved forward we still have to overcome many problems.
"I believe the role of women at home is an area in which we have to do a lot of work. Many families in Cuba rely almost entirely on women in household responsibilities, although I have to say very positively that the younger generation are more and more sharing responsibility.
"We have perhaps a perfect legislation on that. We have a family code that is considered one of most progressive in the world. But as I said legislation alone cannot resolve it."
Although she does not consider herself a feminist, despite being branded one, she makes the point that she knows where she stands: "I really know what is my share of responsibilities with my family. If I am raising a family with a partner or a husband I know the other half has to do his. I stand very strongly for that and I defend my independence. I have done that all my life, so that it will allow me time and space to do with my life other things that are not entirely the family.
"For every woman family is a very important part of their lives but it does not have to be at the expense of all the dreams that women have like men have as human beings.
"So we still have to do a lot I would say. But we have to acknowledge that we have advanced immensely in Cuba in integrating women in all areas of society including political representation, in the economy, management and research.
An Phoblacht Magazine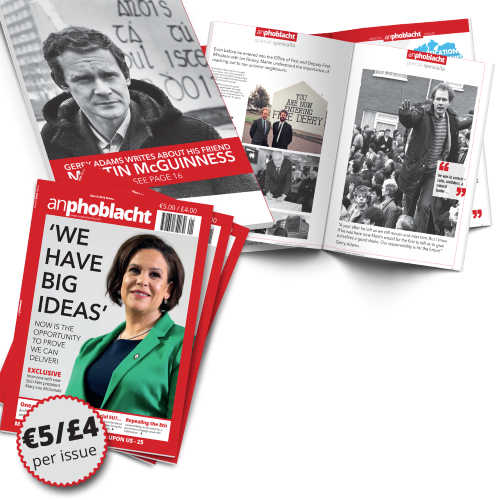 AN PHOBLACHT MAGAZINE:
The first edition of this new magazine will feature a 10 page special on the life and legacy of our leader Martin McGuinness to mark the first anniversary of his untimely passing.
It will include a personal reminiscence by Gerry Adams and contributions from the McGuinness family.
There will also be an exclusive interview with our new Uachtarán Mary Lou McDonald.
test