13 October 2005 Edition
Who is Alan McQuillan?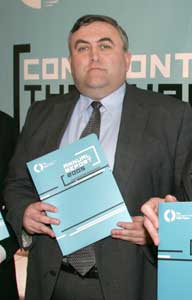 By LAURA FRIEL
The ARA operates in both Britain and the North of Ireland. The Assistant Director of the ARA, a former senior RUC Special Branch officer and PSNI Deputy Chief Constable, Alan McQuillan is no stranger to political controversy. In 2002 he was caught out after he claimed republicans were planning to bring mayhem to the streets of North Belfast. McQuillan claimed: "Violence was planned on a major scale at a protest in Ardoyne as the Orange marchers passed through the area."
Press briefings about an imaginary republican threat helped to defuse adverse coverage against the decision to push through an Orange parade through a nationalist area despite weeks of anti-Catholic violence by Orange supporters. During a press conference, McQuillan's Assistant Chief Constable Colin Taylor produced metal spikes he described as a cache of lethal missiles and weaponry uncovered during raids in Ardoyne. The spikes had been "specifically made to injure members of the security forces", said Taylor.
Unfortunately for McQuillan and Taylor a vigilant International Observer had photographed the British Army removing security spikes from a rooftop earlier that day. Similar security barriers appear on rooftops throughout Belfast.
Four years earlier while in charge of the RUC in Derry, McQuillan had made similar allegations during an eve of march press conference during which he claimed republicans in the Bogside were manufacturing petrol bombs and planning a riot.
McQuillan also played a key role in the notorious Stormontgate raid that brought down the power-sharing institutions of 2002. As Assistant Chief Constable McQuillan oversaw Operation Torsion for the PSNI high command. Lines of armoured vehicles and PSNI officers in full riot gear provided perfect film footage for the selectively briefed waiting media. Torsion was specifically timed to coincide with political events and had profound political consequences. Commenting on the Manchester raids Sunday Business Post journalist Paul T Colgan said that the ARA actions had provided Ian Paisley with "more wriggle room".
The ARA had provided Paisley with "some much needed breathing space", said Colgan. In his response to the IICD report on IRA decommissioning Paisley had been exposed as "playing silly beggars" but courtesy of the ARA "in a single bound he was free".
"The fact that they [the raids] happened when Gerry Adams and Martin McGuinness were in Downing Street only reinforces their contention that the raids were politically motivated," says Colgan. "Regardless of whether any prosecutions arise from last week's raids the political impact caused by such action cannot be underestimated."