13 October 2005 Edition
Fógraí Báis: Brian Campbell 1960 - 2005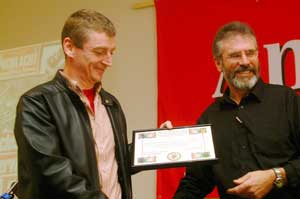 Brian Campbell was not one to make a dramatic entrance. Not the one at the meeting who raised his hand repeatedly to restate what the three speakers before him had just said. But he was the one you spoke to afterwards to see what thoughts he had on taking the project forward because he was sure to have them. And not just thoughts but notes too, because for Brian a pen and notebook were an essential element of dress.
We worked together on several creative projects over the years, in prison and later on the outside. When the poetry workshops began in the H-Blocks in 1987 Brian was an eager participant and compiled a small collection of poems entitled, Scairt Amach (Shout Out). In 1989 we founded An Glór Gafa (the Captive Voice) and Brian became its first editor, establishing it as a quality magazine, produced entirely by republican prisoners. It continued to be published until just prior to the jail being closed in 2000.
Before he left prison Brian compiled and co-edited, Nor Meekly Serve My Time: the H-Block Struggle 1976-1981, containing the accounts of 28 prisoners involved in the Blanket Protest and Hunger Strikes. After release we continued to collaborate on projects; H3, the feature film about the Hunger Strike; and two dramas, The Laughter of our Children and A Cold House, both staged by Dubbeljoint. Brian also produced his own works; Des, on the life of Father Des Wilson; and Voyage of no Return, again both staged by Dubblejoint. His play for radio, Tiger Leaping Gorge, was broadcast on BBC Radio 4 and last weekend he was completing his latest play for Dubbeljoint.
For Brian there was always a project and one of his greatest strengths lay in his capacity to not only envision the end goal but have the practical ability to realise it. No project was too large. The longest journey begins with a single step and for Brian that first step was to jot down a few notes, even just words and phrases that would later be worked and reworked into a political strategy, a press release, a play, a film, or just a simple poem.
Bobby Sands wrote once "The Men of Arts have lost their Hearts". Well, Brian never lost his. He had a huge heart that beat strongly — until it stopped suddenly last Saturday morning. For Brian there was no distinction between art and politics. Each was the other and his application of both was seamless. For him, art existed in the real world. It was all around him. He didn't have to invent it or distort reality to create it. "What is more dramatic than the lives of people in struggle," he would say.
And yet he could never be pigeon-holed as a mere propagandist churning out empty rhetoric, something he despised as much as redundant words or worn out clichés. For Brian, each word had a reason for being on the page and was backed up with a passionate set of beliefs. There was no place in his world for verbal republicanism of the 'wrap the green flag round me' brand. For Brian, republicanism had to be about putting food on the table of the hungry, providing education for the young, proper hospital and medical facilities for the ill, an end to discrimination regardless of who it was directed, at and the creation of a society of equals. It had to be about the here and now as well as the future.
And that's what he worked towards. From 1996-'99, as Editor of An Phoblacht, he brought to the paper his precision as an editor, his interest in not just the local but the global, and his concern for personal and social commentary as well as the political. From 1998 he worked locally in Newry and South Armagh as part of the strategy team to build Sinn Féin in the area. His greatest satisfaction was in seeing Conor Murphy, a close personal friend and someone for whom he had the greatest respect, elected as MP for the area.
And just as he interweaved his politics with his art so too he reflected both in his personal, home, and social life. He always had time for words with a friend, for his favourite sport, football, and his local team, the Mitchels, who he helped train and manage. And through all of his activities be a devoted father to his children, Niall and Mairéad and a committed and loving husband to his wife and partner in life, Gráinne.
Brian was not one to make a dramatic entrance but his departure last Saturday was felt across the entire country and further afield because Brian grew on you; grew on you until one day you suddenly realise he is not just important to you; he has become an important part of you.
Unlike writing, life does not give us the chance for a rewrite, a second or third draft. It's as it is on the page. Brian certainly filled those pages during his all too brief life and left a testament to the richness of republicanism and to what can be achieved. He was a poet, writer, playwright, IRA Volunteer, political prisoner, political activist, friend, partner, husband, father, and valued member of the community.
We will miss you a chara but we are richer because you were with us for a time.
Laurence McKeown
An Phoblacht Magazine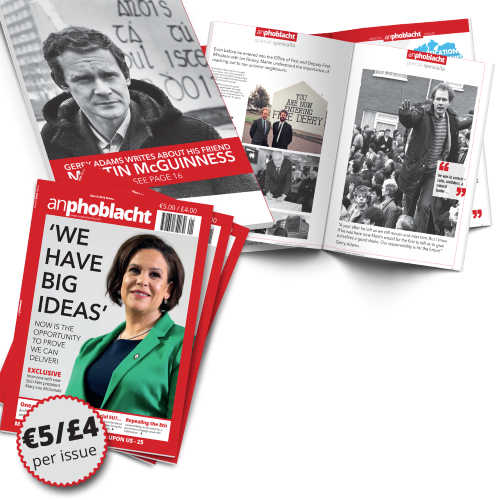 AN PHOBLACHT MAGAZINE:
The first edition of this new magazine will feature a 10 page special on the life and legacy of our leader Martin McGuinness to mark the first anniversary of his untimely passing.
It will include a personal reminiscence by Gerry Adams and contributions from the McGuinness family.
There will also be an exclusive interview with our new Uachtarán Mary Lou McDonald.
test