6 October 2005 Edition
Dúirt Siad...
I'd go back there again if I have to. But it's good to be out in the fresh air and the rain. We miss the rain.
Willie Corduff of the Rossport 5 Sunday Independent Sunday 2 October
The manner in which this matter has been conducted by the company in recent days is deplorable. I would not defend for one minute the manner in which the company has acted.
Taoiseach Bertie Ahern on Irish Ferries Sunday Business Post 2 October
Why is it that the most fearsome enemies of the armed IRA are now running scared in the headlights of an unarmed Republican Movement?
Damien Kiberd on media commentators and establishment politicians in the 26 Counties who fear the rise of Sinn Féin because it threatens the privileged positions they have occupied for so long. Daily Ireland Monday 3 October
The pro-partition mood among the Dublin elite is perhaps best summed up by Pat Rabbitte, current leader of the Labour Party and former member of the Official Republican Movement.
Damien Kiberd. Daily Ireland Monday 3 October
These are the sort of people who punch a pregnant woman in the face and then say they didn't and that they are being demonised. Who throw bags of urine at four-year-old girls and claim they are being victimised.
Susan McKay on the unionists so-called 'protest' at the Municipal Cemetery in Carnmoney where Catholics arriving for the annual blessing of the graves of their loved ones had to run a gantlet of foul-mouthed sectarian abuse and threats
Rhetoric about respecting workers rights, whether it be in ferries or elsewhere, is not worth a damn if you are willing to stand idly by and allow Irish Ferries to exploit workers in this way.
Sinn Féin TD Arthur Morgan before he was ejected from the Dáil. Tuesday 4 October
An Phoblacht Magazine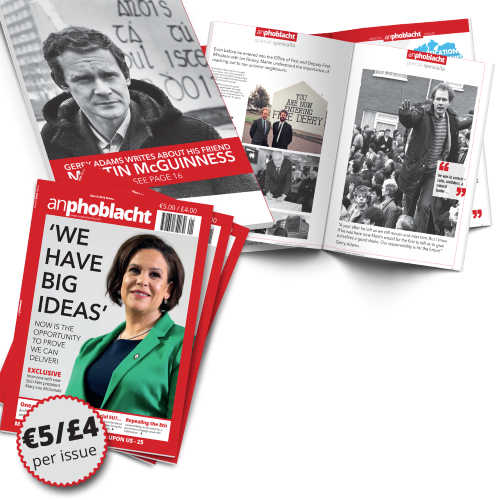 AN PHOBLACHT MAGAZINE:
The first edition of this new magazine will feature a 10 page special on the life and legacy of our leader Martin McGuinness to mark the first anniversary of his untimely passing.
It will include a personal reminiscence by Gerry Adams and contributions from the McGuinness family.
There will also be an exclusive interview with our new Uachtarán Mary Lou McDonald.
test