6 October 2005 Edition
The Session Is Great Craic!
Looking for a great night out? A bit of craic, a few songs and some conversation? After debuting to a highly enthusiastic audience during this summer's Féile an Phobail, Dubblejoint's production of The Session is back!
Live performance is an intricate thing. Some nights it works and some nights it doesn't. But every once in a while all the pieces fall into place and then something magical happens. Such is the case with writer Brian Moore's new play, The Session.
The Session takes place in the depths of a Belfast pub during a traditional Irish music session. Malachy Flanagan is awaiting the arrival of his old friend Dessie, who has just returned home from America. As he nurses his pint Malachy meets up with Helen, the reluctant girlfriend of one of the session musicians. Once his pal Dessie finally arrives, Helen and Malachy are then introduced to Rebecca -- a visitor from the US — and the four of them sit down to enjoy a pint, a song and a dance. The end result is one of the very best plays Doublejoint has produced to date.
Brian Moore's script is smart and witty without losing its gentle nature and the audience hangs on every delightful word. The music which accompanies the play is stirring and powerful — thanks in large part to the talent of the onstage musicians. Meanwhile the actors are absolutely flawless.
In one of the most perfect examples of "ensemble" casts seen in Belfast for some time, no single performer overshadows the others. As a result, all of them shine, brilliantly. Every single one. This is no easy feat. It requires a collection of immensely generous actors and the support and encouragement of a confident director, but fortunately this production has been blessed with both. A good play can blur the line between fiction and reality and The Session does this to great success. In fact many will be hard pressed to recall if they are watching a play in Ballymurphy or sitting in Madden's on a Saturday night. The Session boasts a wonderful script, an amazing cast, and great music. An excellent way to start off a great night out, you will be singing for days afterwards. Don't miss the chance to see it!
An Phoblacht Magazine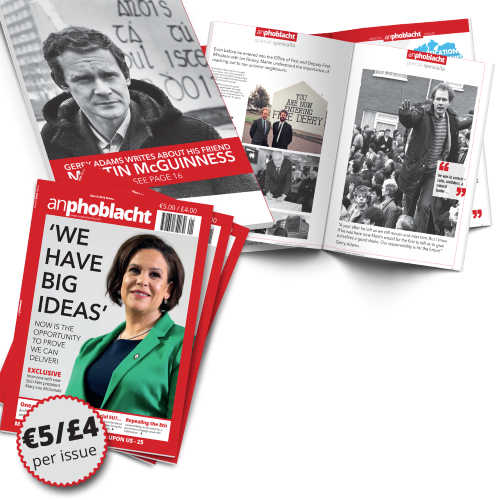 AN PHOBLACHT MAGAZINE:
The first edition of this new magazine will feature a 10 page special on the life and legacy of our leader Martin McGuinness to mark the first anniversary of his untimely passing.
It will include a personal reminiscence by Gerry Adams and contributions from the McGuinness family.
There will also be an exclusive interview with our new Uachtarán Mary Lou McDonald.
test