6 October 2005 Edition
Capturing the strength and spirit of Kieran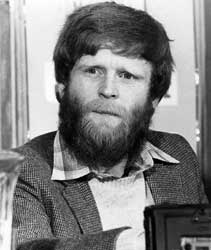 REVIEWS: Aíne Ní Bhriain has been to see the new play about republican legend Kieran Nugent Ar An Phlúid and the Dubblejoint production of Brian Moore's new play, The Session
"I have no fear of any part of the British system" — Kieran Nugent
When he was first approached by the Gort na Móna Historical Society and asked to write a play about Kieran Nugent, 23-year old actor/writer Brian Milligan didn't know who Nugent was.
"Paddy Adams came to me and asked if I knew Kieran, if I had heard of him, and my first reaction was no," says Milligan. "He asked what I knew about the Blanket Protest and again I had to admit I only knew the basics. In the end I think that was even more reason for me to become involved in this play."
His curiosity aroused, Milligan began to research his subject. He quickly discovered the depth and intensity of experience he would soon be called upon to portray onstage. It must have seemed a daunting task.
"I began by reading On The Blanket — The H-Block story, says Milligan. "I read a couple of pages and to be honest with you, I had to put the book down because I found it so emotional. I kept wondering why I didn't know about my own history. My family comes from Ballymurphy and has a republican background, yet I didn't really know what the Blanketmen went through and what the whole protest involved."
Milligan then turned to his friend and colleague, Director Alison McCrudden — whom he had worked with on several past occasions and the two began the painstaking process of creation. They spoke to members of Kieran's family, to his friends and former comrades, all in an effort to piece together the essence of a man they never had the opportunity to meet.
The end result is a play of powerful proportions.
Ar an Phlúid, (On The Blanket) tells the story of the Blanket protest from the perspective of one man — Kieran Nugent. Before he was 16 years of age Nugent was involved in the republican struggle and at one point had been shot seven times. By the age of 18 he found himself in the Crumlin Road Jail waiting to be shipped to an uncertain future in a newly-built prison. It was March 1976 and the British state thought it had a new weapon with which to defeat the Republican Movement — the H-Blocks. With the removal of political status, the stage was set for one of the most horrific and ultimately triumphant periods of recent struggle.
Led into the Blocks and told to put on a criminal's uniform, Nugent defied the prison regime by refusing to do so. Repeated beatings and isolation did nothing to convince him otherwise. He simply would not submit. In the end he was left naked in a cell with only a blanket to cover himself. In spite of this he never wavered in his conviction. And so began the "Blanket Protest". Nugent was the first — but before long hundreds of other republican prisoners would join him. Ar an Phlúid brings this phase of struggle to life, and Brian Milligan's performance is absolutely riveting.
Alone onstage, much the way Kieran himself was, Milligan literally throws himself into the role, playing the part of both Kieran and the screws who tortured him and his comrades relentlessly. His emotional interpretation is imbued with the same kind of passion and focus that Nugent himself is proudly remembered for and draws the audience into the past with an intimacy that can, at times, be almost unsettling.
It is no easy feat to stand alone onstage before an audience and relive some of the most brutal treatment ever perpetuated against republican prisoners. But it is even more intimidating to do so before an audience of men and women who actually knew and loved Kieran Nugent; those who knew him as a child, a friend, a brother, a son, a comrade.
Milligan, with the intuitive support of Director McCrudden — has managed not only to capture the strength and rebellious spirit of the man, but also to reveal his humanity and humour. It is an open and honest portrayal, fuelled by the same kind of commitment and fearlessness that Nugent embodied while he was alive.
An an Phlúid is great theatre. Compelling and powerful, it is not to be missed. Go see it while you have the chance.
An Phoblacht Magazine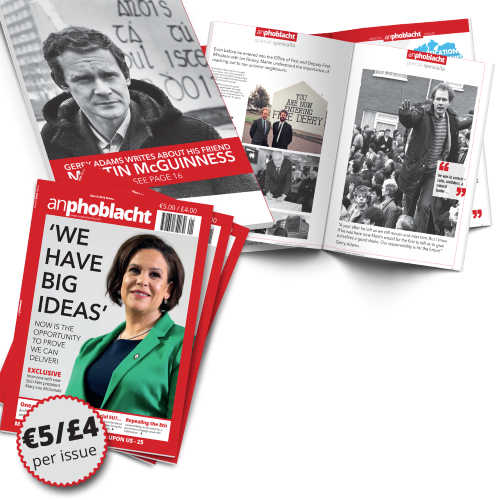 AN PHOBLACHT MAGAZINE:
The first edition of this new magazine will feature a 10 page special on the life and legacy of our leader Martin McGuinness to mark the first anniversary of his untimely passing.
It will include a personal reminiscence by Gerry Adams and contributions from the McGuinness family.
There will also be an exclusive interview with our new Uachtarán Mary Lou McDonald.
test