6 October 2005 Edition
Ploughing Championships in Cork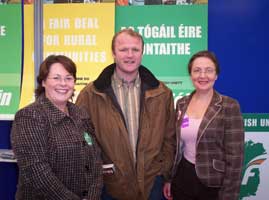 Ploughing Championships: Sinn Féin's agriculture spokesperson reports from Cork
BY
MICHELLE GILDERNEW
This is the third straight year Sinn Féin have pitched up at the National Ploughing Championships. The event, which this year was held in Mogeely, County Cork, is a showcase for Irish agriculture and the rural life.
Not even the rain or the traffic could keep people away. The fact that 179,000 turned up over the three days shows just how vibrant rural life is and how much commitment there is to keeping rural Ireland alive and well.
It is essential that we continue to invest time and energy in bringing republicans to this event because it keeps us focused on what is out there and on how we need to work with the many different and frustrated voices there are in rural Ireland.
Overall we handed out over 10,000 pieces of literature from leaflets to policy documents and spoke to thousands of farmers, very many of whom are angry, not least at the Rossport situation. Many see that they could easily be in the same situation.
Many farmers came to speak to Sinn Féin representatives and passed on their appreciation at the party's efforts in the Peace Process. Young and old from all counties engaged with us about our vision for the future of rural Ireland.
The arrival of Gerry Adams caused an air of excitement around the ploughing site. Hundreds of people came to talk to him. But they didn't want to just talk to Gerry about the Peace Process. They also wanted to have the craic and talk about their lives and about what needed to be done.
Farmers are extremely angry at the ongoing treatment of them by supermarkets and processors. Many feel betrayed and concerned that supermarkets want to drive thousands of them out of business. These concerns are exasperated by the importation of beef from outside the EU which falls far short of the standards met, and met at a price, by Irish farmers.
While many farmers are considering how their single farm payment will affect them, others are considering whether they can stay in farming at all. Almost all are disillusioned with the government and establishment parties. Whenever they see tens of millions of pounds totally wasted on bad government, inefficiency, red tape or pet projects they get particularly angry. If government was a business like farming, this wouldn't happen. Rural Ireland is tired of being ignored.
The event is the largest outdoor event anywhere in Europe, so large that it takes two full days to just to take it all in and next year we will be back in Carlow for the four-day World Ploughing Championships.
An Phoblacht Magazine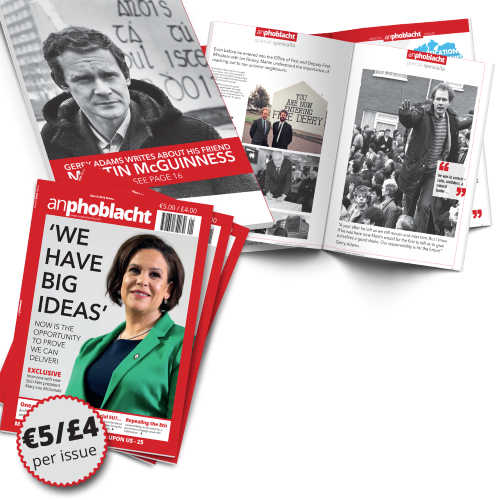 AN PHOBLACHT MAGAZINE:
The first edition of this new magazine will feature a 10 page special on the life and legacy of our leader Martin McGuinness to mark the first anniversary of his untimely passing.
It will include a personal reminiscence by Gerry Adams and contributions from the McGuinness family.
There will also be an exclusive interview with our new Uachtarán Mary Lou McDonald.
test