6 October 2005 Edition
Irish Ferries
Irish Ferries
The attempt by Irish Ferries to make 500 staff redundant and replace them with cheap immigrant labour is a disgrace. But worse still is the Dublin Government's inaction on the issue. Bertie Ahern has talked tough and thrown shapes but no definitive action has been forthcoming.
Ahern's Ministers have claimed that there is nothing the government can do about the situation, yet even the Scottish Assembly has laid down rules for pay and working conditions for ferry workers on boats in Scottish waters. If the Irish Government can do nothing it begs the question as to what is government for?
Sinn Féin has called for a European Ferries Directive in order to combat 'social dumping' on ferries and for minimum labour standards to be set.
The Irish Ferries dispute is a reflection of the wider corporate greed agenda which is rife in Ireland at present. It is only a few months since a Filipino woman, Salvacion Orge, won substantial damages from Irish Ferries after it became known that she was earning €1 per hour.
Irish Ferries has a record of exploiting workers in relation to their conditions, hours of work and pay. But it must be remembered that the company was originally state-owned and its sale by an Irish Government paved the way for such exploitation.
It is not good enough for the Government to mouth platitudes repeat about supporting workers if they are prepared to do nothing while those workers, whether Irish or foreign, are exploited in this way.
An Phoblacht Magazine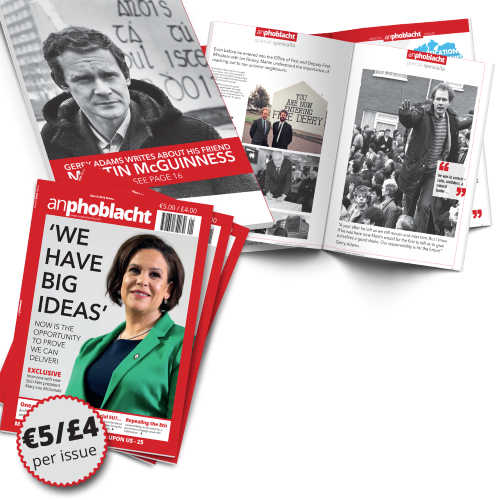 AN PHOBLACHT MAGAZINE:
The first edition of this new magazine will feature a 10 page special on the life and legacy of our leader Martin McGuinness to mark the first anniversary of his untimely passing.
It will include a personal reminiscence by Gerry Adams and contributions from the McGuinness family.
There will also be an exclusive interview with our new Uachtarán Mary Lou McDonald.
test