6 October 2005 Edition
A Campaigning Party?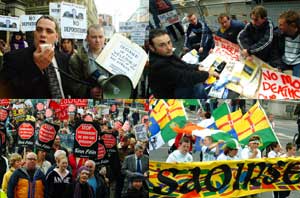 Building an Ireland of Equals: Two Sinn Féin activists, Paul O'Connor and David Cullinane argue against a purely parliamentary approach
Over the coming weeks and months selection conventions will take place across the 26 Counties to choose candidates to contest the next General Election. All the indications are that Sinn Féin will increase the number of seats it holds in Leinster House. The election should mark one more stage in the advance of the party, North and South.
We are building electoral strength. But are we transforming that electoral growth into political strength? Are our elected representatives the agents of change, or will they end up simply managing the existing system a little better, a little more fairly, than those who hold power at the moment? More people are voting for Sinn Féin, but have we a strategy to republicanise these voters and involve them in political struggle?
The political system on this island has failed the Irish people. It has subjected them to foreign occupation, sectarian pogroms, endemic corruption, and grotesque inequalities. It has failed to provide them with such basic services as adequate housing or decent healthcare. It has disempowered ordinary people and shut them out of the running of their own country.
This system is a product of generations, even centuries. It is supported by the wealth and power accumulated in the hands of an elite, by entrenched mindsets, institutional inertia and vested interests. It will not be changed by electing a few honest and decent public representatives to Stormont or Leinster House. It will only be transformed when we mobilise the Irish people to challenge the system and assert their rights as equal citizens of this country.
That is what building political strength is about. Political strength means popularising the republican struggle. It means not merely widening our support base, but transforming passive support for republican objectives into political activism. It is not enough that people lend their vote to Sinn Féin every three or four years — though that is a beginning. It means having more members, and more active members. It means building alliances with the voluntary sector and the Trade Union Movement. It means mobilising ordinary people and politicising communities.
Building political strength is a process of empowering people so they themselves become the agents of change. Campaigning is central to this process.
Why is Sinn Féin a campaigning party? Not because we enjoy standing in the rain with paper placards, or handing out leaflets to uninterested passers-by. Campaigning is necessary because of the failure of the political system. What goes by the name of "representative democracy" in Ireland is neither representative nor truly democratic. The overwhelming majority of people want proper healthcare, decent housing, an education system that is truly free, a fair share of Ireland's natural resources... the list goes on. But the political system does not deliver their demands. It does not deliver because our "democratic" institutions are a facade behind which the vested interests cut deals and share out the spoils among themselves.
The political institutions of this country are inescapably and incurably corrupt. They exist to serve the political and economic elite, not the people. They cannot be reformed from within without massive and simultaneous pressure from outside. We need to keep this reality constantly before our minds, and plan our strategy accordingly. Otherwise our efforts to bring about change will be doomed to failure.
The elected positions we hold — and will hold in the future — are only as good as the use we make of them. Our elected representatives need a dynamic, campaigning movement behind them mobilising the Irish people to demand equality, rights and justice.
Campaigning involves people making their demands heard directly because the institutions which should serve them have failed. It involves people mobilising outside of the ordinary channels of politics to bring about change. As a result it goes to the very heart of what republicanism is about.
The futility of a purely parliamentary approach was demonstrated by the fate of last years' pre-budget submission on childcare. Ask an ordinary member of the public which party they identify with the issue of childcare and they would probably answer Labour. Now the government has jumped on the bandwagon as well. Sinn Féin was the first political party to highlight the issue in a major way and produced an excellent policy document in advance of the last budget. But how many people outside the rarefied corridors of Leinster House are aware of this?
Now imagine if our childcare submission had been the end point of a campaign, rather than a purely parliamentary intervention. Parents' organisations and those involved in the provision of childcare would have been contacted and asked for their needs, not just at a national but at a local level. Accordingly, their fingerprints would have been all over the final document and they would been impelled to support it. Tens of thousands of leaflets would have been distributed outlining Sinn Féin's proposals. Public meetings would have been held demanding a proper system of childcare. Pre-paid postcards to the Taoiseach and the Minister for Children could have been prepared and members of the public encouraged to send them away. When a final submission was laid before Leinster House, the government would have a choice to reject a proposal that had substantial popular support, or to accept proposals emanating from Sinn Féin!
All of this underlines the importance of maintaining our campaigning focus. One of the best things Sinn Féin has done in recent times has been our involvement in the campaign for the release of the Rossport 5. The challenge now is to create a similar momentum behind campaigns on issues like national re-unification, health, housing, childcare or the economy.
But if campaigns are to succeed in building political strength, they need to be professional, broad-based and focused. It is not enough to have a few people holding placards in a city centre. We describe ourselves as a campaigning party, but we have no campaigns officer and no department of head office specifically dedicated to campaigning. This must change. Such a department has the potential to harness the energies of the party at many different levels — Leinster House, Stormont, local councils, individual cumainn, publicity, national leadership — in a unified way behind national campaigns that forward our republican objectives.
There is huge alienation among ordinary people from establishment politics. If Sinn Féin is serious about being a revolutionary party we must seek to channel this discontent into a participatory, campaigning politics that will empower our people and directly challenge the political establishment. That will require an organisational focus and a strategic prioritising of campaigning. It also requires us to be clear that our political objectives will not be attained if we confine ourselves to working within the existing political institutions of this island. There is an urgent need to open up new arenas of struggle, and develop new kinds of political activism, even as we continue our electoral advance.
An Phoblacht Magazine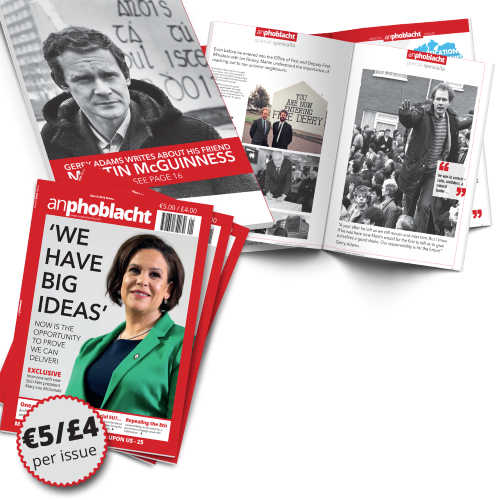 AN PHOBLACHT MAGAZINE:
The first edition of this new magazine will feature a 10 page special on the life and legacy of our leader Martin McGuinness to mark the first anniversary of his untimely passing.
It will include a personal reminiscence by Gerry Adams and contributions from the McGuinness family.
There will also be an exclusive interview with our new Uachtarán Mary Lou McDonald.
test