6 October 2005 Edition
Shell-to-Sea
Shell-to-Sea
The release from jail of the Rossport 5 has been warmly welcomed by most Irish people. Thousands turned out on the streets of Dublin last weekend to welcome the men to freedom. But the focus of the five men since their release has remained solid and clearsighted — the fight must continue.
It is imperative that the safety issues at the heart of the Shell-to-Sea campaign are addressed as a matter of urgency and there be no further state harassment or jailing of local Rossport residents at the behest of Shell. What the whole Rossport issue has highlighted however is that the natural resources of this country must be used for benefit of the Irish people and not bartered by the government to multinational corporations without any benefit for this country or its people.
An Phoblacht Magazine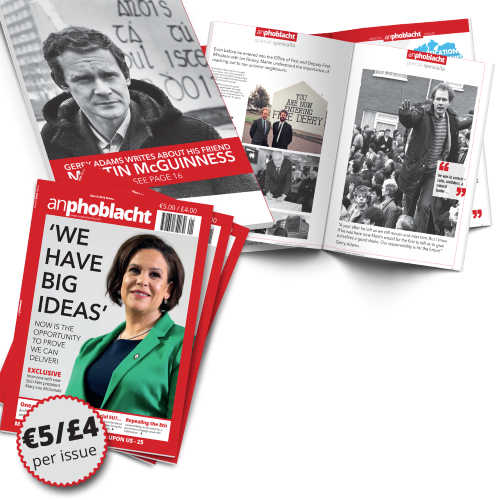 AN PHOBLACHT MAGAZINE:
The first edition of this new magazine will feature a 10 page special on the life and legacy of our leader Martin McGuinness to mark the first anniversary of his untimely passing.
It will include a personal reminiscence by Gerry Adams and contributions from the McGuinness family.
There will also be an exclusive interview with our new Uachtarán Mary Lou McDonald.
test