6 October 2005 Edition
Bringing a message of solidarity from Ogoni to Erris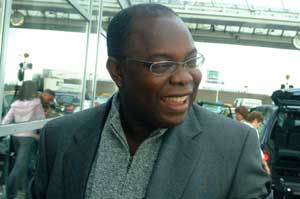 Interview: Dr Owens Wiwe, brother of Ken Saro-Wiwe
Interviewed by
CATHAL Ó MURCHÚ
Dr Owens Wiwe is the brother of Ken Saro-Wiwe (above), the executed Ogoni leader and writer who led opposition to Shell's abuse of people and the environment in his native Nigeria.
The main speaker at last Saturday's national rally in support of the Rossport 5, Owens Wiwe spoke to An Phoblacht's Cathal Ó Murchú
Explaining that his attention was first drawn to Shell's activities in County Mayo three years ago when he was contacted by Irish nun Sister Majella McCarron, who phoned to tell him what what was happening, Owens Wiwe says: "I said to her that this story was very similar to what happened at home and asked her was there anything that I could do given my experience with what happened in Nigeria. The people of Rossport could then be better prepared for all the action that they would like to do.
Asked about parallels between Shell's recent behaviour off Ireland's west coast and the its activities in Nigeria he says that in Ogoni Shell refused to "respect the wishes of the people who live on the land where they are walking, where they want to walk, as in Mayo. They look at protestors and activists as obstacles that have to be removed instead of treating them as people who are concerned for the environment and concerned for society. So, that is one of the parallels.
"Another parallel is that the environment in Ogoni is very fragile as we live on the wetlands of the Niger, whereas in Mayo, the environment is that of the bogs. So there are some similarities in terms of the fragility of the environment in Ogoni and in Mayo.
"I've talked before of the way that Shell go about their activities without regarding what the rule of law says. They use the courts and use of some of the laws to see that they force their way. Where I come from, rather than use the courts, they use the police and guns, using established power and authority to get their way.
"Another parallel is the way in which they divide society. In Ogoni they try to use their money and try to cause tension and division within society. While I was there I saw the beginning of the use of the powers of certain sectors of society against the majority who are concerned about the environmental impact of their processes."
On the background to Shell's activities in Ogoni in 1958 Owens Wiwe says: "Previously Ogoni was an area that was full of forests, full of animals, very clean water and fish in the water and of course the people of Ogoni. All of us — the trees, the fish and the animals used to live in a symbiotic relationship with the people.
"Between 1958 and 1993, Shell started drilling and what they did was disturb this symbiotic relationship as they were not sensitive about the environment. They would lay pipelines over the ground, across people's houses, over people's farms, through streams without any environmental impact assessment. So what happened is that these pipelines were an eyesore to the landscape and the people. It made farming difficult as people had to climb over pipelines to work on them. They also flared a lot of gas into the atmosphere and caused visual pollution to such an extent that you wouldn't know if it was day or night, everything was just an orange glow.
"When they did the flaring, they did it horizontally and the flaring was inefficient, so you would have a lot of sulphur dioxide, nitrous oxide and other dangerous hydrocarbons being let into the atmosphere. This impacted on people because the pattern of respiratory diseases changed and increased with a high level of asthma, bronchitis, including cancer.
"The pipelines used to leak, with oil spilling out polluting the waterways and the water that people drank and also the fish which meant that the fishing was affected.
"All of this led to a situation where people were actually poorer than before Shell came. The money that Shell earned from this was given to bad governments who used the money to buy guns and oppress the people so that they would not protest against Shell.
Explaining the relationship between Shell and the Nigerian Government as an "unholy alliance" he said: "There was a very close relationship in what we call an unholy alliance between Shell and the Nigerian dictatorship at that time. And there was also a revolving door where senior Shell officials went to work for the government and where national government officials went to work for Shell. So, it was two powerful forces combining themselves against the people. So, the government, which was supposed to be regulating Shell, could not because of this unholy alliance. So the government had entered into a partnership with Shell. It was a dictatorship."
Asked whether it was fair to say the Nigerian Government were in the pocket of Shell, he said: "Yes, it would be very accurate to say that, especially of the dictators of that time. Shell is such a powerful company and Nigeria is not so rich. That the power of money influenced government policy, or influenced the way government regulates is indisputable."
He believes Shell's involvement in Nigeria had a negative effect on Nigerian society generally: "Especially when we had a dictatorship. Now that we have a democratic government, Shell's influence is still very strong. It is really frightening that we think we have a democracy where we elect people. Then, we see that we are being influenced by big companies. The government makes decisions that benefit the big companies and not the people. Shell is a multinational company. It is not a Nigerian company, so they don't have any stake in the country. They just want to generate as much profit and they don't care about the impact."
Owens Wiwe's brother Ken Saro-Wiwe is renowned worldwide as an outspoken human rights activist. A social justice campaigner and a critic of Shell, he was executed for his beliefs and his activities. To what extent does Owens Wiwe feel that Shell is implicated in the execution of his brother? "Number one with the information we have, two prosecution witnesses have come out to say that they were bribed in the presence of Shell officials to implicate my brother. They have both sworn affidavits to that. Number two, the unholy alliance between the military government and Shell that we talked about earlier, we saw it everyday when the kangaroo courts were sitting, Shell's lawyers were there interacting with the government's lawyers everytime from what we could see. We also know that some of the people that sat on that panel had interests in Shell in one way or another.
"So we know that Shell had been trying to get rid of my brother for some time because of his very vocal opposition to what Shell was doing. If one puts two and two together we know the level of Shell's implication. Right now we are in court in the US and we are suing Shell for the wrongful death of my brother and other Ogonis who were killed and tortured in collusion with Nigerian Government and authorities there."
Finally, asked what message would you like to give to the Rossport 5, to the community of Rossport and to the campaigners following the release of the five men, he says: "Well, one is a message of solidarity and of celebration of the freedom of the men. And I would acknowledge that this freedom is going to empower them to know that they stood for the truth, love their freedom for the truth, regain their freedom with the truth.
"The fact that they have been able to force a transnational like Shell to remove their injunction is a huge victory. In the momentum of that victory we are going to make sure that transnationals listen to the people and not only to the profits.
An Phoblacht Magazine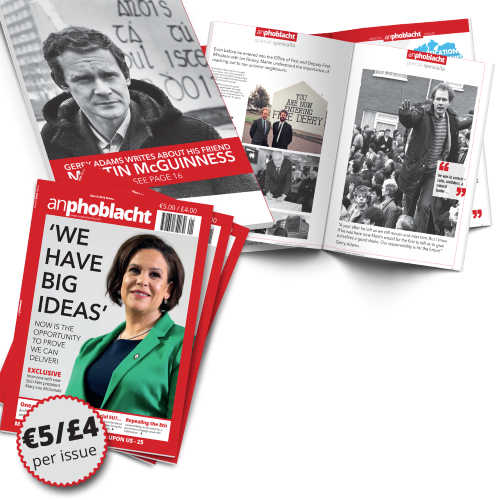 AN PHOBLACHT MAGAZINE:
The first edition of this new magazine will feature a 10 page special on the life and legacy of our leader Martin McGuinness to mark the first anniversary of his untimely passing.
It will include a personal reminiscence by Gerry Adams and contributions from the McGuinness family.
There will also be an exclusive interview with our new Uachtarán Mary Lou McDonald.
test