29 September 2005 Edition
Dúirt Siad...
IRA arms put beyond use.
Irish Times headline, 27 September
This is the turning of the final page in the whole controversy over IRA arms. It has always been used as an excuse but now that excuse has effectively been taken away.
Martin McGuinness, 27 September
It is a landmark development. It is of historical significance.
Taoiseach Bertie Ahern, 27 September
This is a decision and a report by General John de Chastelain and independent witnesses from the clergy that the process is real and complete.
British Prime Minister Tony Blair, 27 September
Partition has imprisoned our past. The IRA has now freed our future. Tomorrow is a new country.
Jarlath Kearney, Irish News, 27 September
Instead of openness, there was the cunning tactics of cover-up and a complete failure by General John de Chastelain to deal with the vital numerics of decommissioning.
Ian Paisley, 27 September
Unionism has got what it wanted. But it hasn't, of course. It wants the past. It wants to tell the world about its pain and suffering. It wants the B Specials and the RUC and it wants Stormont the way it used to be.
Susan McKay, Irish News 27 September
An Phoblacht Magazine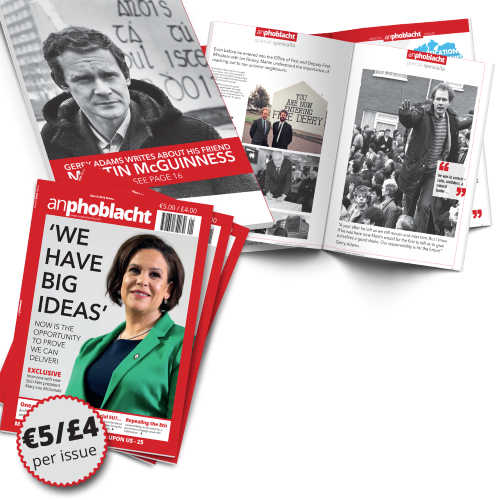 AN PHOBLACHT MAGAZINE:
The first edition of this new magazine will feature a 10 page special on the life and legacy of our leader Martin McGuinness to mark the first anniversary of his untimely passing.
It will include a personal reminiscence by Gerry Adams and contributions from the McGuinness family.
There will also be an exclusive interview with our new Uachtarán Mary Lou McDonald.
test