15 September 2005 Edition
Thoughts turning to three-in-row?
BY
MATT TREACY
It is hard to believe that three years ago, Cork hurling was in the middle of a crisis that threatened to consign the county to the doldrums. In December 2002 both the senior hurling and football squads went on strike, refusing to play until a series of demands regarding the manner in which the squads were treated were addressed.
Concessions were won and Cork fielded teams in the subsequent league campaigns. Significantly one of the demands of the hurlers, led by Joe Deane, was that the County Board immediately appoint a new manager. Donal O' Grady, full back on the 1984 winning team, was given what many regarded as a poison chalice. However, O'Grady brought the same style to management as he had displayed on the field and led Cork to the 2003 and 2004 finals, overcoming Kilkenny at the second time of asking.
There were Cork hurling people who regarded the strike as a disaster. One Glen Rovers man assured me that Cork would win nothing for ten years. I suspect that his pessimism was compounded by the relative eclipse of the city clubs which have traditionally supplied the backbone of county teams. Not only had the Glen not won the county championship since 1989, but clubs like Imokilly and Newtownshandrum -- which is nearly in Limerick for God's sake! — had emerged as powers. Nor were the Rockies' wins in 1999, 2001 and 2002 any consolation.
O'Grady stepped aside following last year's victory and was replaced by one of his selectors, John Allen of St Finbarr's who had come on as a sub in Cork's 1978 victory over Kilkenny. Taking over a team that was defending the title was always going to be a tough proposition and one which would be sure to draw down heavy criticism in the event of failure, but Allen has proved himself more than equal to the task.
Allen's achievement was aided by remarkable stability within the squad. Although having players of the calibre of Neil Ronan and Wayne Sherlock on the bench, only 16 players featured in Cork's starting line-ups this Summer. The only change last Sunday from the team that beat Kilkenny in 2004 was the introduction of Pat Mulcahy into the full back line in place of Sherlock.
It was a continuity that had led some commentators to claim that Cork's style of play was too predictable and that this made them vulnerable, but it stood to them. Under pressure for sustained periods against Waterford, Tipperary and Clare, Cork were resilient and confident enough to maintain their shape and gradually wear their opponents down.
In truth they never really looked under the same kind of threat against Galway, even after Damien Hayes scored a goal to bring Galway to within one point. For about five minutes the westerners looked like they might make a real game of it but that was the closest they came. Cork outscored Galway six points to two in the last 20 minutes, in a pattern that has become familiar over the course of the championship.
The foundation of that dominance in the last quarter, as it was throughout the entire match, was the tenacity and power of the defence. Of the Galway forwards only Alan Kerins proved to be a consistent threat although it would not be true to say that his marker John Gardiner had a poor game. Kerins faded somewhat after being the subject of some close attention.
The half-back line has often been the launching pad for Cork victories, especially in the latter part of matches where their surging breaks out of defence not only provide the platform for the forwards, but lift the whole team. When you have players of the calibre of Ben O'Connor waiting to capitalise on incoming ball your opponents are always going to be on the back foot.
O'Connor was Cork's best forward but he was ably assisted by those around him, in particular by Brian Corcoran who seems to save his best for the big day. Joe Deane was quiet enough by his standards but still managed to take three points from placed balls. Tom Kenny also took some nice points at crucial stages when Galway looked to be capable of mounting a serious challenge.
Galway will be hugely disappointed and will garner little satisfaction from their success this year at under-age level. They beat Limerick to win the Minor title and they face Kilkenny in the Under-21 decider next Sunday. The cruel fact of the matter, however, is that the last time Galway won the All-Ireland senior title was in 1988. They have had some heart breaks in finals since — not least in 2001 when going down to Tipperary.
Galway were reminded of the halcyon days of the 1980s prior to the start of Sunday's encounter when the 1980 team was paraded in front of the crowd. It was great to see the likes of Sylvie Linnane again with a big grin on his face. Linnane won three All Irelands at right-half back in 1980, and in the right corner in '87 and '88. I often saw Dublin play Galway in the league at that time and Sylvie was my favourite Galway player. Conor Hayes and Noel Lane are the only other Galway players with three medals earned on the field.
With success at lower grades, and the backbone of a team capable of playing breath-taking hurling as they proved against Kilkenny, Galway can entertain early hopes of bridging the gap between past and present with confidence. Cork, on the other hand, must now be starting to think seriously of the prospects of an elusive three-in-a-row.
Cork were the last county to achieve that between 1976 and 1978 and in truth it would be a brave layer to stand the 7/4 being offered against them doing so again in 2006. Very few of the current panel are near the retirement age and those that are will not lack the motivation to stick it out for another year. Twelve players featured in all of the three-in-a-row finals of the 70s and Allen may have an even stronger hand as he bids to emulate that famous combination.
An Phoblacht Magazine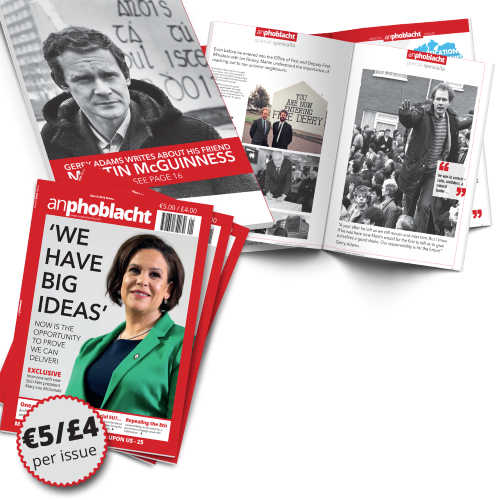 AN PHOBLACHT MAGAZINE:
The first edition of this new magazine will feature a 10 page special on the life and legacy of our leader Martin McGuinness to mark the first anniversary of his untimely passing.
It will include a personal reminiscence by Gerry Adams and contributions from the McGuinness family.
There will also be an exclusive interview with our new Uachtarán Mary Lou McDonald.
test