11 August 2005 Edition
0utstanding performance of 18th Féile
BY
JIM GIBNEY
One of this country's premier festivals, Féile an Phobail has just completed its consecutive 18-year run with an outstanding weeklong performance.
Year on year West Belfast's Féile an Phobail organisers present a package of entertainment which mixes music, dance, comedy, drama, debate, lectures, history tours over hills and graveyards and exhibitions.
This year's carnival parade which kickstarts the jamboree was particularly impressive with the colourful turnout of GAA clubs from the West.
It is an exhausting week which tempts the young and not so young to burn the candle at both ends. I am a Féile veteran who has gradually learned to resist this temptation. I now confine the bulk of my Féile outings to those where alcohol is in moderate supply and where normal bedtime is not interrupted too much. So it was debates, dramas and literary events which drew my attention.
Fr Des Wilson, now celebrating his 80th year, fresh faced and mind with it, recalled growing up politically in the Catholic Church. He was interviewed about his life and times by Bernadette McAliskey, a long-time friend who didn't allow this friendship to curtail her probing questions.
Fr Des has been writing biting, radical criticisms on the church and Irish state in various newspapers for decades. He revealed that he came from a 'high conservative background' and joined an equally conservative priesthood.
He told a packed hall he has battled all his life against the conservative instincts his family upbringing instilled in him.
Asked by Bernadette why he stayed in such an institution, he said the people he ministered were Christian and Catholic and so was he. It would have been wrong for him to leave them and the Church. He would have been cutting himself off from the 'worship life of the people'. He knew many 'exceptional' young men who joined the priesthood and suffered grievously for standing with the people. He decided to stay in the church and make his protest from the inside.
He described the late Cardinal Tomás O Fiaich as a 'good man' who told him that politically, 'we're on our own in the North'.
Many issues were addressed during the interview: the Church's control of education, the place of liberation theology, the impact of the French and Spanish revolutions on the hierarchy, the change of image for the papacy from monarch to president.
Fr Des recalled the early '60s in Belfast's church circles as a time of 'great optimism' when inter-church contact and debate flourished. Then a young, unknown prelate Ian Paisley rose from obscurity and set about destroying that hope. He frightened the only Protestant church that could have stood against him, the Presbyterian. They were afraid of losing their congregation by challenging him, a fear which is still there over 40 years later.
Did you know that in 9th Century Viking Ireland there was a thriving slave market in Dublin? That 'fear gorm' Irish for 'blue man' comes from an old Norse term for Black man. That many of the Black recruits in the British Army were raised in Ireland.
That proportionally there were more Black people in Dublin in the 18th Century than there were in comparable cities of the British Empire with London being the exception? That Daniel O'Connell, the 'Liberator' was a lifelong abolitionist as were many United Irishmen but the Young Irelanders were not. These and many other gems of information were presented in a lecture, Speaking Out Against Slavery by Bill Rolston.
Bill told the story of one time slaves Frederick Douglas and Olaudah Equiano and provided an insight into Irish attitudes to slavery in the 18th and early 19th Centuries. Both men spoke in Belfast, Equiano in 1795 and Douglas in 1845. United Irishman Samuel Neilson hosted Equiano's visit and Douglas faced placards 'Send back the nigger'.
Most remarkable of all was the attitude to slavery of Daniel O'Connell, so often portrayed in history as an arch conservative. He gathered 60,000 signatures in Ireland and sent them to the US urging Irish people to oppose slavery.
He refused American aid if it was 'stained in Negro blood' and refused to shake the hand of American visitors to Ireland unless he knew their stance on slavery.
By and large Irish abolitionists were non-Catholic and middle class. Although significantly the Fenians and the IRB offered help. The IRB tried to supply the Zulus with a million bullets and military advisers.
Congratulations is in order to Belfast's Ireland-Palestine solidarity group for breaking through the British Government's attempt to ban and silence Leila Khaled.
She was refused a travel visa to speak at an Féile but the solidarity group with the help of many others including Sinn Féin successfully lobbied the Irish government who allowed her to visit Dublin.
From there she spoke via a video link to supporters in Belfast.
The ban was prompted by the grip of fear and hysteria which is driving the British Government's reaction to the suicide bombers in London.
Life for Palestinian people in the occupied territories is appaling. Almost 2,000 Palestinians have been killed in the last five years, 345 children. Seventy-five per cent live under extreme poverty. They are the largest group of refugees in the world with five million living in exile denied the right by the Israeli Government to return home.
Of these over one million live in one of 59 camps dotted across neighbouring Arab countries.
In a wide ranging speech Leila Khaled spoke about the assassination of Palestinian leaders, of the demolition of homes some 10,000, of the mass arrests, 650,000 since 1967, of the confiscation of land and the building of the huge wall turning the occupied lands into an open prison. She welcomed the proposed withdrawal of Israel from Gaza and called for financial support to rebuild this economic wasteland.
Despite the overwhelming military oppression she was confident that she would live in an independent Palestinian state.
The drama section of an Féile now stands at 12 plays and growing. I managed to get along to only two, The Wrong Man by Danny Morrison and The Session by Brian Moore, produced by Dubblejoint.
Danny's play powerfully depicts the impact of the war on IRA activists, their families and members of the RUC. The play's story is essentially about the search by the IRA for an informer in their ranks.
It passionately deals with all the big human emotions that emerge in times of conflict — bravery, cowardice, fidelity, infidelity, loyalty, betrayal, paranoia, anxiety, brutality, anger, guilt and love-turned-to-hate.
It is a gripping production and played to packed houses every night for a week. It is now playing at the Edinburgh Festival for the next three weeks.
The Session is set in a typical bar with all the characters you would expect to find. It is a complete contrast to the dark and disturbing elements in Danny's play. It is a light-hearted look at the world that swirls around a group of traditional musicians and the politics of a bar room philosopher or bore depending on your point of view.
Brian has drawn off his own experience as a protest singer/song writer to write the play. He penned the opening song, a parody of American foreign policy with such lines as "The US army's here today.....Hip, hip hooray. We're the boys to set you free, We'll bring you our democracy and kill you if disagree, Every day we sweat and toil, planting freedom in your soil. All we want is black, black oil......." It was non-stop laughter throughout.
With the Féile over, life in West Belfast is slowly returning to normality and already I hear whispers of plans to do it all again next year.
An Phoblacht Magazine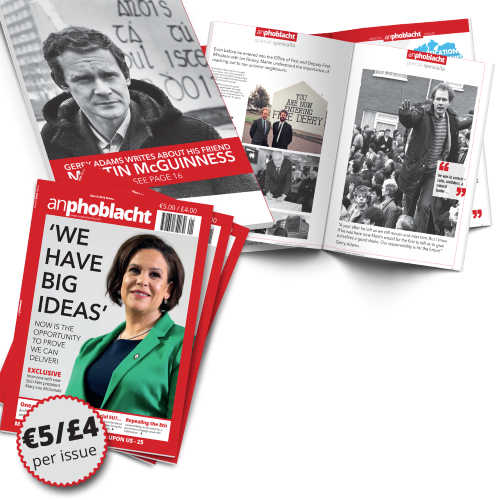 AN PHOBLACHT MAGAZINE:
The first edition of this new magazine will feature a 10 page special on the life and legacy of our leader Martin McGuinness to mark the first anniversary of his untimely passing.
It will include a personal reminiscence by Gerry Adams and contributions from the McGuinness family.
There will also be an exclusive interview with our new Uachtarán Mary Lou McDonald.
test