11 August 2005 Edition
The Seven Year Itch
Making his re-appearance in An Phoblacht this week after a seven year absence, Seán O Donaíle describes, in his own inimitable fashion, the changes that have taken place in Ireland in the intervening period.
by
Seán O Donaile
Its been seven years since I last picked up a pen for An Phoblacht.
A lot has changed since then.
Dublin has been taken over by horrendous white plastic space ships that masquerade as shopping centres, where Celtic Tiger victims worship every Sunday.
Six-year-olds have mobile phones and sun beds are now mandatory for the First Holy Collection and Confirmation.
Cars are a lot cheaper but a pint of cider in Dublin costs almost seven Euro and an average house almost half a million.
Tis' far from lap tops and I-pods we were reared and some of us still can't figure out digital clocks.
Our kids have square eyes from Playstations and most of the population have graduated from lashing flower pots full of coppers down the slots in Mosney, to Lanzarote and Mohaca every year to suffer two weeks of sunburn and brutal ballads.
I've divorced once, ran five or six marathons, had three or four nervous breakdowns, nine or ten affairs, or were they one night stands? (some of them had golf balls in their mouths and some of them were plain mad), quit smoking on 42 separate occasions, learned 200 odd tunes on the flute and laboured in the paddyfields of the Finglas and Cabra Gaeltachts.
Nicky Kehoe and Larry O'Toole have been elected twice and Sinn Féin have so many councillors and MLA's that we don't know the half of them.
They all wear suits and Freds Fashions has been dumped in favour of Louis Copeland.
We can now wear Easter Lilies without fear of losing our jobs and the Special Branch have lost a lot of overtime, It's now semi-cool to call yourself a republican and it carries a certain amount of street cred' in college circles. There's been a host of elections in the Six Counties and Trimble and Hume are now footnotes in history.
John Brutal has followed Zig and Zag to Amerikay and Michael McDowell is still trying to lock us all up.
Celtic are still big fish in a small pond and Shelbourne are strutting their stuff in Europe, while half the staff of An Phoblacht are to be found in Dalymount Park of a Friday night looking for a revolution.
Manchester United sold out again and their poor fans haven't realised that the premiership is simply 'soap opera' for bored men.
Ulster football is still rather robust, Tyrone and Armagh have reached the Holy Grail but Pat Spillane is unimpressed.
We don't have to slag Meath footballers anymore but they still drink tea out of saucers, while the Dubs seem content with Leinster titles.
Hurling is still king and Kilkenny and Cork the aristocrats, while hurling has failed to make successful inroads in the so-called weaker counties.
Hurlers now worry about their hair and sport beer advertisements on their boots, the peelers can now play hurling and the sacred ground of Crocker will finally play host to foreign games, while we die-hards wait for the grass to turn colour in protest.
The Galway Races is the place to be seen and helicopter rides have doubled as we try to impress our girlfriends; gone are the days when we brought our cailin's out to Bray on the back of the bike for chips and a fumble in the dark.
Magdelene launderettes are ten years gone and who remembers confessions.
Adult shops have taken over from tea shops on Capel Street, condoms can be bought in petrol stations and Divorce and counselling all the rage as we finally take our problems out from under the carpet.
Heroin is not openly dealt or injected but the drugs crisis has worsened and many thirty-some-things seem to think Cocaine a recreational drug.
The Six Counties has seen a steady rise in drug use while we await to see what form of policing will tackle this and other social issues.
We still have revisionists and the Sunday Independent is still turning out negative drivel while all the time attempting to justify their detrimental role in the Peace Process.
The Irish Times is still gospel for many and Vincent Browne is still treated with suspicion by many republicans, though he has been one of the few in media circles to seriously tackle politicians.
Seán Marlowe and Daithí Doolan don't have to make weekly appearances on Questions and Answers anymore to circumvent censorship while politicians are still permitted to prattle on at length and ignore the audience.
Bring us back the '70s when we were all as poor as church mice, it seemed to rain more often but we were happy in our misery.
When we had to queue for petrol and we had to go to the GP for condoms and we wore duffle coats that resembled pillar boxes.
The middle classes still largely vote for Fianna Fáil to retain the status quo while the Soldiers of Destiny are the masters of working the system, while huge swathes of the working class continue to ignore the ballot boxes as they feel it plays no role in their lives.
Many of our schools are in an atrocious condition and the primary school building system at breaking point and hopelessly under-funded but most politicians are afraid for calling for higher taxes for fear of alienating voters.
Likewise with our hospitals where trolleys are now considered a luxury.
We have more money for foreign holidays and cars but purchasing a house in the cities is now a pipe dream for many of the traditional middle class.
Undoubtedly the short-term financial lot of many has improved and unemployment is now at an all time low, but we are busy creating an alienated 'underclass' (sic) and we are in danger of becoming culturally and educationally impoverished.
Seven years is a long time.
An Phoblacht Magazine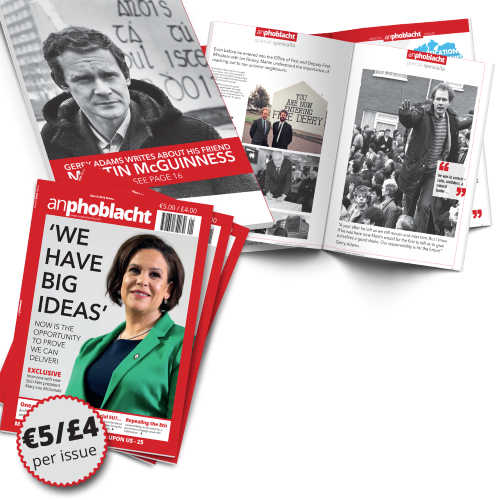 AN PHOBLACHT MAGAZINE:
The first edition of this new magazine will feature a 10 page special on the life and legacy of our leader Martin McGuinness to mark the first anniversary of his untimely passing.
It will include a personal reminiscence by Gerry Adams and contributions from the McGuinness family.
There will also be an exclusive interview with our new Uachtarán Mary Lou McDonald.
test