4 August 2005 Edition
Fifth Column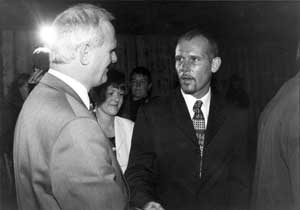 Where's Willie?
THE IRA's ground-breaking declaration last week saw a host of DUP leaders clamouring to get on the telly to pour scorn on the initiative. Ian Paisley Snr, Ian Paisley Jnr, Peter Robinson, Gregory Campbell and even Nelson McCausland were all on the box to hold forth on the IRA. In a pretence of balance, the DUP heads tut-tutted about the unionists' own ongoing UVF-LVF feud. But where was Willie McCrea?
Willie is definitely one of the unionist big-wigs best equipped to truly give us deep, first-hand insights into the minds of UVF and LVF leaders, having been up close and personal with the bosses of both sets of unionist paramilitaries. Willie even shared a Union Jack platform with the late LVF leader, Billy Wright, in September 1996. While Wright was the UVF's top killer in Mid-Ulster, he had defied the loyalists' nominal ceasefire and ordered the sectarian murder of a Catholic taxi driver in support of the Orange Order's 'Siege of Drumcree'. The Combined Loyalist Military Command subsequently ordered Wright to leave the Six Counties but DUP Reverend Willie McCrea stood defiantly alongside the North's most notorious loyalist since the 'Shankill Butcher', Lenny Murphy.
This weekend, Willie's normally insatiable hunger for publicity might also have been curbed by the fact that it was the 30th anniversary of the massacre of the Miami Showband on 31 July 1975. The murder was perpetrated by a gang of Ulster Defence Regiment soldiers who were also members of the unionist paramilitary UVF and reportedly controlled by British Military Intelligence. Three members of the band and two UDR soldiers died when a bomb the British Army/UVF men tried to place in the band's van, with the intention of it exploding later, exploded prematurely. As well as the two dead UDR/UVF attackers, three other UDR soldiers received life sentences for their part in the ambush and were released under the Good Friday Agreement.
So why was Willie quiet this weekend? Maybe it's because the religious service at the UVF paramilitary funeral of the Miami Showband bombers was conducted by none other than one Reverend William McCrea, now the DUP MP for South Antrim and still one of Ian Paisley's closest colleagues.
Where are you, Willie?
Burnside's broadside
DAVID BURNSIDE, the spooky Ulster Unionist former MP for South Antrim unseated by Willie McCrea, was on RTÉ Radio's 5-7 Live this Monday, foaming at the mouth about the announcement of the proposed disbandment in 2007 of the locally-recruited unionist militia in the Six Counties known as the "home service battalions" of the Royal Irish Regiment, which incorporates the old Ulster Defence Regiment and the anti-Civil Rights B Specials police force absorbed into the UDR.
Burnside, a former spin doctor with British Airways, went bonkers at the news, babbling about how unionists had always had "a militia" — hailing the B-Specials, the RUC and the UDR — and how unionists might need them again against uppity nationalists, probably demanding outrageous things like equality.
Burnside coyly omitted to say that he was once a foot soldier in the hated UDR (is he no longer proud of his regiment's record?). And RTÉ forgot to mention that this weekend's anniversary of the Miami Showband murders by the UDR/UVF was a particularly apposite time to announce its demise.
The dress my father wore
"RESPECTED Orange historian" Clifford Smyth wasn't so respected by Ian Paisley when revealed that he was a practising transvestite while one of the top men in the Orange Order and Paisley's DUP.
Clifford has told all in a tragic article in the Belfast Telegraph about how — with the support of his wife — he battled with his compulsion to dress as a woman since the 1960s.
The Presbyterian Church and the Orange Order (who tell us all through The 12th how tolerant they are) put the squeeze on Brother Smyth over his frolics in a frock, as he recalled his undoing.
"My life was under the spotlight because I had provided part of the Christmas entertainment at a large unionist party function in Portadown. While my wife, Anne, sang and played the accordion, I had recited some of the poems of WF Marshall, and then re-appeared dressed as the 1930s film star, Carmen Miranda."
Younger readers may not be aware that Carmen Miranda used to wear outrageously flouncy, South American dresses adorned with a towering headpiece that carried more fruit than Moore Street Market.
Dressing up as Marlene Dietrich and Dame Edna Everage was part of Clifford's repertoire too, part of a strategy devised by a marriage guidance counsellor to help him manage his transvestism.
Clifford had made the error of confiding some years earlier to William McGrath, founder of the shadowy loyalist murder gang, Tara. When McGrath was exposed for child abuse in the Kincora Boys' Home sex scandal, Clifford was warned by the RUC that his personal life was likely to come out. "I was extremely candid with my Orange brethren, but in my heart I knew they were on a witch-hunt."
And when he was hauled into a meeting in Ian Paisley's parsonage in 1976 to be accused of passing information to British Direct Ruler Merlyn Rees and compiling a document "which made scandalous allegations about leading loyalist politicians", he knew he was for the chop. "Ian Paisley was irate and the whole atmosphere was deeply hostile... I offered to resign from the DUP only to realise that this had been the undeclared aim of the meeting all along!"
And to top it all off, Clifford's Presbyterian Church minister told him that he (his supposedly spiritual guide) was entitled to tell all and sundry in the Kirk Session of his "sin". "I had pleaded with my minister, but to no avail." The uncharitable soul denounced the troubled member of his flock in front of his church's elders.
The Orange Order, the DUP and the Presbyterian Church all turned on Clifford Smyth for his exotic yet hardly harmful habit of dressing up. A bit of a contradiction, you might think, when their leading members dress up in fancy frills, stockings and lace, and wigs of long, luscious curls every 12th of July just like their idol, King William.
Sham O'Callaghan's bus pass
RUTH DUDLEY EDWARDS'S court jester and one-time republican, Seán O'Callaghan, is still impersonating a 'security expert' to anyone daft enough to pay him for his shambolic and shabby, Columbo-style appearances.
'Sham' told bemused listeners at a security seminar run by the centre-right Policy Exchange think-tank in London that the return of conductors on double-decker buses could foil the cunning al-Qaeda.
"Buses are safer with conductors. That's why the IRA didn't bomb buses," Sham said in all seriousness.
But the tube trains didn't have conductors and the IRA didn't bomb them either, did they, Sham?
MI5 should give Sham O'Callaghan a better scriptwriter or even the dozy toffs at Policy Exchange will be asking for their money back.
Odds on
NO SOONER had the IRA's P O'Neill issued his/her seismic statement than bookmaker Paddy Power was laying odds on Sinn Féin's prospects in the next Leinster House general election.
When we last looked this week, Paddy Power was offering the following but less than generous odds on the number of Sinn Féin TDs after polling day: more than ten TDs — 4/6; more than 15 — 11/4; more than 20 — 10/1; SF to be the junior partner in the next coalition government — 9/4.
But Progressive Democrats President and Justice Minister Michael McDowell (above) shocked no one at all when he said on the anti-republican Sam Smyth's Sunday morning Today FM radio chat show that the PDs will not be going into coalition with Sinn Féin because it's "socialist", "communist" and "Marxist".
"I know," the Progressive Democrats' wild-eyed ideologue expanded, "I read An Phoblacht every week." There's hope for him yet.
An Phoblacht Magazine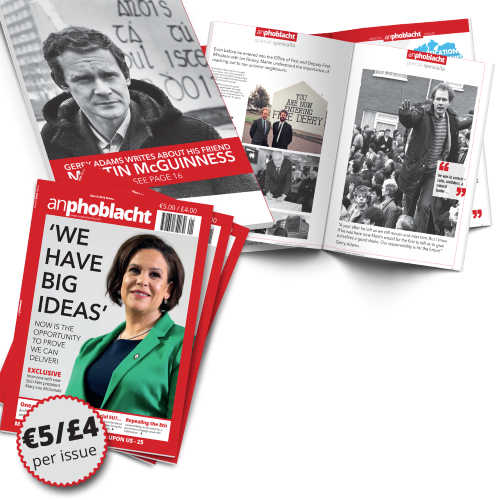 AN PHOBLACHT MAGAZINE:
The first edition of this new magazine will feature a 10 page special on the life and legacy of our leader Martin McGuinness to mark the first anniversary of his untimely passing.
It will include a personal reminiscence by Gerry Adams and contributions from the McGuinness family.
There will also be an exclusive interview with our new Uachtarán Mary Lou McDonald.
test