4 August 2005 Edition
The future is ours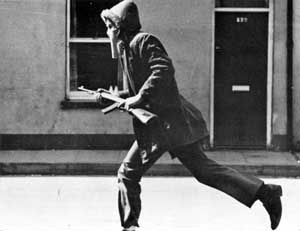 BY
JIM GIBNEY
It is an unforgettable moment. I listened with comrades of 30 years standing, to the words that formally ended the IRA's armed struggle. I could hardly take in what I was hearing as I hurriedly wrote them down.
My verbatim record reads: The leadership of Oglaigh na hÉireann has formally ordered an end to the armed campaign... All IRA units ordered to dump arms... All Volunteers instructed to assist the development of purely political and democratic programmes through exclusively peaceful means. Volunteers must not engage in any other activities whatsoever.
That disjointed account is how I recorded what for me and all republicans across this country is a life changing paragraph. The armed struggle over, a remarkable situation, unthinkable a few short years ago.
I was in the company of people who were there when the modern IRA became a force again following Belfast's pogroms in '69 and who remained active in the struggle in the intervening decades.
Those in the room paid a heavy personal price for being active republicans. Three of them had been shot and narrowly survived. All had been to prison, some several times; the span of time covered three decades. Some were with Mairéad Farrell in Armagh Jail when she was on protest and hunger strike for political status; others with Bobby Sands during the blanket protest and his hunger strike. One had been on the fatal Hunger Strike in 1981 for 47 days.
Many are parents of grown up children, others grandparents. All of us had invested our lives and those of our families in the freedom struggle.
We were as much a part of the IRA as the IRA was a part of the political life of this nation for the last 40 years.
My mind had difficulty absorbing what I was hearing. I was shocked at the scale of the change which the IRA statement heralded.
I know Gerry Adams's call on the IRA some months ago was a possible pointer to last week's outcome but it did not prepare me for the emotional impact of the IRA's declaration.
My head told me it was the right thing to do but my heart was beating to a different drum. I knew at some stage the Peace Process would lead us to last week's point of departure but I carried around in my head an entirely different scenario in which this would take place.
What struck me most was the unilateral nature of the huge move. It looked like a high risk jump into the unknown and I felt frightened by it.
The speed with which the British Government has moved in response to the IRA with their demilitarisation programme, the disbandment of the RIR and the ending of Diplock courts has helped republicans accept the IRA's initiative. The British Government's swift response shows that they are treating the IRA's statement with the gravity it deserves. I believe had they responded in kind to the numerous IRA initiatives then we would have arrived at this point much earlier.
The easiest part of the Peace Process for me was the IRA's decision to call a ceasefire in August 1994. Thereafter the moves they made particularly with their arms stretched every sinew in the republican body politic.
This is not an argument against any of the decisions the IRA has taken, I support them all. These are the contradictions and the challenges the Peace Process surfaced at a personal level.
A republican who joined the IRA in the mid-60s and is still in it told me he felt 'guilty' at having survived the war when close comrades died. He felt numb when he heard the IRA's statement. Other republicans described feeling as if a 'death' in their family had occurred. They had a sense of loss. Not surprisingly there is a whole mix of emotions and that is how it will be for some time.
On these big occasions I find it helps to touch base with those you knew who lost their lives in the conflict. That is what I did when the IRA called their first cessation in August 1994 and I did it again after last week's announcement.
I went to the Republican Plot in Milltown Cemetery. I needed to be there, to read the names engraved in stone of those who fell for freedom. To stand in solidarity and in silence with them and to thank them for their courage. To think of them as I knew them when they were alive with me running about the streets of the Short Strand before the war and during the war. To remember them on this special occasion as their families do every day of the week since the awful news came to their door that the liberation struggle had claimed them.
Joey Fitzsimmons in his Ma's house in Bryson Street entertaining us kids with his accordion, a kid himself. He would later use his dexterous fingers darting across the key board inside the IRA as an engineer. He died at 17 as a result of a premature explosion with four civilians and three other IRA Volunteers 'Min' Englen, Jackie McElhone and Eddie McDonnell. Eddie made the ballad Mary of Dungloe his own. When I hear the song I see him singing it.
Gerard Bell, singer, banterer and plumber died in another premature explosion with three other Volunteers, Rab Dorrian, Joe Magee, Gerard Steele.
My last memory of Joey Surgeoner and Francis Fitzsimmons, (Joey's cousin), was at a GAA match in Clones a few weeks before they lost their lives in a premature explosion. They were all members of B Coy, 3rd Battalion, Belfast Brigade, Short Strand.
There were others who touched my life, Tony Nolan, Brendan Davidson both from the Markets area of Belfast. Jackie McErlean, an apprentice mechanic who worked with me in Felden House. Dinny Brown and Jackie Mailey. We were interned together.
Brendan O'Callaghan; he had the widest and most infectious smile in the world. He was sworn into the IRA in a friend's house.
Those I visited while they were on Hunger Strike, Bobby, Francis, Raymond, Joe, Martin, Thomas and Kieran who was in Cage 3 with me and next door on the threes in the Crum. Mairéad Farrell, who I visited in Armagh jail.
I placed a flower on Patricia Black's grave. She was 18 years old when she died with Frankie Ryan in the doorway of a shop in a town in England far away from the arms of her loving family. Tom Hartley keeps her memory alive on his Milltown Cemetery tour.
Miriam Daly, who politically guided me as a young man, Sheena Campbell, one of Sinn Féin's brightest, both killed by loyalists.
These are some of the martyrs of the struggle. They helped make the IRA the fighting force it was. Without them and the people who supported them there would not have been an armed struggle. I am proud they came in to my life and helped shape it and steer me through the last 30 years or so. They truly are an inspiration.
The dust is settling and the impact of the IRA's statement is becoming obvious. It presents great opportunities for republicans to advance peacefully towards a united Ireland. It has particularly caught the imagination of young republicans. This was admirably captured in a text message sent to me by a young activist: "Onwards and upwards Jim a chara, big, big day, great statement, the future is ours!!!"
Indeed it is.
An Phoblacht Magazine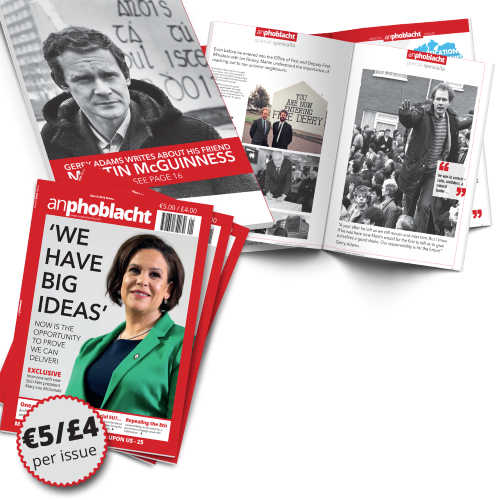 AN PHOBLACHT MAGAZINE:
The first edition of this new magazine will feature a 10 page special on the life and legacy of our leader Martin McGuinness to mark the first anniversary of his untimely passing.
It will include a personal reminiscence by Gerry Adams and contributions from the McGuinness family.
There will also be an exclusive interview with our new Uachtarán Mary Lou McDonald.
test