2 April 2012 Edition
Corruption tribunal indicts Fianna Fáil & Fine Gael figures
MAHON TRIBUNAL » 15 YEARS » €300MILLION » 400+ WITNESSES » 3,270 PAGES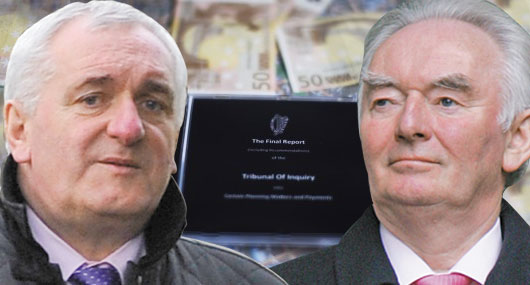 Mahon is an indictment of politics in the 26 Counties in the 1990s, an era dominated by Fianna Fáil, Fine Gael and Labour governments
THE MAHON TRIBUNAL into corrupt payments to politicians in the planning process in Dublin in the 1990s has delivered its verdict: a number of figures at the highest levels of the Establishment parties and 11 councillors from Fianna Fáil, Fine Gael and Labour are guilty of corruption, lying or trying to undermine the investigation set up by the Dáil.
The Mahon Tribunal report is an indictment of politics in the 26 Counties in the 1990s, an era dominated by Fianna Fáil, Fine Gael and Labour governments. It said:
"Corruption in Irish political life was both endemic and systemic. It affected every level of government, from some holders of top ministerial offices to some local councillors, and its existence was widely known and widely tolerated."
Fianna Fáil Cabinet ministers were accused by the Mahon Tribunal of a "sustained and virulent attack from a number of senior Government ministers" on the tribubal and of trying to collapse it while it was investigating Bertie Ahern. These ministers include current Fianna Fáil leader Mícheál Martin, recently-resigned Fianna Fáil deputy leader Éamon Ó Cuív, and former Fianna Fáil frontbench spokesperson and Defence Minister Willie O'Dea.
Sinn Féin President Gerry Adams TD said:
"Mícheál Martin, who was a senior member of Bertie Ahern's Cabinet, and several of his Dáil colleagues have questions to answer regarding their actions at that time."
Both Gerry Adams and Sinn Féin Justice spokesperson Jonathan O'Brien TD highlighted the "widespread social damage" caused to communities by planning corruption.
"Political corruption is not a victimless crime," Gerry Adams said. "The principal victims are Irish citizens who have seen our economy destroyed by the property bubble that resulted from the corrupt relationship between developers and politicians.
"The victims also include whole communities moved into badly-built housing estates with few facilities as corrupt planning allowed Dublin City expand in an appallingly ill-planned way while property speculators and developers made big money."
Jonathan O'Brien pointed to the high-profile appearance of Fine Gael/Labour Party Taoiseach Enda Kenny with businessman Denis O'Brien (who was criticised by the Moriarty Tribunal) when he opened the New York Stock Exchange to mark St Patrick's Day. He also noted that there was a warm welcome for Bertie Ahern at the recent Fianna Fáil ard fheis when many people were anticipating that the publication of the Mahon report would find serious shortcomings in their ex-leader's testimony. The Cork TD said:
"Both these very recent incidents beg the question: what has really changed?"