4 August 2005 Edition
Challenging the revisionists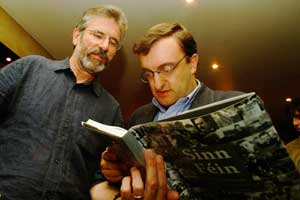 This week Micheál Mac Donncha, editor of Sinn Féin — 100 years of struggle, spoke to An Phoblacht's Cathal Ó Murchú about this important new book.
An Phoblacht: Congratul-ations on the production of the book. Apart from this year being the 100th anniversary of the foundation of Sinn Féin, what is the relevance of this new book?
Micheál Mac Donncha: I think it is very relevant as republicans are always attempting to chart a way forward to better strategies and in order to do that we have to better understand our past and we have to examine the basic principles of republicanism. To do that we have to look at where we came from as a party, the ideas and strategies that made us what we are and brought us to this point and this is very important as an educational exercise as well as a publicity exercise in promoting Sinn Féin.
Does this book focus more on the political aspect of the republican struggle as opposed to an overview of all aspects of the republican struggle?
Yes, it is very much focused on what republicans have said in the past. The format of the book is basically in the words of republicans themselves including key documents, speeches, statements and so on that were made from 1905 right through to the present day. It gives people a chance to hear what republicans have said in their own words. In terms of its relevance, history is always about today, the battle of ideas, and if you look at some recent events the revisionists haven't gone away you know.
For example, in West Cork a monument has been erected to Francis Drake, an English pirate who massacred Irish people on Rathlin Island where the entire island community, including women and children, were put to the sword. He is now being honoured like he is a happy member of the Cork yacht club sipping gin with his friend Eoghan Harris. This is quite simply farcical and all of this really needs to be challenged. We also had a situation where the Irish Navy participated in commemorations for Nelson and the Battle of Trafalgar and as you know thousands of Irish people were forced and press-ganged into service for the British Navy at that time. There has been a major debate on these issues. Another more recent example are the official tributes paid to Edward Heath where the Irish Times basically canonised him and presented him as the precursor of the Good Friday Agreement. They totally absolved him of responsibility for introducing internment without trial. Even though they blamed Brian Faulkner on this, it was the British Government that carried ultimate responsibility. It was the British Army who were in control and it glossed over his role in Bloody Sunday and the contempt with which he subsequently treated the families and relatives of the victims of Bloody Sunday. So that was the way in which the Irish Times presented Heath as an establishment figure. There is a need for revisionists to be challenged. There is a need for the republican message to be put on record.
Tá tú ag rá go bhfuil seoiníneachas fós beo bríomhar sa tír seo againne?
Tá sé cinnte agus aontaím go hiomlán leis an duine a scríobh "ní seoiníní sinn go léir" ar an leacht sin a chomórann Francis Drake agus is teachtaireacht thábhachtach é sin.
Bhí sé suimiúil mar go raibh a lán daoine sa mheán cumarsáide ag gearán faoin scríbheoireacht a rinneadh ar an leacht sin agus spreag an méid sin díospóireacht.
I mo thuairim féin is scannalach an scéal a chuireadh an leacht ann ar an gcéad dul síos.
What sets this book apart from other books recently published about Sinn Féin?
This is the first time that Sinn Féin has presented a comprehensive history of itself and that is quite significant. Now, it is obviously very difficult to encompass the entire 100-year period in one volume. What we have tried to do is to give a flavour of the politics, the strategies and the emotions of the time and the different periods of history and that's where it is important. It is also lavishly illustrated and that gives people a sense of the time. It is important to recognise that this is the work of a number of people and I would like to pay tribute to everybody who helped put it together.
Is this book aimed at republicans or the wider public?
It is certainly directed at both. We would be encouraging people to buy it, read it and study it carefully, but also to go out there to promote it and sell it as widely as possible because it is a showcase for the history of Sinn Féin and also for the work of Sinn Féin today.
It this all part of the process of getting the republican message across?
It certainly is, and in this centenary year it is one of the centrepieces of what we are trying to do.
As somebody who has written a history of Sinn Féin and is a member of Sinn Féin, do you think that Sinn Féin has changed much from its original founding charter?
Obviously it has changed hugely. In 1905 when Sinn Féin was founded, I was reading recently that in an RIC report there were 80 people present at the commemoration at Bodenstown. That is no comparison in terms of organisation, how politics and the situation in Ireland has changed. The basic principle in terms of national self-determination for the Irish people is still the same.
One of the things that comes out very strongly in the founding years of Sinn Féin is the centrality of the Irish language. Without Conradh na Gaeilge there would not have been a Sinn Féin. As Pearse said, when the Gaelic League was founded, the Irish Revolution had begun and that is very true. Again that is a central part of what Sinn Féin is today. It was only in 1917 that Sinn formally became a republican party and their aim was the establishment of an Irish Republic.
Is that when separatist nationalism specifically became republicanism, at that stage?
Yes. From 1905 to 1917, they were dominated very much by the ideas of Arthur Griffith and he had this notion going back to the constitution of 1783 resulting from the treaty between the Irish colonial parliament and the British Government from which came the concept of Dual Monarchy. But there were many people in Sinn Féin at the beginning who were republicans who didn't go along with this Dual Monarchy concept, but Sinn Féin was the vehicle for separatism and for political independence.
Céard faoi ceist na Gaeilge? An bhfuil ceist na Gaeilge chomh fite fuaite leis an bpáirtí agus mar atá sé anois? An dóigh leat go bhfuil an cheist imithe i léig sa pháirtí nó an bhfuil sé fós mar a gcéanna?
Ní dóigh liom go bhfuil sé imithe i léig, sílim go bhfuil sé fós mar a gcéanna. Ba mhaith liom níos mó béim a fheiceáil ar an nGaeilge sa pháirtí amach anseo. Tá an Ghaeilge an-lárnach i dtuairimí na bpoblachtánach agus caithfidh sé a bheith i bhfad níos lárnaí fós sa streachailt. Gan gluaiseacht na Gaeilge, ní bheadh an Ghaeilge beo agus gan gluaiseacht na Gaeilge ní bheadh Réabhlóid na hÉireann ann. Ó thús an chéid seo caite, d'eascraigh na gluaiseachtaí polaitiúla agus cultúrtha ó ghluaiseacht na Gaeilge.
An bhfuil aon rud eile ar mhaith leat a rá faoin leabhar seo? Is there anything else that you would like to about this book?
Bhuel, mar a dúirt mé, ba mhaith liom buíochas a ghabháil le gach aon duine a ghlac páirt ann. One of the themes that struck me while putting this book together was the absolute importance of republican newspapers from 1905 up to the present. For long periods the republican view was completely censored and the only source of information on what republicans were thinking are republican newspapers. It is absolutely vital that An Phoblacht not only continues but actually expands because it is the only way where we can get the unadulterated Sinn Féin message across to people and that is very important. Without An Phoblacht from 1970 onwards this book would not have been possible, because most of the sources for that period come from those pages. There is no doubt that An Phoblacht is a very useful historical research tool and even those historians who would be no friends of republicans would readily recognise that. It is important that today's republicans continue to support the paper because of its usefulness as a tool of struggle for now and also because it is a very important record for the future.
Would you see An Phoblacht's role more as that of a party political organ than that of an ordinary newspaper competing with mainstream media?
An Phoblacht is always going to be a party newspaper and I don't have a problem with that. At the same time it should present as much comprehensive news as possible plus analysis. So the paper has a dual role — that as acting as a vehicle for internal republican communication and the other of getting the republican message out to a wider audience in as popular and as accessible a manner as possible.
An Phoblacht Magazine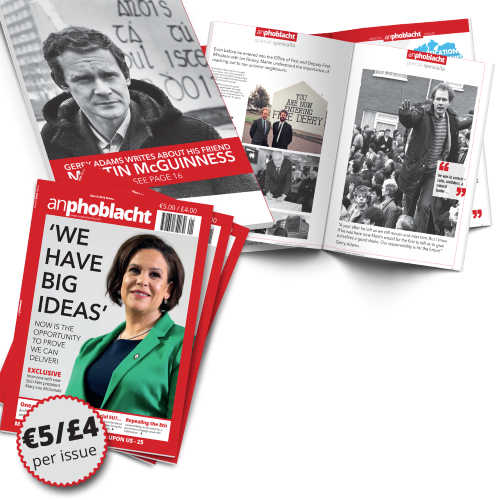 AN PHOBLACHT MAGAZINE:
The first edition of this new magazine will feature a 10 page special on the life and legacy of our leader Martin McGuinness to mark the first anniversary of his untimely passing.
It will include a personal reminiscence by Gerry Adams and contributions from the McGuinness family.
There will also be an exclusive interview with our new Uachtarán Mary Lou McDonald.
test