4 August 2005 Edition
A major influence after next election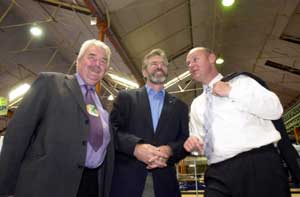 A 26-County General Election is due in less than two years. Here, Máirtin Mac Eoin, writing in a personal capacity, predicts that on present figures Fianna Fáil will remain in the driving seat but that Sinn Féin could have considerable influence when the results are counted.
Election predictions, especially two years before the event, are a notoriously uncertain business, but Village magazine recently published a coherent assessment of current prospects by former Fine Gael Taoiseach, Garret Fitzgerald.
Fitzgerald's assessment is more positive for Fine Gael and Labour than the facts probably suggest. Where he goes wrong, I think, is in putting slightly too much emphasis on the local government results and underestimating Fianna Fáil's potential for recovery. He also lacks a feel on the ground in many constituencies. Nevertheless, his arguments are worth examining as they give important pointers to where republicans, in particular, might usefully concentrate their efforts.
Overall, Fitzgerald predicts that Fianna Fáil will drop eleven seats on their 2002 total, to 70, with the PDs going down to four from their previous eight. In addition, one pro-Fianna Fáil Independent would lose a seat, giving an overall total for the present government of 77.
On the other hand, Fitzgerald predicts that Fine Gael will boost their total over 2002 by 14 to 45, and that Labour will also go up from their present 20 to 25. With the Greens going down from six to four, Fitzgerald predicts that the 'Rainbow' will have 74 seats. He adds to this the votes of Michael Lowry, Jerry Cowley, Joe Higgins and Tony Gregory to give 78 overall. Higgins, in fact, will not back a 'Rainbow' government, and Cowley and Gregory are most unlikely to do so either.
Either way, Fitzgerald suggests that Sinn Féin will increase its seats from five to nine, and would therefore hold the balance of power. He argues, however, that the PDs would refuse to participate in such a government and would swing over to the Rainbow, leaving Fianna Fáil dependent on Sinn Féin and the Left Independents.
But are his assessments of what seats will be won or lost reliable?
Firstly, he reckons that Sinn Féin will win seats in Donegal Southwest, Dublin Northwest, Dublin Northeast and Dublin Central. He also believes that there are reasonable chances for the party in Cork North and South Central, Donegal Northeast and Dublin North Central, and an outside chance in Meath West where a gerrymander has weakened Joe Reilly's possibilities.
I go along with his analysis here, except that I think Sinn Féin look good for two more seats — in Wexford and Dublin Mid-West.
These two seats would, if won, be at the expense of the Rainbow.
Further I think that Fitzgerald overestimates the potential for Fine Gael and Labour. He predicts Fine Gael wins in Cork Northwest, South Central and Southwest; in Dublin Northeast, West, Southeast, Southwest and Dún Laoghaire; in Carlow-Kilkenny, Laois-Offaly, Limerick East, Tipperary North and Wexford.
I think there is a big question mark over Fine Gael taking seats in Tipperary North and in Laois-Offaly, where Tom Parlon will not easily be dislodged. Fine Gael do look good in the two Cork constituencies, but I think that Fianna Fáil will keep the edge in Northwest where they will have three outgoing TDs fighting in a three seater.
In Dublin, Fine Gael should take seats in West and in Dún Laoghaire, but will have a major battle in the other three.
On the other hand, FG could edge out Labour in Cork East, and perhaps take one in Donegal Northeast, though Dinny McGinley is still vulnerable in Donegal Southwest. I don't see Fine Gael getting more than 41.
Equally, Fitzgerald predicts that Labour will take seats in Dublin Mid-West, South and South Central, though losing Joan Burton in West; will take seats in Meath East (a good chance), Wicklow and Tipperary South. I agree that Wicklow is a possibility, where Nicky Kelly has held his local base and where Mildred Fox looks to be floundering, but don't believe that Phil Prendergast will take Séamus Healy's seat in Tipperary South.
Prendergast's former achievements were made as part of Healy's organisation and with Healy's machine. There are no indications that any big part of that machine defected with Prendergast, so I expect Healy to hold his seat.
On top of that, with Seán Ryan retiring in Dublin North, it is hard to see Labour holding that seat against the challenge of the Socialist Party's Clare Daly; Ruairí Quinn, too, must have a question mark over his prospects in Southeast, where Dáithí Doolan has eaten into his support; and Tommy Broughan in Northeast is under strong threat from Sinn Féin's Larry O'Toole. While Meath East looks a good bet, Labour will be lucky to take two in Dublin South Central, where Eric Byrne will keep his vote now as an independent. And with Joe Sherlock retiring in Cork East, Labour will find it hard to hold a seat against a strong Fine Gael machine there.
Overall, then, I think that Fianna Fáil will get 72 seats and the PDs four, plus up to five pro-Fianna Fáil independents — giving the government a possible 81 seats, still short of a majority. Fine Gael I predict will get 41, Labour 20, the Greens five and pro-Rainbow independents two — a total of 68 (ten less than Fitzgerald predicts).
Sinn Féin has major prospects of having a considerable influence in Leinster House after the next election. That potential will only be realised however if the work is put in now and in the immediate period that lies ahead.
If it has not already been done, preparations need to begin immediately in every constituency. Building on the successes of recent years, the party has never been in a better shape to fight the General Election. Every activist across the state must gear themselves now towards increasing the party's profile, mobilising the local support base, getting our policies across, building the party and focussing local activists on the immediate task in front of them.
Sinn Féin must also indicate what it would do, in a positive way, with whatever power or influence it may attain. If it captures the public mood and imagination, then even bigger electoral success is possible.
An Phoblacht Magazine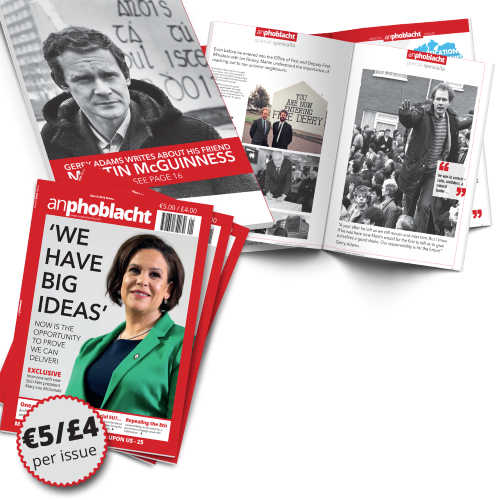 AN PHOBLACHT MAGAZINE:
The first edition of this new magazine will feature a 10 page special on the life and legacy of our leader Martin McGuinness to mark the first anniversary of his untimely passing.
It will include a personal reminiscence by Gerry Adams and contributions from the McGuinness family.
There will also be an exclusive interview with our new Uachtarán Mary Lou McDonald.
test