4 August 2005 Edition
Sectarian onslaught continues in Antrim and North Belfast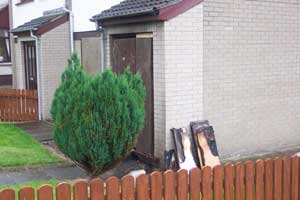 A catalogue of unionist attacks on unsuspecting nationalists since last weekend have seen an Ardoyne man hospitalised after sectarian thugs almost cut off his fingers in a machete attack.
Unionists also carried out a sustained stoning bombardment of up to six houses in Antigua Street, off the Oldpark Road, in Belfast putting the safety of pensioners and children at risk.
In Ahoghill, County Antrim a Catholic woman and her 25-year-old son had to flee their burning home after it was torched by unionist paramilitaries.
Also in nearby Cullybackey the Church of the Immaculate Conception was paint-bombed.
In the Ardoyne attack a young man returning home from a night out on Sunday morning 31 July was set upon by a number of men and one woman in the Brompton Park area. According to Sinn Féin's Margaret McClenaghan the loyalists jumped from a car and attacked the young man using a machete, almost severing two of his fingers.
"This young man was the victim of the, 'any taig will do' mentality of loyalists. He is in hospital now undergoing micro-surgery to repair the damage to his hand. I wish him a speedy recovery".
An Phoblacht has learned that the car used in the attack was found in the Woodvale Road area in the Upper Shankill and that a machete was found in the vehicle after the assailants made off through Woodvale Park.
Later at about 10pm on Sunday night a gang of drunken unionists bombarded a row of houses in Antigua Street in the Oldpark area of North Belfast. A woman of almost 70 spoke of her fear as bricks and rocks rained down on her home.
The loyalists entered the Hillview Industrial Estate, which backs on to Antigua Street to launched their attack.
In a particularly horrific incident in Ahoghill, County Antrim an arson attack is being described as, "attempted murder". A local nationalist woman Oonagh Donaghy and her 25-year-old son Mark where lucky to escape with their lives.
In the incident, which occurred at 1am on Monday 1 August the arsonists broke a window near the front door of the house and poured in a flammable liquid and set it alight.
Donaghy, who was asleep at the time, says the flames immediately engulfed the porch and stairway of the house and her only means of escape was to climb onto the porch.
"It is lucky I was just dozing and heard glass breaking and bounced out of bed. We might have been burned to death," she said.
Donaghy says that windows in her house have been broken at least three times in the past and that she will probably move out of the predominantly loyalist Laurel Park Estate.
Only last month Donaghy's aunt, Kathleen McCaughey was forced to abandon her home in the nearby Brookhill Gardens after a litany of sectarian attacks were levelled against her by unionist gangs.
Meanwhile, a paint-bomb attack on the Church of the Immaculate Conception in nearby Cullybackey was also being blamed on unionists.
In the weekend attack, the fifth on Catholic churches in the Ballymena area in the past two weeks, paint was splattered over the building and over the front door.